Historic California Posts

Post at Alcatraz Island

History

by Robert B. Roberts

When the Spanish first entered San Francisco Ray in 1775, a naval lieutenant, Don Juan Manuel de Ayala, name d Alcatraz Island "Isla de los Alcatraces" (Island of the Pelicans). There are no records indicating its occupation by Spaniards during the 1775-1810 period. After the short lived Bear Revolt in 1846, Mexico in 1848 ceded the island to the United States. The famous 12 acre precipitous rocky island, facing the Golden Gate, was declared a military reservation by all executive order on November 6, 1850. A part of the area's defensive system, along with Lime Point Military Reservation, intended to guard the entrance to the bay, its first fortifications were begun in 1853 under the direction of Lieutenant Zealous Bates Tower, U.S. Corps of Engineers, and consisted in the main of a brick 200 by 100 foot citadel, batteries, two barrack structures for troops, and three cell blocks


First garrisoned on December 30, 1859, the post was officially designated Alcatraz Island hot was often referred to as Fort Alcatraz. By 1861 the fort had 85 cannon and a garrison of 130 men. The island became a detention camp for political prisoners during the Civil War. Later it was a disciplinary barracks for military prisoners, a prison for recalcitrant Indians, and then a P.O. W. facility for Spanish American Philippines Islands prisoners and World War 1 conscientious objectors. Alcatraz Island had been privately owned when the War Department bought it because of its strategic location. It was used as a fort until the disastrous 1906 earthquake, when San Francisco jail inmates were transferred there for safekeeping. "The Rock," as it was popularly called, was an Army prison from 1917 to 1933, when title to the island passed to the Department of Justice.


The Federal Bureau of Prisons, an agency of the Justice Department, took it over and ran the establishment as a maximum security prison for incorrigible criminals until 1964, when it was shut down because of its progressively decaying condition and deteriorating assurances of incarceration. Asserting century old treaty rights and planning to convert it into a center for Native American studies, a large group of militant American Indians occupied the island in defiance of the federal government for 9 months ending in June 1971.

Now a part of the Golden Gate National Recreation Area, Alcatraz Island has since emerged as one of San Francisco's most popular attractions for tourists and American history huffs under the aegis of the National Park Service

History

by Colonel Herbert M. Hart, USMC (Retired)

"Frowning Alcatraz, Key of San Francisco," was the 1866 description of the fortress, expanded by a 1884 comment: "it commands the entrance to the Golden Gate, and forms an effectual defense for the harbor of San Francisco." It "is 450 feet wide, 1,650 feet long, irregular in shape, and encircled by powerful batteries, in which are said to be mounted some of the heaviest guns ever cast in America." This view dates from military prison days, was taken from new parade ground level east of the lighthouse. In modern times, lighthouse and quarters remained, but were surrounded by other quarters. A 1890 report complained, "Sanitary defects of the prison are especially apparent at this season of the year. The ventilation of the buildings is very faulty. The corridors, kitchen, and mess rooms are disagreeably and dangerously drafty . . . The prisoner when locked in for the night is virtually boxed in for so many hours . . . The means available for solitary confinement are such as have long been discarded in the better class of civilian penal establishments."
Alcatraz Island's heavy guns may not have fired a shot in anger in her 81 years as a military post, but they came mighty close to it on October 1, 1863. That was when a suspicious ship was noticed approaching Raccoon Straits and the ensuing confusion included firing between the ship and the island with Fort Point chiming in.
Routinely during the Civil War a Revenue Service cutter greeted every arriving ship at the Golden Gate, but on October 1 she left her station to help a wrecked Russian ship. Captain William A. Winder, commanding at Alcatraz, was asked to challenge all ships before permitting them to enter the port.
"The officer of the day reported an armed ship towed by small boats in the direction of Raccoon Straits," reported Winder. After he was unable to recognize her colors (there was no wind and the flag fell in folds) Winder decided her course was so unusual, "I deemed it my duty to bring her to and ascertain her character and the reason . . .
" I therefore fired a blank charge, which apparently not attracting her attention, I directed a gun to be loaded with an empty shell and to be fired 200 or 300 yards ahead of her," he said. His two boats were busy inspecting other ships, but while waiting for one to return so that the newcomer could be inspected, "The ship commenced firing." He thought it might be a salute, but could not be sure because she was firing broadside and was "entirely enveloped in the smoke"
As soon as he decided it was a salute, he started to return a 21-gun answer. Before he was finished, "Fort Point commenced firing."
Finally everyone stopped. The letter exchange that followed was even more pointed when the ship was identified as Her Majesty's Ship SUTLEJ, the flagship of Rear Admiral John Kingcome. The admiral did not take kindly to the unusual welcome, Captain Winder did not appreciate the Sutlej's "unusual course" and in the final outcome, the departmental commander suggested a mild reproof to Alcatraz.
"It is expected that the delicate duty devolving on military commanders will be exercised with prudence," he announced in a letter dated five months later.
The embarrassing international situation was all part of the game to Alcatraz, however. With her position recognized as the key to San Francisco Bay, she was in a sensitive situation throughout the war. In 1864, in fact, an even greater reaction set in when commercial photographers were permitted to make 30 photographs that showed every road and battery.
The War Department heard about the photos, ordered them suppressed, and demanded to know who had authorized them. As department head, General McDowell reported to Washington that the photos had been approved by the area engineer and authorized by Winder, whose "motive was one of pride and interest in his important command and a desire to have himself and the command have pictures of the place."
McDowell denied any disloyal motives on Winder's part, including rumors that he was influenced by the fact his father was in the Confederate Army. If be wanted to be disloyal, McDowell suggested, as an officer of intelligence he would not "have acted so openly and undisguisedly as be did."
The real losers in the proposition seem to have been the San Francisco firm that claimed it took the views on a $400 contract from the Army, and had spent $1,500 in the process. They hoped to recoup the difference by selling their photos for a rumored $100 to interested soldiers. Instead, the pictures and negatives wound up at the War Department.
Had Confederate agents obtained and interpreted the photographs, they would have found that Alcatraz had not changed materially from 1861 when she bad 85 cannon and 130 men. In one of his last acts before resigning to join the Confederacy, General Albert S. Johnston had rushed 10,000 muskets and 150,000 cartridges to Alcatraz. His successor, General Sumner, had proposed posting 400 men on the island. And in 1864, an official estimate was that 600 artillerymen were needed to man the works.
This was not to be. In fact, details from Alcatraz were siphoned off frequently. Thirty men spent months guarding Mare Island Navy Yard until they could be relieved by Marines from the USS LANCASTER. Another detail was dispatched to man a battery on the south end of Angel Island, later the location of the vegetable garden tended by Alcatraz troopers.
Rumors of election riots placed the entire garrison on alert frequently. The bulk of the force was shifted to San Francisco to keep order in 1865 in the unsettled days following Lincoln's assassination. The Bay area's official half-hourly gun salute on the day of Lincoln's funeral was fired by the batteries of Alcatraz.
Alcatraz' important position was recognized as early as 1849 when it was bought in the name of the United States by John Fremont, acting governor of California, for $5,000. Despite charges that the $5,000 never was paid, the government moved in and by 1853 a construction detail had arrived. "Temporary buildings for the accommodation of workmen have been erected, excavations made, masonry commenced," reported an 1854 inspection, and "The batteries on this island might be completed in about one year."
General Wool ordered six 8-inch and six 32-pound guns to be mounted on Alcatraz, despite the inspection report characterizing "Alcatrazes" Island as "a highly important point in the water defenses, where 200 guns ... should be mounted."
The initial work at Alcatraz was finished in 1858. By 1861, the post included a belt of encircling batteries, a massive brick guardhouse, and a three-story barracks that could hold 600 men. Then, with rumors of secession, came rumors that Kentucky born Johnston planned to take over the city from headquarters on the island.
"There is treason on Alcatraz," reported one contemporary account of a message sent to the White House. "To insure success of the scheme, Albert Sidney Johnston was placed in command at Fort Alcatraz," the version continued. "It was arranged that the leaders in San Francisco with a force of picked men sufficient for the purpose, should surprise and capture the fort."
The fact was Johnston was in San Francisco and not on the island. "As long as he held his commission he would maintain the authority of the United States to the last extremity," intimates insisted. And
When General Sumner relieved him of his command, Sumner was able to report, "It gives me pleasure to state that the command was turned over to me in good order. General Johnston . . . was carrying out the orders of the Government."
As the war progressed, these orders involved Alcatraz in a variety of duties. In 1863, a suspicious clipper schooner was towed to Alcatraz when inspectors from the USS CYANE found 15 armed men and unmanifested cannon and ammunition hidden below her decks. The crew was questioned in separate cells on Alcatraz. A plot was revealed for the schooner to take on other military stores elsewhere, then to act as a Confederate privateer against the coastal ships.
Another plan to capture the California mail steamers was uncovered in 1864 by the arrest of plotters when they arrived in San Francisco. A result was an order for all steamer passengers to be searched for concealed weapons and for all ship officers to be armed in order to discourage attempts to commandeer the vessels.
Political prisoners were imprisoned at Alcatraz during the war, a hint of things to come. In 1868 it became a disciplinary barracks and military prison. During the seventies, troublesome Indians were sent to Alcatraz; in 1900, Philippine prisoners arrived at Alcatraz. Conscientious objectors were kept there during World War 1.
The Army need for the Alcatraz prison was gone by the 1930's just when the rise of organized crime called for a maximum security penitentiary. In 1934, the Federal Bureau of Prisons took over San Francisco's prime fortress for a 30-year occupation that earned it a reputation dreaded by criminals as "The Rock."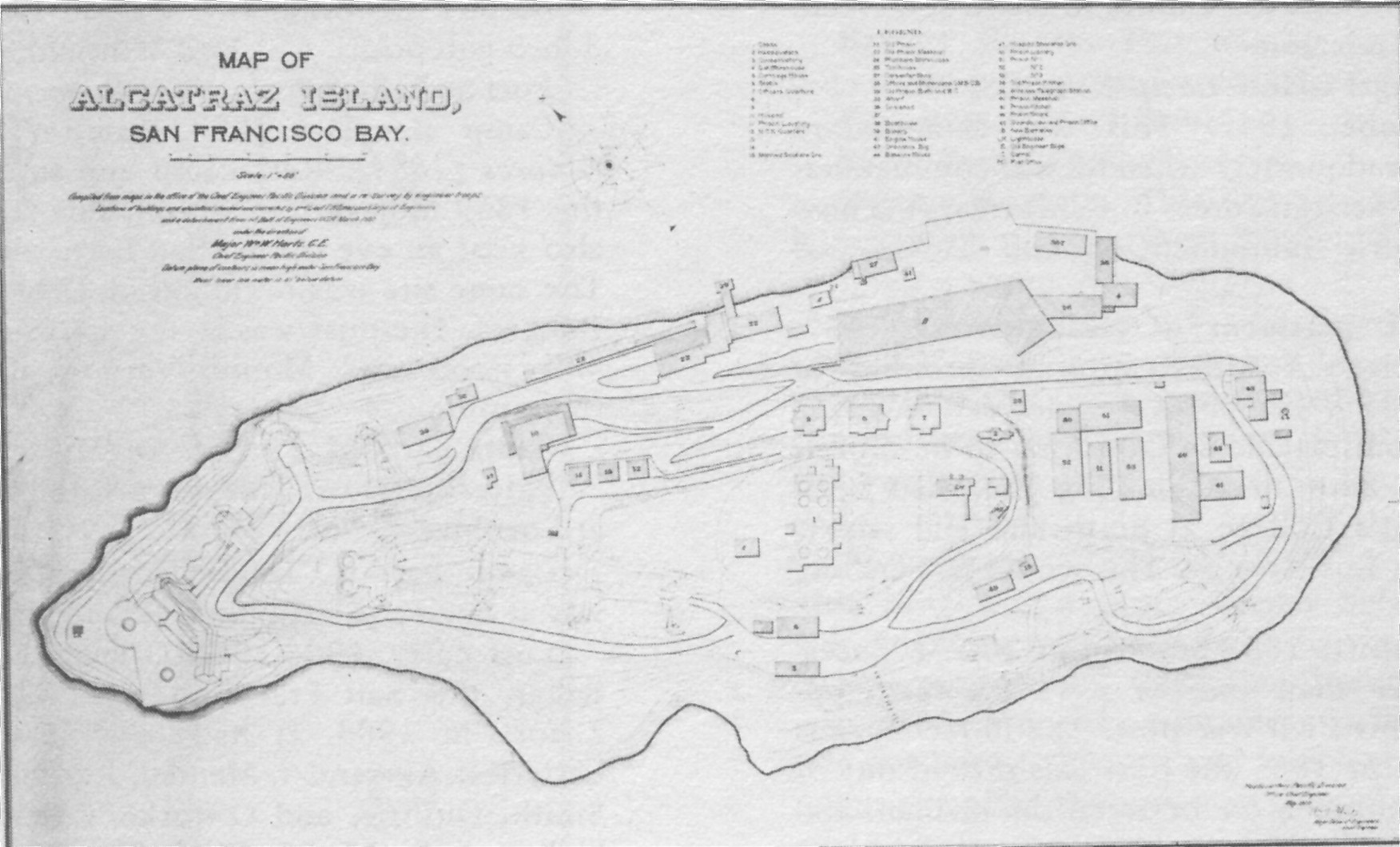 Except for the shape of 12-acre island, this version of Alcatraz bears little resemblance to the later period of Army or prison use. Almost all of these buildings had been replaced by time prison was closed in 1963. As Army post in 1870's, Alcatraz had room for 300 men in two frame barracks. Officers' quarters, hospital, offices, and storerooms were in the citadel that was two-storied, and a basement, measuring 200 by 100 feet. Prisoners were kept in three buildings that had total of 113 cells which averaged eight by six by 3 feet. A bowling alley, gymnasium, and theater provided amusement at isolated post. At the start of Civil War, commander officer complained that island had no place to keep prisoners and that both guard and prisoners were jammed into casemates overlooking the wharf. He noted that temporary wooden store sheds could not contain required three months' supplies, and much had to be stored outside the wall of fortification. The island was supplied with fresh water by barge "which a besieging force might cut off," and he asked authority to bore a well. Later, a 50,000 gallon cistern was built. Work on post continued even after war and a 1866 inspection noted the men were constructing earthworks. At that time, its redoubt's had 105 guns manned by eight officers and 146 men and condition of post "reflects great credit on the commanding Officer." Only improvement the 1866 report could suggest was the refinishing of the bunks in barracks.
| | | |
| --- | --- | --- |
| | | |
| Enlisted Barracks | | Officers Quarters |
This article was reprinted with permission from Old Forts of the Far West, published in 1965
Post Civil War Alcatraz Fortifications

by Justin M. Ruhge

Colonel George Mendell was still in charge of the works on Alcatraz in 1871. When he learned that $50,000 was available for fiscal year 1871, he immediately began work on Batteries 1, 2, 3 and 4 at the northwestern end of the Island. Inasmuch as Alcatraz's defenses already consisted of barbette batteries, Mendell's work here consisted mostly of remodeling rather than new construction. In most instances, the project called for enlarging the terrapleins and building new, thicker earthen parapets on top of the old scarp walls, new breastwork-height walls of brick, new brick and concrete magazines under earthen traverses and new platforms. During the year a 15-inch Rodman was mounted at Battery 2 on a new wooden platform.


Alcatraz's armament as of June 1871 was a mixture of the new and the old. Mounted in the different batteries were:



| | |
| --- | --- |
| Type of Cannon | Quantity Mounted |
| 200-pounder Parrott rifles | 3 |
| 100-pounder Parrott rifles | 5 |
| 10-inch Columbiads | 2 |
| 8-inch Columbiads | 16 |
| 15-inch Rodmans | 5 |
| 10-inch Rodmans | 16 |
| 42-pounder smoothbores | 8 |
| 24-pounder Howitzers | 8 |


This makes a total of 63 guns of which 55 were in barbette and 8 in casemate.


By July 1872, Colonel Mendell reported that there were nine 15-inch guns on the island of which five were mounted and that there were an additional two granite platforms ready. These two platforms were in Battery 5 and were center pintle.


Mendell's annual report for fiscal year 1873 listed a large number of accomplishments at both ends of the Island. The masonry of several magazines, bombproofs, and shell rooms had been completed. The old north caponier had been converted into a magazine and a traverse. Parapets were made and covered with sod from Fort Point. A tunnel across the northwestern end of the Island, joining Batteries 2 and 4 was constructed. This was the only tunnel constructed on Alcatraz despite many legends.


A year later in 1874 Alcatraz was stripped almost bare of armament. All that were mounted were two 15-inch Rodmans in Battery 3 and one in Battery 2. The two guns in Battery 3 were still mounted on their Civil War platforms.


In fiscal year 1875, Mendell concentrated on the southeastern end of the Island, constructing retaining walls, magazines and traverses. Here he converted the old south caponier into a modern magazine in a manner similar to the old north caponier.


In fiscal year 1876, the last year in which funds were available for construction, Mendell succeeded in mounting two more 15-inch Rodmans, giving the Island a total of five in their emplacements. However, as at Fort Point, the operations on Alcatraz were closed down on June 30, 1876. All citizen employees were discharged at the close of the last fiscal year except the overseer and a carpenter.


Of the 13 batteries projected, Mendell had completed 8 of them. Fifteen traversed magazines had been constructed. Of the projected thirty-six 15-inch platforms, he had only seven in place. Alcatraz Island had not become the strongly fortified place that it once had been; yet next to West Battery at Fort Point, it was the most strongly fortified point in San Francisco Bay. The armament on Alcatraz was then five 15-inch Rodmans at the end of this interim period of construction after the Civil War.


Army Units Assigned to Alcatraz

Data Source

Date(s)

Unit(s)

Order of Battle of United States Land Forces in the World War (1931-1949)

World War I

2nd Disciplinary Band

5th - 8th Disciplinary Companies

For Further Reading on the Alcatraz

Martini, John A.
Fortress Alcatraz, Guardian of the Golden Gate
Pacific Monograph, Kailua, HI 1990

Delgado, James D.
Alcatraz, Island of Change
Golden Gate National Park Association, San Francisco, CA 1991




Other Online Histories

Harbor Defenses of San Francisco - A Field Guide 1890 to 1950

Alcatraz Island National Historic Site, San Francisco

FortWiki

Hopi History: The Story of the Alcatraz Inmates

Seacoast Fortifications Preservation Manual: Golden Gate National Recreation Area

Wikipedia

Search our Site!

View My Stats

Visitors since 8 December 1998
Questions and comments concerning this site should be directed to the Webmaster
Updated 23 June 2017