Historic California Posts, Camps, Stations and Airfields

Fort MacArthur: Battery Lodor
History
This battery was built from 1916 to 1917 and mounted four M1903 3-inch guns mounted on M1903 pedestal mounts. Although considered part of Fort MacArthur, Battery Lodor was at a separate location, on a sand spit connecting the northern tip of Terminal Island and Deadmans Island. In 1927, the guns were taken out and put in storage, and Deadmans Island was removed to widen the harbor entrance. In 1942 Lodor's guns were re-emplaced in the two parts of Battery JAAN. JAAN#1 was located on the Lower Reservation next to the jetty, while JAAN#2 was located at Bluff Park in Long Beach next to Ocean Drive at Lindero Street.
Unlike Fort MacArthur's other batteries, Battery Lodor had its own smal cantonement area, probably built using Quartermaster Corps Series 600 design wood framed buildings. The following buildings were shown on Corps of Engineers documents as being at the battery:
Administrative Building
Two Barracks
Officers' Quarters Building
Mess Hall
Magazine
Wharf

History by Justin M. Ruhge
San Pedro Bay was originally a shallow coastal estuary unsuitable for use as a deep-water harbor. In 1899 the U.S. Army Corps of Engineers began the dredging and breakwater construction that transformed this area into what is today one of the busiest ports in the world. In 1919 Battery Richard P. Lodor was formed by placing 4 3-inch M1903 rapid-fire guns at thetip of Terminal Island to defend the harbor entrance from attack by small fast enemy craft. Work began on four concrete piers on April 15, 1916 and was completed on July 31, 1917. Construction costs were $1,948. Six buildings were also constructed to support this battery. These were the usual barracks, mess hall, officer's quarters and administration building.
The four guns were 3-inch bore, 170 inches long, Model 1903, Nos. 105-108 made at the Watervliet Arsenal. They were mounted on May 16, 1917 on pedestal carriages, Model 1903, Nos. 104-107 manufactured by the Watertown Arsenal. These were the same type of 3-inch guns used in the other California forts described earlier.
The four guns were removed in 1927 and placed in storage while the channel was being widened and Deadman Island was removed. In 1943 they were placed in Battery JAAN No. 1 and 2, which were two guns at Cabrillo Beach and two guns at Bluff Park in Long Beach respectively. Concrete piers and magazines were constructed at both locations for mounting and servicing the guns at a cost of $16,200.
Site Map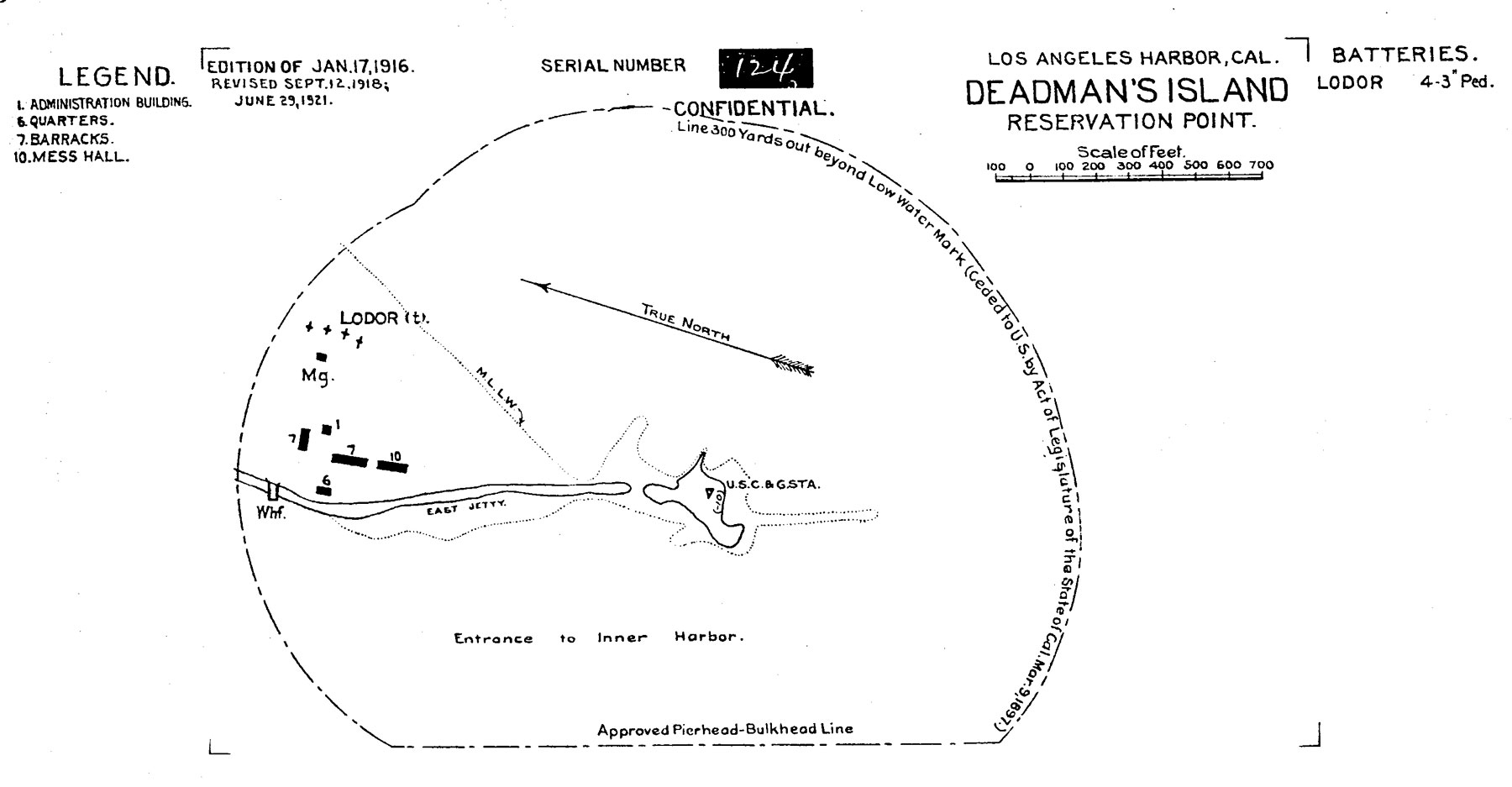 Report of Completed Works - Seacoast Fortifications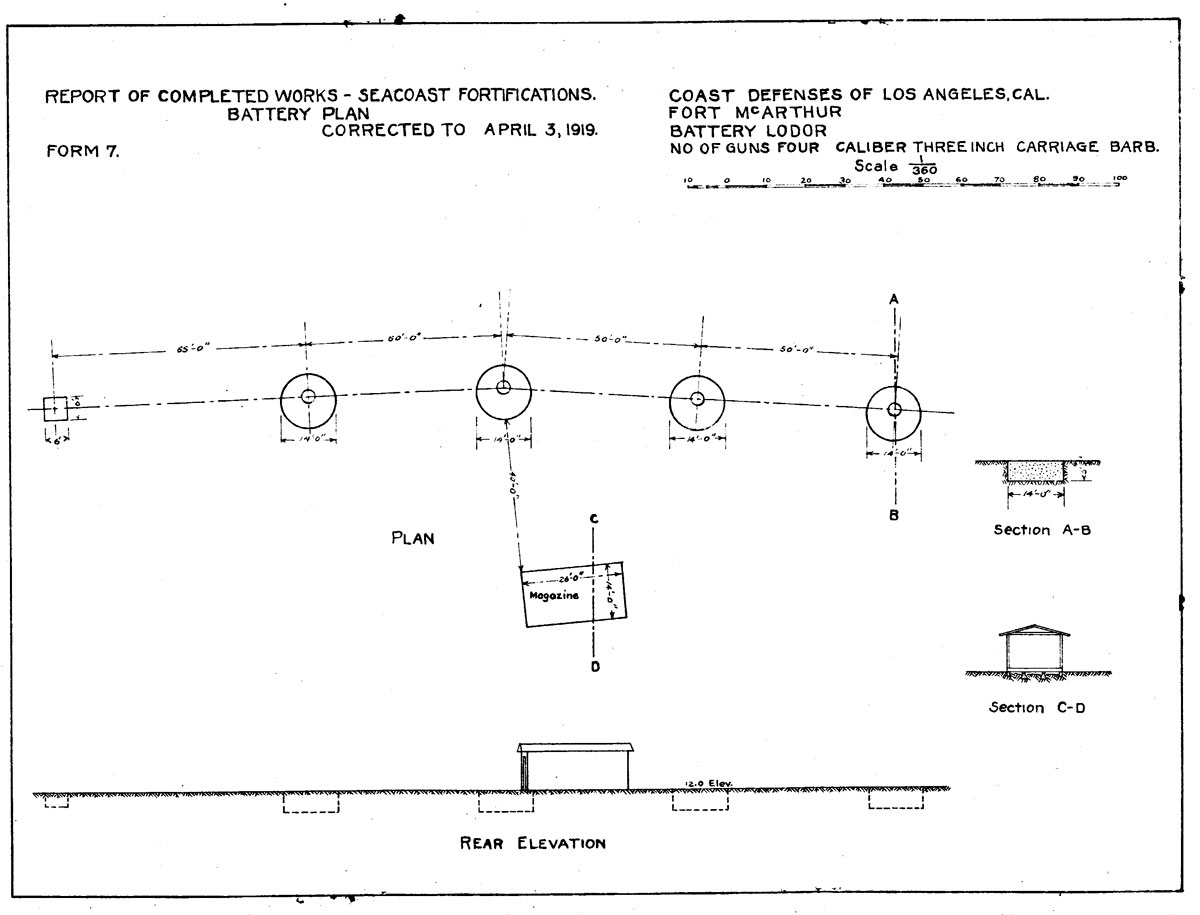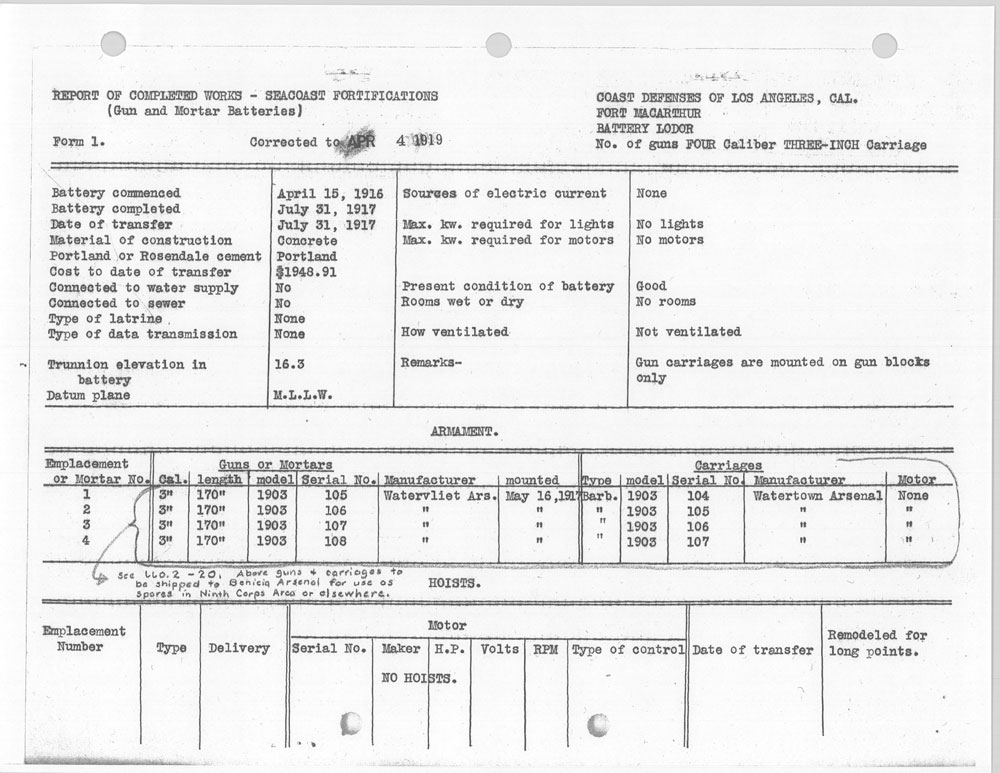 Additional Online and Printed Histories

Fort MacArthur Museum

FortWiki

Search our Site!

View My Stats

Visitors since 8 December 1998
Questions and comments concerning this site should be directed to the Webmaster
Updated 23 June 2017