Historic California Posts, Camps, Stations, and Airfields

Castle Air Force Base Instrument Landing System Outer Marker Annex
SITE NAME: Castle ILS Outer Marker Annex. The site was also known as Castle ILS Outer Marker, Castle Air Force Base Instrument Landing System Outer Marker, and Merced Outer Marker Annex.
LOCATION: The site is located in Merced County, approximately 0.5 miles west of Merced, California
SITE HISTORY: On 19 May 1958, 1.3 1 fee acres were acquired by condemnation and 0.14 easement acres were acquired by deed dated 26 April 1954. The total acreage acquired was .45 acres. The 1.31 acre tract was subject to an existing easement for oil, gas, and other hydrocarbon and mineral rights in favor of Capital Company. Capital Company waived all rights to this property by agreement dated 16 August 1954 for a $1.00 consideration for a period of 5 years or until the land was no longer used in connection with the operations of Castle Air Force Base (CAFB), whichever is longer. If the land is no longer used by the government, the agreement becomes null and void and all rights are restored to the company. Capital Company had the right to slant drill from the exterior boundaries.
The site was used by the Air Force as an off-base instrument landing facility to CAFB. The Air Force installed compass locators in support of aircraft landings. There were no housing structures built on the site.
By quit claim deed dated 13 September 1976, 1.31 fee acres and 0.14 easement acres were conveyed to at private land owner in exchange for 0.26 fee acres (Tract No. 499) at CAFB.
Real Estate Map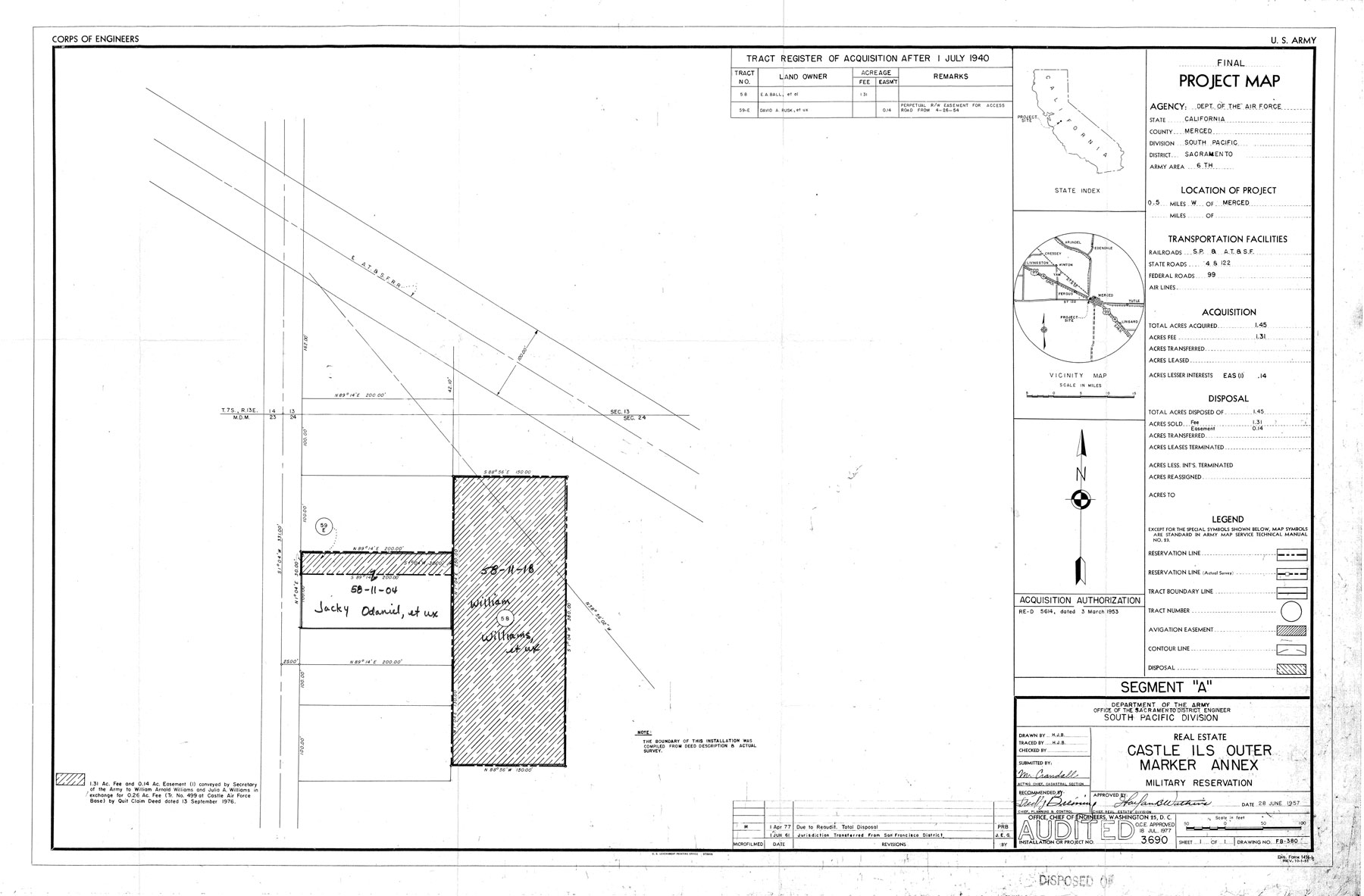 Search our Site!

View My Stats

Visitors since 8 December 1998
Questions and comments concerning this site should be directed to the Webmaster
Updated 23 June 2017