Historic California Posts, Camps, Stations and Airfields

Fleet City and World War II:

Camp Parks, Camp Shoemaker (including Army Prisoner of War Camp) and Naval Hospital Shoemaker

by Steve Minniear



Courtesy of Dublin Historical Preservation Association
The onset of World War II in 1941 found the United States woefully unprepared to fight wars in Europe, Africa and Asia. This led to decisions to induct, train and deploy over a million men and women. As part of the massive build up to take the war to the Japanese Empire, Germany and Italy, the United States government surveyed sites around the country for naval and military bases. The Twelfth Naval District, which included the San Francisco Bay area, had one of the largest concentrations of naval and military facilities on the West Coast. Less well known were the naval facilities that were built slightly southeast of the bay (in what is now Dublin, California) but were decommissioned and dismantled after the end of the war.
In what was then sparsely inhabited farmland near Pleasanton and Livermore, California, the U.S. Navy decided to build three major and other smaller facilities to house, train, deploy and recuperate personnel who would construct, maintain and man ships, bases, depots, camps and facilities in the Pacific theatre of war. The main facilities were Camp Parks, Camp Shoemaker and the Shoemaker Naval Hospital. The personnel who worked or moved through the facilities included the Naval Construction Battalions, more popularly known as the Seabees, and naval personnel of all ranks and specialties. At one point during the war the three major facilities were called "Fleet City." Camp Parks and Shoemaker Naval Hospital were designed to support the Seabees. Camp Shoemaker, located between the two, was a naval personnel training and distribution center designed to handle naval personnel on their way to, or returning from, the Pacific. On April 13, 1944 the Naval Construction and Replacement Depot (Camp Parks), Shoemaker Naval Hospital, the Naval Receiving Barracks and the Naval Disciplinary Barracks were administratively combined into the U.S. Naval Training and Distribution Center (TADCEN), Shoemaker, California.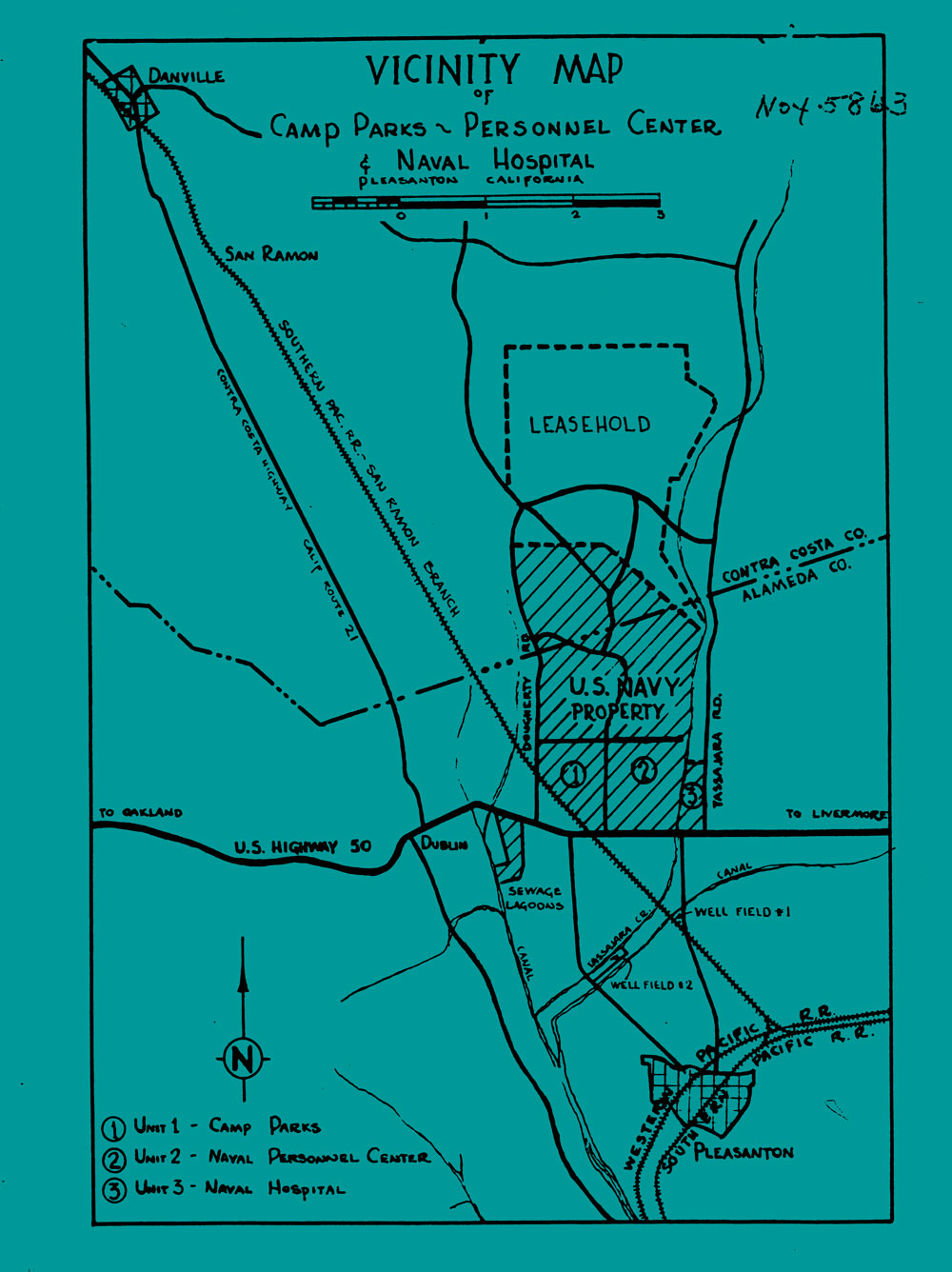 Courtesy of Dublin Heritage Park and Museums, Dublin, California
Roughly speaking, Fleet City consisted of the area now generally within the city limits of Dublin, California. Its boundaries encompassed the area between Dougherty Road on the west, Highway 580 (then Highway 50) on the south, Tassajara Road on the east and just across Alameda-Contra Costa county line on the north. Between 1942 and 1946, several hundred thousand men and women transited through the combined facilities of Fleet City.
U.S. Naval Construction Battalion Replacement Center - Camp Parks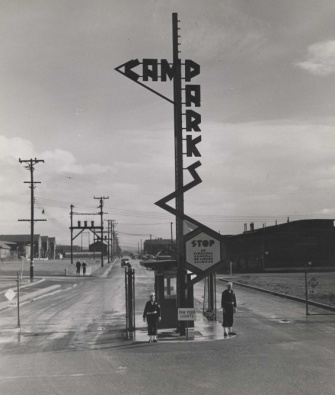 Courtesy of U.S. Navy Seabee Museum, Port Hueneme, California, Naval History and Heritage Command
After a large swath of private and public land was taken from the surrounding areas of Alameda and Contra Costa counties, construction began on Camp Parks on October 15, 1942. Named after Rear Admiral Charles W. Parks, Civil Engineer Corps, who was chief of the Navy's Bureau of Yards and Docks in World War I, the navy opened the camp for operation on January 19, 1943. According to its administrative history, Camp Parks' primary function was the "…housing, formation, and training of Construction Battalion units and drafts." In time other major functions besides the recuperation of men and units following deployment and the redeployment back into service were added. The 60th and 56th Naval Construction Battalions were the first two full battalions to move into Camp Parks. Initially, there were 10 barracks areas designed to house one Construction Battalion each, five mess halls and bachelor officer quarters (BOQ), a main administration building and several single story wooden storage buildings. In the winter and spring of 1944, additional buildings necessary to the smooth operation of the base were begun. These included cold storage, recreational buildings and training facilities. In September 1945, construction began for five more battalion areas. Quonset huts were used to provide additional storage and occupancy. The Navy closed the camp in January 1946.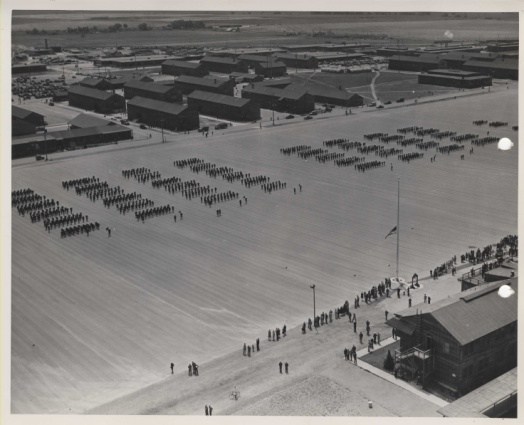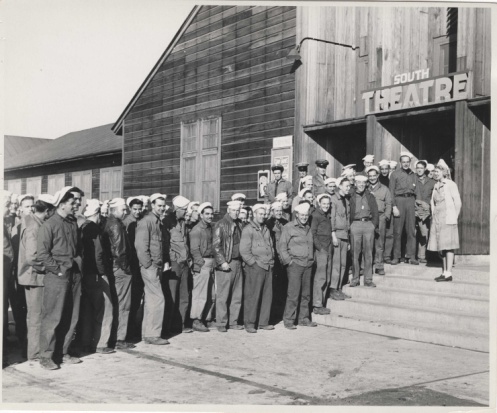 Courtesy of U.S. Navy Seabee Museum, Port Hueneme, California, Naval History and Heritage Command
By the end of the war, the Navy construction at Camp Parks included 110 wood barracks, 146 other wooden buildings, 697 Quonset hut barracks, 348 other Quonset huts, and 61 steel buildings. Overall, there were over 3.1 million square feet of constructed space by November 1, 1945. On average, Camp Parks trained over 3,800 men each month. At its busiest, in April 1945, over 20,000 men were on the base. During the course of the war, Camp Parks outfitted 109,120 personnel in over 3 regiments, 60 battalions, and 60 battalion detachments. Approximately separate 71 Seabee battalions went through Camp Parks at some point between 1943 and 1945.
Navy Training and Distribution Center - Camp Shoemaker

Courtesy of the Navy Library, Washington Naval Yard, Washington, DC, Naval History and Heritage Command
A number of naval components in the area started independently during World War II. On May 15 1943 the Navy Personnel Distribution Center was commissioned. Shortly thereafter it was renamed the Naval Receiving Barracks. As stated in an orientation pamphlet, "Its purpose, simply stated, is to give men a place to sleep and a bite to eat while waiting transportation to a ship or an advanced base." Or, as later took place, while waiting transportation home at the end of the war.
Starting with 50 officers and 400 enlisted men on 689 acres "… which a few short weeks before had been a cow pasture", the Receiving Barracks were within a year taking in 2,223 men and transferring off to further service 2,495 in a day (September 30, 1944). A monthly turnover could be as much as 50,000. On paydays the disbursing officers were paying out about a million dollars a month. At final operating capacity, the Receiving Barracks (also known as the station) had facilities for approximately 30,000 transient personnel, three mess halls capable of serving 10,000 at each meal. The facilities included four theaters collectively seating 6,000, 44 bowling lanes, 40 pool tables, four swimming pools, a drill hall containing four basketball courts, 10 tennis courts, one regulation baseball diamond, two football fields, nine softball diamonds, and five indoor recreation buildings. Sports were a very important pastime and the "Fleet City Bluejackets" fielded football, baseball and basketball teams. The Navy closed the Receiving Barracks in 1946.
US Army Prisoner of War Camp, Camp Shoemaker
Headquarters, 9th Service Command established a Prisoner of War Camp 16 August 1945. The camp was operated by Service Command Unit 1951. The camp was closed 14 May 1946.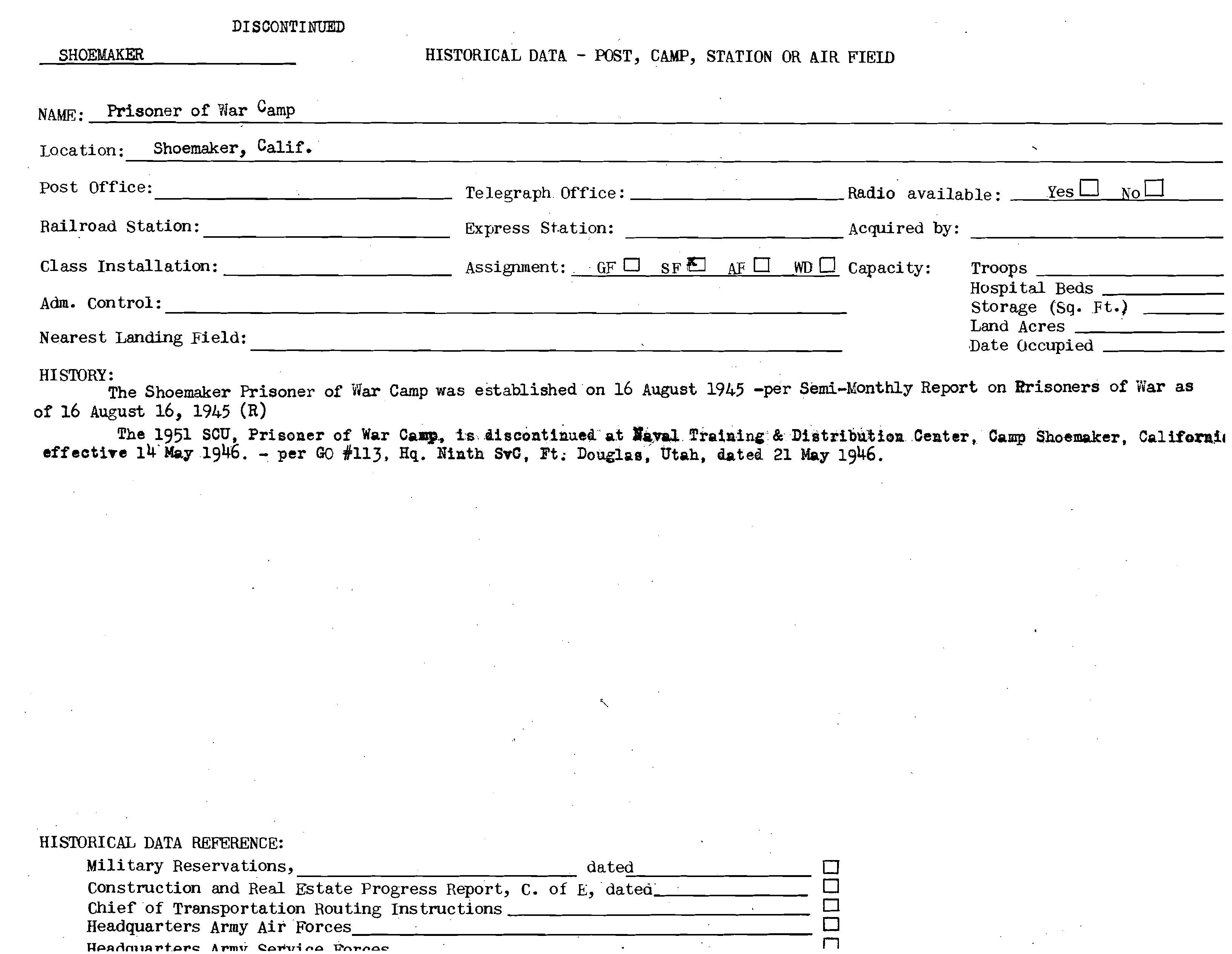 Shoemaker Naval Hospital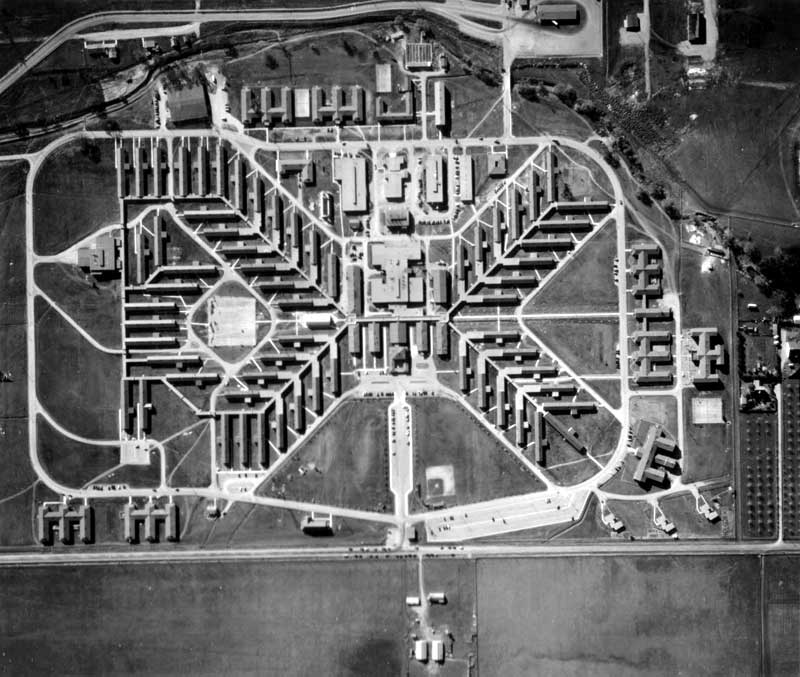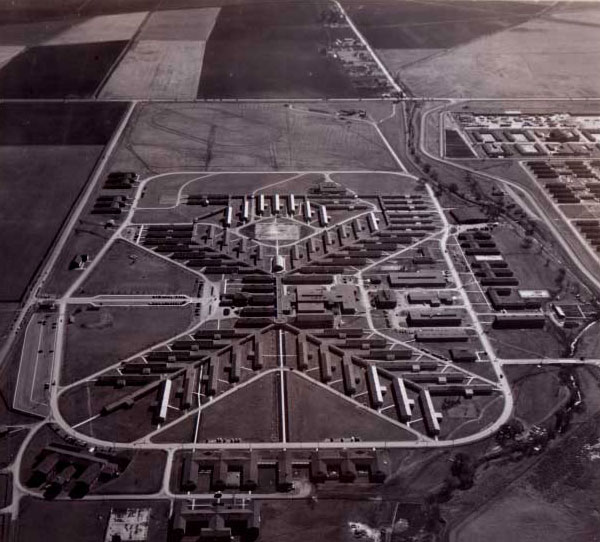 Courtesy of California State Military Museum Joint Image Library
The hospital was designed to serve Naval Construction Battalion Replacement Center, Camp Parks and care for Seabees. Commissioned on October 1, 1943, the second new naval hospital built on the West Coast in 1943 had 1,000 beds in 31 wards when completed. The hospital had a distinctive design with four radial groups of wards which looked somewhat like a giant X from the air. All the buildings were temporary wooden frame construction. On V-J Day (Victory over Japan Day, September 2, 1945) it had 3,031 patients. The Navy closed the hospital in 1946.
Naval Disciplinary Barracks, Shoemaker

One of the other important activities at Fleet City was the Naval Disciplinary Barracks, Shoemaker. Commissioned in 1944, the disciplinary barracks handled a wide range of violations of naval regulations. At its height in April 1945, there were 2,097 men in confinement, including men from the Navy, Marines and Coast Guard. Besides instruction in naval occupational specialties, work details from the barracks provided the main occupation for prisoners and included activities that directly supported the Navy's war efforts. Shoemaker Barracks estimated that, among other accomplishments, prisoners created 8,406 cargo nets, built 82,893 four foot by four foot wooden pallets, repaired 54 fork trucks and saved the Navy over $371,000 dollars. In addition to keep the prisoners, "mentally healthy" there were a number of recreational activities available, such as movies, boxing, basketball, volleyball, softball, a library and a prisoner orchestra. The disciplinary barracks estimated that 70 percent of the men confined eventually returned to active duty. Twenty-two officers and 272 enlisted men (Navy and Marine) managed the facility.

Following the end of the war, the Navy transferred the disciplinary barracks to Alameda County and the facility became the San Rita Rehabilitation Center, also known as the Santa Rita Jail.

Search our Site!
Questions and comments concerning this site should be directed to the Webmaster
Updated 8 February 2016