Historic California Posts, Camps, Stations and Airfields

Fresno Air National Guard Base

Fresno Army Air Base, Hammer Field
The Fresno Air National Guard Base in California is home to the 144th Fighter Wing. The 144th Fighter Wing (FW) of the California Air National Guard occupies two separate parcels of land (the main base area and the Munitions Storage Area) totaling 110.726 acres of leased land on the Fresno Yosemite International Airport (formerly named Fresno Air Terminal), located approximately 4 miles east of downtown Fresno, California. The mission of the 144th FW is to provide air defense protection for California from the Mexican border to Ukiah utilizing the F-16 Fighting Falcon jet fighter aircraft. The 144th FW occupies 6 administrative, 16 industrial and 2 services buildings totaling approximately 341,251 square feet with 325 full-time personnel. A unit training drill is conducted once a month and results in a surge of up to a total of 990 personnel. There is currently an ongoing construction project (Composite Support Facility), which when completed by the end of FY 2001, will add an additional 6,236 square feet of building area.
The California Army National Guard [CAARNG] aviation units are based at the Mather Army Aviation Support Facility (AASF) located at the former Mather Air Force Base (AFB) in Sacramento, the California Aviation Classification Repair Depot (AVCRAD) in Fresno, the AASF in Stockton, and the Armed Forces Reserve Center (AFRC) in Los Alamitos. All sites include hangar facilities, aircraft parking aprons, and armories. The 1106th AVCRAD's mission is to provide aircraft support to the National Guard's aviation units of thirteen western states. It performs the highest level of maintenance possible on Army aircraft.
Hammer Field, also known as Fresno Army Air Base and previously known as Fresno Air Field and Municipal Airport at Fresno, was located 5 miles northeast of Fresno. The Army Air Force acquired this area for the Airways Detachment to set up a sub-base of Camp Pinedale for an extension of ordnance storage facilities and additional land for housing construction, a hospital, laundry, drainage facilities, cold storage, fire station, school building, rifle ranges, high tower shot gun range, motor pool areas, chemical warfare storage area, a concrete underground igloo magazine arms storage, Hammer Army Air Field was a training base of the 4th Air Force specializing in night fighters. It had three sub-bases and two gunnery ranges. Hammer Field also had an Army Air Forces regional hospital.
The site is approximately 1616.95 acres and was acquired by the U.S. Government for use as an Army Air Base sub-base for Camp Pinedale. The US Government acquired the site from several sources between 1941 to 1945; the sources included the City of Fresno (804.59 acres by lease), 21 individual land owners (781.96 acres by fee and 27.24 acres by lease), easement right-of-ways (1.42 acres) and permit (1.64 acres). In 1943 the lease on 9.24 acres was terminated. In 1945 and 1946, the leases for 18 acres and 5 acres were terminated, respectively. Effective January 15, 1947, 23.06 acres were reassigned for the Hammer Field National Guard training area. In 1948, 319 acres were quitclaimed and the lease on 799.69 acres were transferred to the City of Fresno. In 1948 and 1949, 441.5 acres were quitclaimed to the State of California.
The former Hammer Field area, now the site of the Fresno Air Terminal, has various sources of contamination that are being investigated by the California Air National Guard, the California Army National Guard, and the State of California Department of Health Services. This investigation is part of the active IRP program and as such is not related to the formerly used area that the enclosed INPR covers. However, groundwater contamination sources have not been exactly pinpointed yet. If, upon further investigation, this alleged landfill holds chemical contamination similar to what is being discovered, the possibility exists for active participation in the remediation program.
Planning is underway for the Air Cargo Park at Fresno Yosemite International Airport located on approximately 87 acres of land on the north side of the airport. The air cargo park will feature two aircraft ramps together with over 500,000 square feet of air cargo building space. The first phase was completed in late fall of 2001.
Hammer Field

by Justin Ruhge

Named in honor of Lieutenant Earl M. Hammer, California's first World War I American to be killed in action while behind the German lines on March 19, 1918. He was a graduate of the Aviation Ground School at Berkeley as well as the University of California Agricultural College in Davis.


In early 1941 the War Department decided that the space and facilities at the then Bakersfield Airport, called Chandler Field, were inadequate for a military field and chose instead a site east of Fresno for the new Hammer Field. The Fresno City Council bought up the site and leased it to the Army Air Corps by March 14, 1941. The construction of runways, hangars, administration and service buildings and barracks got underway almost immediately.

The first of seventy-five bombers expected eventually to occupy the big base was flown into Fresno on April 22. It was a B 18-A Douglas bomber. It landed at Chandler Field because Hammer's runways were still under construction. These were completed in November 1941. The field was turned over to the Army Air Corps on December 1, 1941. The field was home to the 15th Bombardment Group, the 47th Light Bombardment Group and the 49th Airbase Group of the Army Air Corps.


Called simply Fresno Army Air Base at first, the field was officially opened on April 3, 1941 when Lieutenant Colonel Lotha A. Smith assumed command. Colonel Smith left on December 4, 1941 and was succeeded by Lieutenant Colonel John W. Warren. Lieutenant Colonel Guy Kirksey replaced him on December 25, 1941.


Fresno Army Air Base became Hammer Field in January 1942. Dedication was in May 1942.


The 4th Air Force Replacement Depot arrived in August 1942. Its purpose was to receive all filler replacements and prepare them to fill assignments in the Air Force. The Depot made Hammer Field a highly significant installation in training and preparing filers and technicians for their jobs overseas.


The Army acquired Bakersfield's Chandler Field Municipal Airport in 1942 for use as an auxiliary field to Hammer Field. Bomb storage and training were its main functions.


One of Hammer Field's most outstanding facilities was the hospital, which consisted of 85 buildings containing 932 beds, while the total authorized was 1,112. The hospital was also able to offer services to surrounding army bases.


In June 1943, Hammer Field's first WAACs, those composing the 794th Women's Army Auxiliary Corps, arrived. The unit eventually became simply detachment W and later Squadron W, involving the changeover from WAAC to WAC, the Women's Army Corps.


Hammer Field also was designated as an Army Air Force Training Center for nurses in December 1943.


In March 1944 Night Fighter training missions began when the runways roared with activity as countless planes took off for night formations in all kinds of mock training missions.


USO events took place off base in Fresno.


In November 1945, Brigadier General Lotha A. Smith, the first base commander, returned to be the final commander.


The Hammer Field newspaper was the "Hammer Field Night Hawk." It reported that some 60,000 troops had been trained at Hammer Field during the 5 years of its existence.


On October 25, 1945 the War Department announced that Hammer Field was to be deactivated. The U.S. government had purchased an additional 319 acres immediately west and 531 acres north of that area owned by the city. On December 5, 1946, the City of Fresno agreed to assume operations of the airport section of Hammer Field under an interim license from the War Assets Administration. On September 29, 1948, the War Assets Administration canceled the leases on behalf of the government and quitclaimed the 319 acres of land immediately west of the city-owned property to the City of Fresno. The City received this land and thirty-two buildings. The land and facilities were deeded to the Fresno State College to be used as a farm school.


The commercial airline announced that they would no longer use the Chandler Field Municipal Airport. It was declared too small and inadequate for the new generation of commercial aircraft coming into use.


On December 26, 1956 the City Commission changed the name of Hammer Field to Fresno Air Terminal.

Reference: Hammer Field Basic Training Center, December 21, 1945; Fresno County in the 20th Century, From 1900 to 1980s, Vol. 2 an All New History by Charles W. Clough. Fresno, Fresno County.


Other Online Histories

Real Estate Map

Classification and Numbering System Map (1943)

Base Layout Map (1945)

History of Fourth Air Force Replacement Depot, Hammer Field:
Extract, US Army Air Forces Directory of Airfields (January 1945)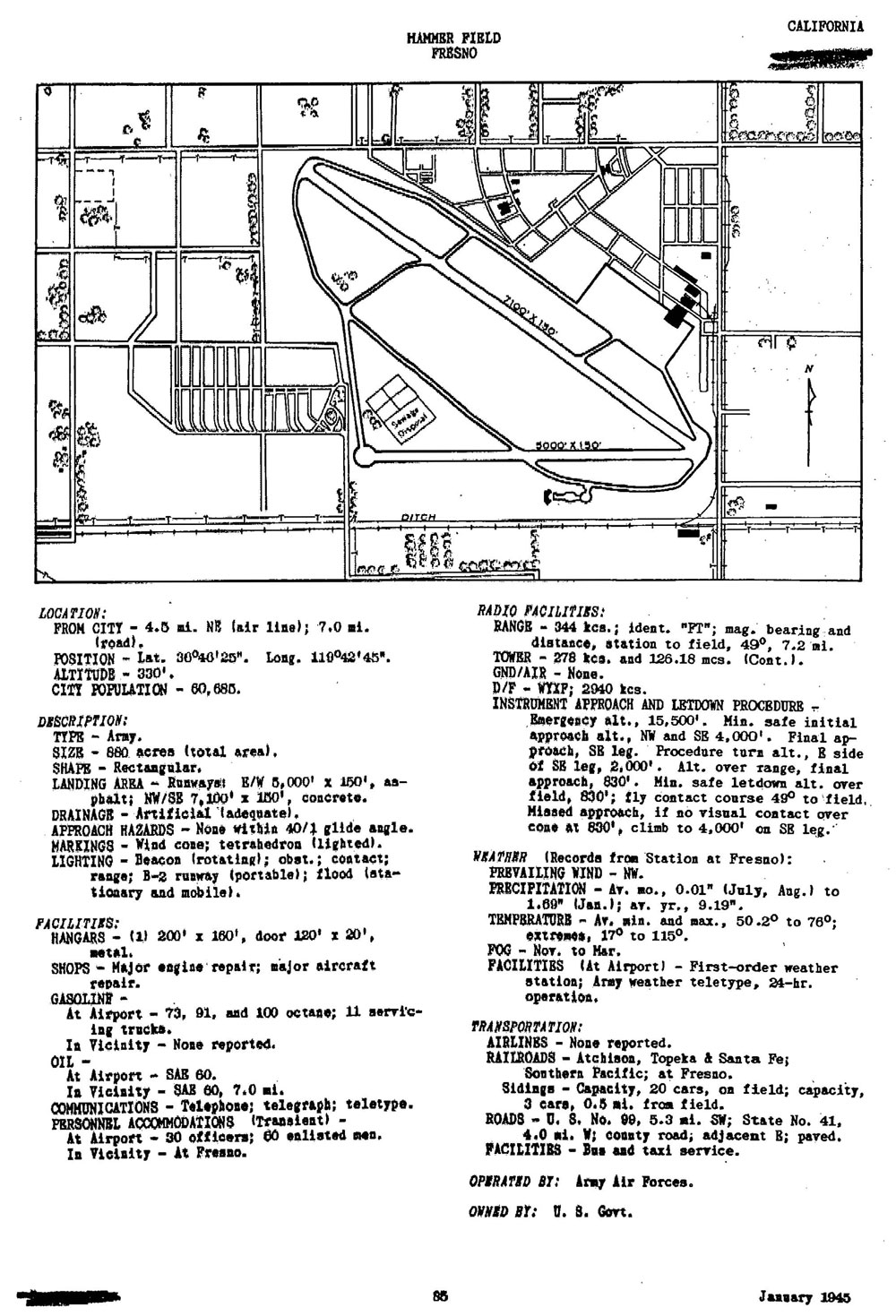 Known Units at Hammer Field
Present 7 December 1941
84th Bombardment Squadron (Light)
85th Bombardment Squadron (Light)
86th Bombardment Squadron (Light)
97th Bombardment Squadron (Light)
Hq and Hq Sq, 49th Air Base Group:
64th Material Squadron
50th Air Base Squadron
Air Force Band
Det, 1st Communications Squadron
Det, 1st Weather Squadron

Det, 3rd Chemical Company (Service) (Aviation)
444th Ordnance Company (Aviation) (Bombardment)
710th Ordnance Company (Aviation) (Air Base)
Det, Company M, 34th Quartermaster Regiment (Truck)
Det, 91st Quartermaster Battalion (Lt Maint)
Det, 4th Quartermaster Company (Supply) (Aviation)
321st Signal Company (Air Wing)
Det, 854th Signal Service Company (Aviation)
25th Signal Platoon (Air Base)

402nd Army Air Forces Base Unit (Fighter) (318th Wing)

450th Army Air Forces Base Unit (Combat Crew Training Station-Night Fighter)
Posted 18 May 2008


Search Our Site