Historic California Posts, Camps, Stations and Airfields

Hamilton Air Force Base

(Air Corps Station, San Rafael; Hamilton Field, Hamilton Army Airfield)

History

by Gordon Chappell, Regional Historian, Pacific West Region, National Park Service
Known at first unofficially as the Marin County Air Field, as Marin Airfield, as Marin Meadows Air Field, and as the Army Air Base at Marin Meadows, it was officially termed from 1929 until 1932 the "Air Corps Station, San Rafael." Then, with formal development beginning, it was named Hamilton Field on July 12, 1932, in honor of an air ace from Marin County killed in World War I. He was First Lieutenant Lloyd Andrew Hamilton of the 17th Aero Squadron, awarded the Distinguished Service Cross for heroism at Varssonaore, Belgium, in leading a low level bombing attack on a German airdrome 30 miles behind enemy lines on August 13, 1918. Thirteen days later Hamilton died in action near Lagnecourt, France.
Construction at Hamilton Field had begun about July 1, 1932, with the airfield being originally designed to accommodate four bomb squadrons and their personnel. Captain Don Hutchins of the Army Air Corps reported on duty as the first commanding officer of the new field on June 25, 1933, and Captain John M. Davies' 70th Service Squadron arrived that December as the first squadron assigned to the base. On December 4, 1934, the 7th Bombardment Group arrived to take station, having been transferred up from March Field. The new base was designated that year as General Headquarters of the 1st Pursuit Wing. The Hamilton Field Station Complement replaced the 70th Service Squadron on March 1, 1935. The original construction program was completed on May 12, 1935, at which time the field was ceremonially handed over to Brigadier General Henry 'Hap' Arnold, commanding the First Wing, by Governor Merriam of California.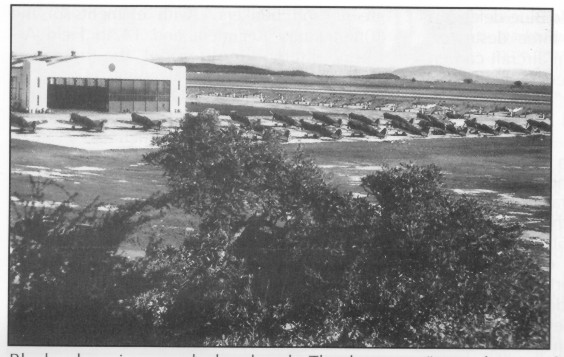 P-40's at Hamilton Field in 1941
Described in 1940 as "looking more like a modern residential suburb of Spanish California homes than the Army's Pursuit Base for northern California," Hamilton Field had by that time received five million dollars for development. At that time the Field housed the 45th Air Base Group, the 20th Pursuit Group (Fighter), the 35th Pursuit Group (Interceptor), the 82nd Observation Squadron, and Weather, Signal, Ordnance, Quartermaster, Medical and Finance organizations totaling over 4,000 officers and men.
A description of Hamilton Field written in 1940 or early 1941 characterized the base:
An average of 250 clear days each year makes the mile-square, table-flat landing field ideal for huge Army bombers and fast pursuit planes. Field exercises and long-distance mass flights are the rule, rather than the exception, at Hamilton Field. One mass flight, of two months' duration, covered practically the whole of the United States.

From the Bay shore, where a canal and wharf provided harbor facilities, the reservation rises gently to a velvet-green plateau on which the low Spanish-style structures of the post gleam white against semitropical plants and shrubs. Streets and boulevards wind about the hills. The administration buildings, hangars, hospital, theater, post office, shops and quarters, and radio, electric, and fire-fighting units form a compact self-sustaining military town.

From the portals of the field a wide palm-lined avenue leads to Base Headquarters housed in a structure designed to resemble a California mission. The Officers' Club, a rambling hacienda on the crest of the promontory, looks eastward over the chameleon waters of San Pablo Bay to distant Mount Diablo.
On March 31, 1941, the base was reassigned to the Fourth Air Force, and it was later that year that a flight of twelve B-17s left Hamilton Field for Hickam Field in Hawaii, which lay next to the naval base known as Pearl Harbor. Flying all through the night, the bombers arrived over Oahu on the morning of December 7, 1941, and faced an unusual welcome.
The B-17s had arrived over Oahu during the Japanese air attack which triggered American entry into World War II. Back in California, Hamilton Field was rapidly expanded to a wartime status, with construction of additional barracks, mess halls, administration buildings, warehouses, Link trainer buildings, schools, hospital and other structures, an expansion that really didn't come to an end until July 11, 1945, by which time the war was clearly nearing its end.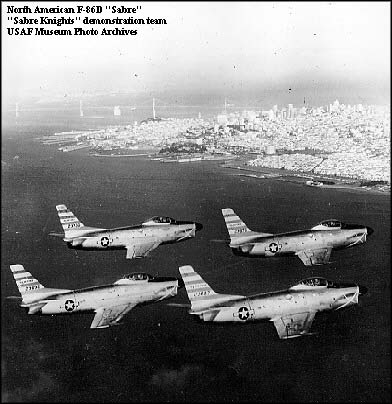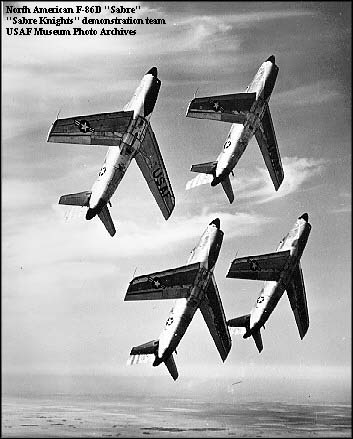 "Sabre Knights" aerial demonstration team from Hamilton AFB, CA, 325th Fighter-Interceptor Squadron
The Army Air Force was now expanded into the United States Air Force, a separate military service, and soon Hamilton Air Force Base was being modified to accommodate jet aircraft. In mid-1959 the runways were upgraded to accommodate F-101 and F-104 operations. The base went through a series of command redesignations during this period--to the Continental Air Forces on April 16, 1945, to the Air Defense Command on January 1, 1951, to the Aerospace Defense Command on January 15, 1968, 'and as its usefulness waned, to the Air Force Reserve on October 1, 1973.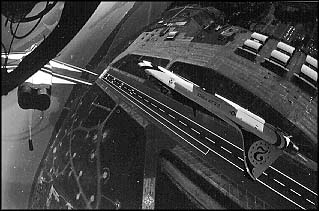 "Thunderbird" T-38As photographed with a wide angle lens from the cockpit of another T-38 over Hamilton AFB, California (1974).
The base had been declared excess to Air Force needs as early as December 10, 1944, but it was not closed at that time, and in 1952 it had been declared a "permanent" U.S. Air Force installation. Nevertheless, by 1973 its importance had diminished, and it was finally placed in a caretaker status on January 11, 1976. Brigadier General William G. Hathaway ended, on June 10, 1976, his tour of duty as the last of Hamilton's thirty-five base commanders (not counting Captain Howard B. Nurse who had been the project officer from 1931 to 1933). Today (1981) housing and office space on the base are still used by the Air Force, the Coast Guard, the Navy, and the 91st Division (Training), Army Reserves, and management of the base is under the Navy. Occasional Air Force maneuvers still take place there. A controversy over future civilian use has developed between those supporting its adaptation into a major civilian airport, those bitterly opposed to its continued use as an airfield at-all, and those holding varying intermediate degrees of opinion. The final resolution has not yet been determined as of early 1981.
Postscript
The above history was written in 1981 for the annual meeting of the Council on Abandoned Military Posts. Since it was written several events have impacted Hamilton:
Hamilton Air Force Base was decommissioned in 1974. The airfield was transferred to the Army as Hamilton Army Airfield, the housing to the Navy and a 411-acre parcel to the General Services Administration (GSA) for public sale. The GSA public sale occurred in 1985 and the 1988 Base Realignment and Closure (BRAC) closed the Army airfield. As a consequence of BRAC 1993's closure of the Navy's San Francisco bases, the Navy vacated its Hamilton housing in 1996.
A Historic District was created at Hamilton in the summer 1998. The first area includes the hangars and the senior housing. The second includes the theater and the hospital. The third includes Spanish housing, the BOQ and the pool.
Additional Histories
Wikipedia

Abandoned and Little Known Airfields

Historic American Building Survey

Army Units Assigned to Fort Funston

Data Source

Date(s)

Unit(s)

US Army Order of Battle 1919-1940
1929-1941

Annual Training Units:

316th and 367th Observation Squadrons (Organized Reserves)

US Army Order of Battle 1919-1940
1933-1936
70th Service Squadron
US Army Order of Battle 1919-1940
1934-1935
Headquarters, 7th Bombardment Group
US Army Order of Battle 1919-1940
1934-1938
31st Bombardment Squadron
US Army Order of Battle 1919-1940
1934-1940
9th and 11th Bombardment Squadrons
US Army Order of Battle 1919-1940
1935-1936
69th Service Squadron
US Army Order of Battle 1919-1940
1935-1940
88th Observation Squadron
US Army Order of Battle 1919-1940
1936-1940
Base Headquarters and 5th Air Base Squadron
US Army Order of Battle 1919-1940
1937-1940
Headquarters, 7th Bombardment Group
US Army Order of Battle 1919-1940
1939-1941
77th Pursuit Squadron
US Army Order of Battle 1919-1940
1940
22nd Bombardment Squadron
US Army Order of Battle 1919-1940
1940-1941

Headquarters, 10th and 11th Pursuit Wings

Headquarters, 20th and 35th Pursuit Groups

18th, 20th, 21st, 34th and 55th Pursuit Squadrons

82nd Observation Squadron

88th Reconnaissance Squadron

7 December 1941

Hq and Hq Sq, 4th Air Support Command:
Hq and Hq Sq, 20th Pursuit Group (Interceptor):

55th Pursuit Squadron (Interceptor)
77th Pursuit Squadron (Interceptor)
79th Pursuit Squadron (Interceptor)
20th Interceptor Control Squadron

17th Transport Squadron (64th Transport Group)
60th Material Squadron
46th Air Base Squadron
Air Force Band
Det, 1st Communications Squadron
Det, 1st Weather Squadron

Det, 3rd Chemical Company (Service) (Aviation)
692nd Ordnance Company (Aviation) (Pursuit)
711th Ordnance Company (Aviation) (Air Base)
Company K, 30th Quartermaster Regiment (Truck)
Company D (less Dets), 89th Quartermaster Battalion (Lt Maint)
Det, 4th Quartermaster Company (Supply) (Aviation)
419th Signal Company (Aviation)
Det, 854th Signal Service Company (Aviation)
8th Signal Platoon (Air Base)

Site Map

Click for a larger image.

Images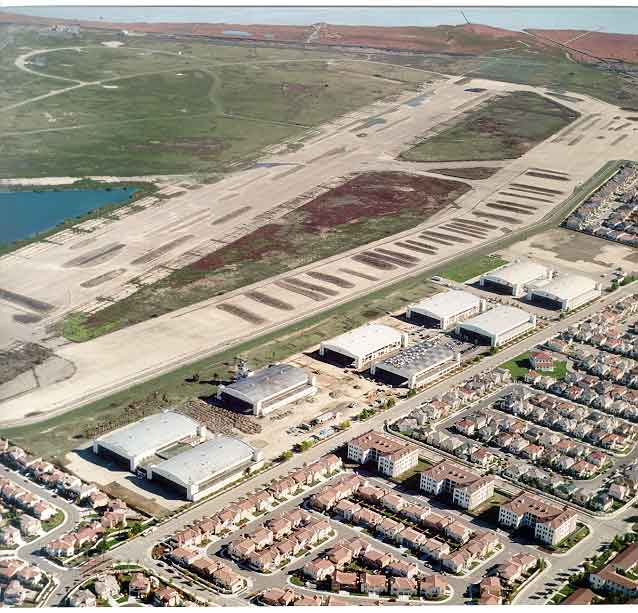 The former Hamilton Air Force Base today. The three H-shaped buildings in the foreground are the former enlisted barracks



Enisted Barracks, circe 1940

Softies Ice Cream Stand run by Homer Oleson (Charlie Oleson)
Postcards of Hamilton AFB
Headquarters

Main Gate
Extract, War Department Inventory of Owned, Sponsored and Leased Facilities, December 1945
Capacity:

Enlisted:

Permanent: 68
Mobilization (Quartermaster Corps 700-Series or Corps of Engineers 800-Series): 4,659
Theater of Operations: 666
Hutments:
Tents:
Total: 5,393

Officers: 608
Station Hospital: 1,100

Acreage

Owned: 1,367 acres
Leases: 232 acres
Total: 1,599 acres

Storage:

Covered: 431,485 sq ft
Open: 622,943 sq ft

Cost to Government Since 1 July 1940:

Land: $90,250.00
Construction: $12,886,481.00
Total: $12,976,731.00

Remarks: 917 acres donated by Marin County
Other Online Resources:

Historic American Building Survey

Search our Site!
Questions and comments concerning this site should be directed to the Webmaster
Updated 8 February 2016