Historic California Posts, Camps, Stations and Airfields

Los Angeles Ordnance Depot
US Army Corps of Engineers History
Location: The Los Angeles Ordnance Depot in Vernon, California is located on the south side of East 50th Street, west of Gifford Avenue, and north of Fruitland Avenue. A separate area which was leased for the open storage of vehicles, is located in the City of Commerce about 1.5 miles southeast of the depot. This former vehicle storage area is bounded on the west by Eastern Avenue, on the south by Randolph Street, and on the north by the Los Angeles Junction Railroad.
Site History: The Los Angeles Ordnance Depot in Vernon was originally occupied by the 964th Ordnance Field Depot Company, a unit of the Western Defense Command. Two leasehold interests for the property acquired for the Los Angeles Ordnance Depot in Vernon were transferred from the Southern California Sector Western Defense Command to the U.S. Army Ordnance Department on 10 May 1943 and 4 June 1943, respectively. The property included a warehouse and an adjacent barracks area containing approximately fifteen buildings (presumably temporary in nature) to accommodate 258 men. An additional 32.3 acre area was acquired for open vehicle storage by lease on 12 January 1944.
In February 1944 the Los Angeles Ordnance Depot was activated with the arrival of the 3115th Ordnance Armament Maintenance Company (152 men). In August 1944 the Los Angeles Ordnance Depot operation moved to the Wilmington warehouses of the Port of Los Angeles. It is assumed that Army occupancy ended by 1946 and the properties were relinquished to the lessors.
The 7 April 1945 Army Station List shows the depot was operated by 9342nd Ordnance Corps Technical Service Unit, an Army Service Forces unit.
The subject parcels have remained in private ownership, and are currently occupied by numerous commercial, industrial, and warehouse buildings. No evidence of former Army occupancy was observed during the site visit. Neither the current owner, who has owned the property for over 20-years, nor a long-time resident have ever seen any evidence of former military use.
Source: US Army Corps of Engineers, Los Angeles District
Historical Status Card, Army Center of Military History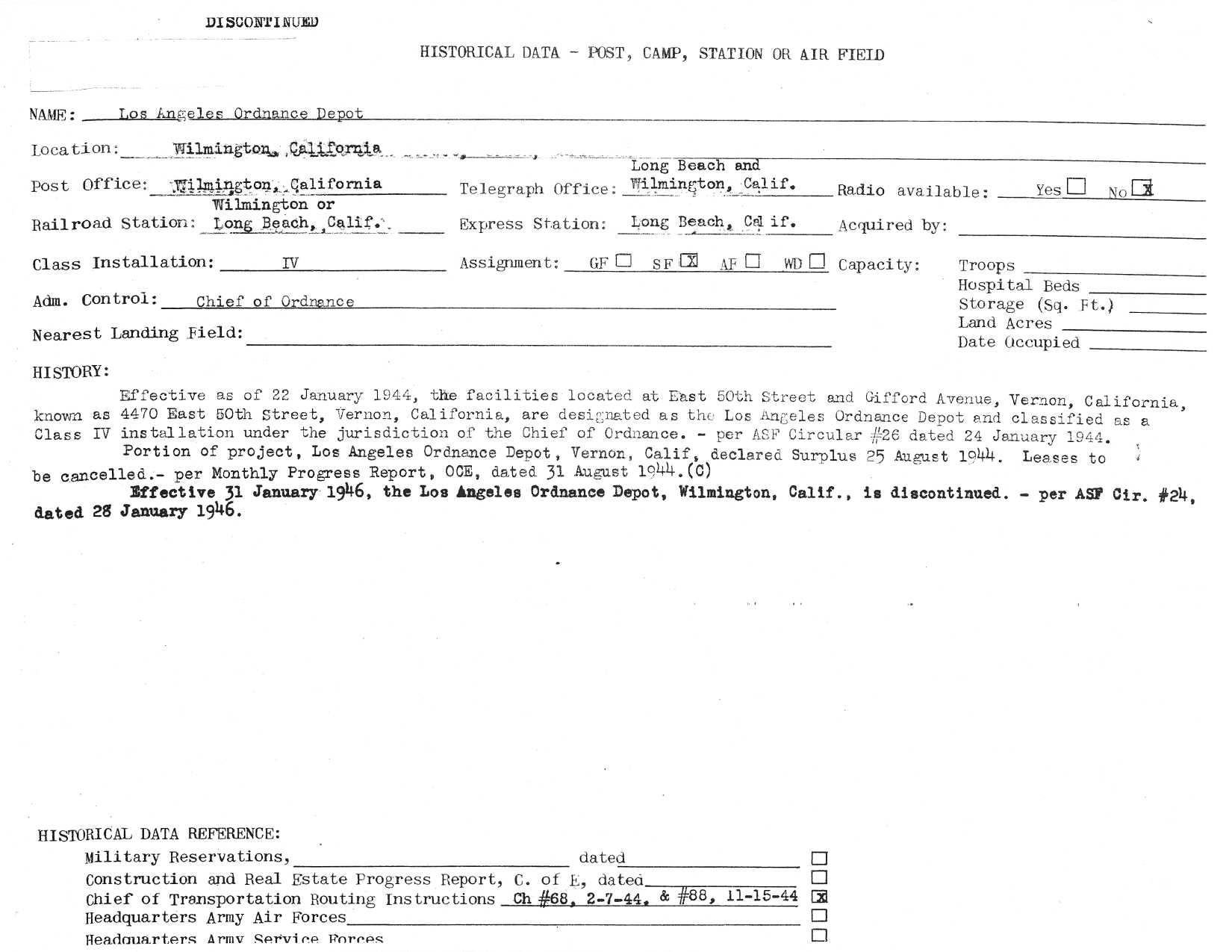 Source: US Army Corps of Engineers, Center of Military History US Army
Extract, War Department Inventory of Owned, Sponsored and Leased Facilities, 31 December 1945
Capacity:

Enlisted: 131
Officers: 8
Station Hospital:

Acreage

Owned:
Leases: 7 acres (2 leases)
Total: 7 acres

Storage:

Ammunition Igloos and Magazines:
Covered:

Heated:
Unheated: 45,000 sq ft
Total: 45,000 sq ft

Sheds:
Open:

Surfaced: 25,000 sq ft
Unsurfaced: 50,000 sq ft
Total: 75,000 sq ft

Total Depot Storage Capacity: 120,000 sq ft

Cost to Government Since 1 July 1940:

Annual Lease Payment(s): $18,160.00
Land Purchase:
Construction:
Total (Less Lease Payments):

Remarks:
Search our Site!
Questions and comments concerning this site should be directed to the Webmaster
Updated 8 February 2016