Historic California Posts, Camps, Stations and Airfields

Lincoln Auxiliary Field

Lincoln Auxiliary Field, circa 1943

History

Sgt Maj (CA) Dan Sebby, Military Historian, California Military Department
Established in 1942, the former Lincoln Auxiliary Field was built as an auxiliary airfield for the Army Air Forces' Advanced Flying School at Mather Field near Sacramento. The primary use of the Site was to provide a location for emergency landings and general training in support of operations at Mather Field. The Site was built to a standard design consisting of three 4,000-feet runways arranged in a triangle, with a fourth runway (3,463-feet) bisecting the triangle.
Initially, North American AT-6 "Texan," Cessna UC-78 "Bobcat," and Beech AT-11 "Kansan" training and utility aircraft would have used the Site as part of Mather Field's mission to train pilots, navigators and bombardiers. In 1943, Mather Field's training mission shifted to training North American B-25 "Mitchell" medium bomber crews as they prepared for deployment overseas. Finally, in 1944, Mather Field became part of the Air Transport Command with Curtiss C-46 "Commando," Douglas C-47 "Skytrain," and C-54 "Skymaster" cargo aircraft passing through Mather Field and its auxiliary airfields. Throughout its operational history, Lincoln Auxiliary Field was available to any aircraft needing emergency landing.
The Site was maintained and operated by a small detachment from Mather Field's 77th Air Base Group and its successor unit, the 1505th U.S. Army Air Forces Base Unit. The facilities available at the Site were minimal, and consisted of four administrative and crew buildings and a single pit latrine. There was no aircraft maintenance or refueling infrastructure on the airfield during the Army Air Forces' tenure.
The Site was declared as excess to the needs of the U.S. Army by the Pacific Division of the USACE on 8 December 1944. On 30 July 1946, the War Assets Administration granted a revocable permit to the City of Lincoln to operate a municipal airport on the Site. The formal conveyance was approved by the War Assets Administration on 29 November 1946 with the condition that the military retained access to the airfield and War Department improvements to the Site were maintained.
Building List with Current Conditions

| | | | |
| --- | --- | --- | --- |
| Building Number | Purpose | Type of Construction | Condition as of 20 Nov 08 |
| T-1 | Operations Building | Wood Frame, Theater of Operations Type, 20x100 feet | Unsound |
| T-3 | Superintendent's Building | Wood Frame, Theater of Operations Type, 20x60 feet | Unsound |
| T-5 | Barracks | Wood Frame, Theater of Operations Type, 20x100 feet | Unsound |
| T-12 | Pit Latrine | Wood Frame, Theater of Operations Type, 9x9 feet | Removed |
| T-20 | Crew Headquarters Bldg | Wood Frame, Theater of Operations Type, 20x100 feet | Removed |

Other Army Improvements

In addition, there were 5 culverts with 4 drop inlets; 21,120 lineal feet of fencing with two 16' gates; 6,450 square yards of roads, bituminous; 18,610 square yards of parking aprons, 2" road mix asphalt; and 508,550 square yards of Runways and Taxiways, road mix asphalt.
Post Army Use
From 1946 until 1977, the former Lincoln Auxiliary Field was operated for the City of Lincoln by the late Karl Harder, who was the "unofficial" manager of the airport for many years. He operated out of the original buildings on the west side of the runway and provided fuel for airplanes at the airport. He was also a locally noted flight instructor, who taught thousands of students to fly. The airport was named Karl Harder Field in honor of Karl Harder, but officially it remains the Lincoln Regional Airport. A monument to Karl Harder is located near the airport office.
In 1977, the City entered into a Joint Powers Agreement with Placer County for operation of the airport, although the City never relinquished ownership. As a result of this agreement, the Lincoln Airport Authority was created.
The Lincoln Airport Authority built new facilities on the eastern side of the property and refurbished and lengthened one of the runways. In 1986, the Joint Powers Agreement between the City and County was terminated, and control of the airport reverted to the City of Lincoln. The post-World War II facilities on the eastern side of the airfield continue to be improved and expanded.
The facilities on the western side of the property still remain, though in serious disrepair.
Extract, War Department Inventory of Owned, Sponsored and Leased Facilities, 1945
Capacity:

Enlisted:

Permanent:
Mobilization:
Theater of Operations: 34
Hutments:
Tents:
Total: 34

Officers:
Station Hospital:

Acreage

Owned: 628 acres
Leases:
Total: 628 acres

Storage:

Covered: 1,200 sq ft
Open:

Cost to Government Since 1 July 1940:

Annual lease payments:
Land: $12,048.00
Construction: $434,734.00
Total (less annual leases): $446,782.00

Remarks:
Extract, January 1945 Army Air Forces Directory of Airfields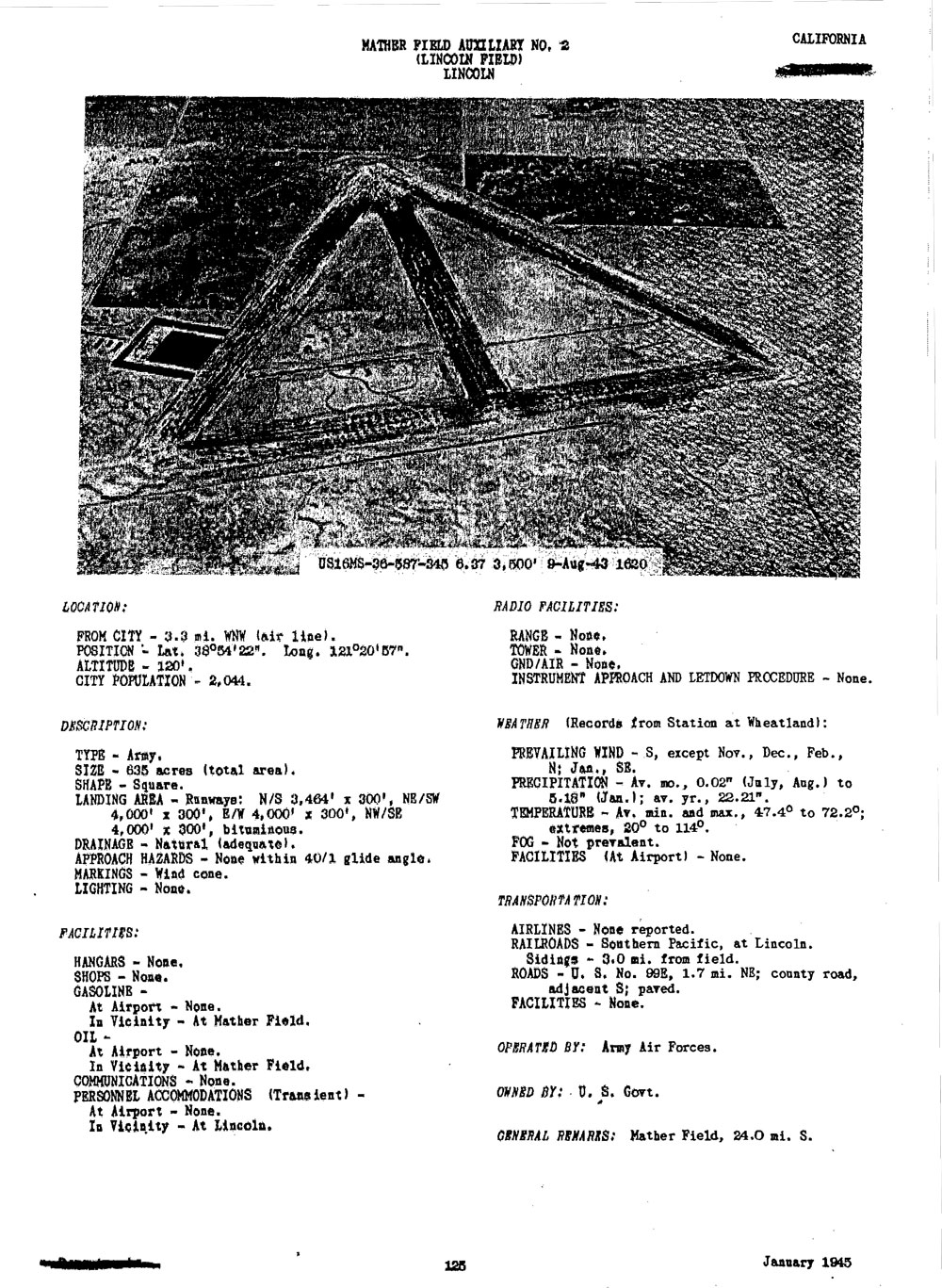 Site Map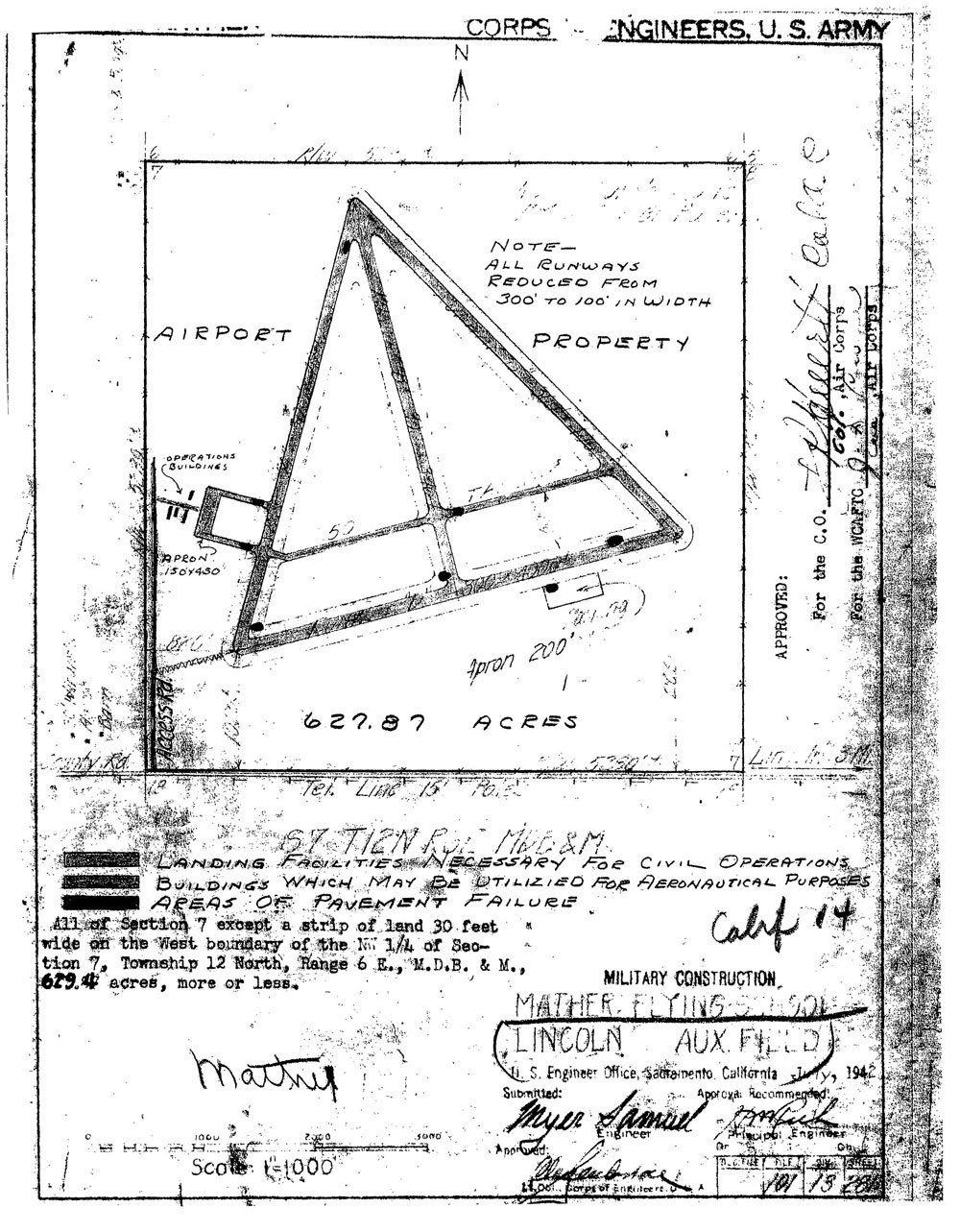 Corps of Engineers Real Estate Map

Other Images of Lincoln Auxiliary Field
Lincoln Auxiliary Field under construction in 1942

Search our Site!
Questions and comments concerning this site should be directed to the Webmaster
Updated 8 February 2016