Historic California Posts, Camps Stations and Airfields

Marine Corps Air Station, Tustin

(Naval Air Station, Santa Ana; Marine Corps Air Facility, Santa Ana)

A water color depicting MCAS Tustin's famed airship hangers. Note the size of the building compared to the CH-53 helicopter

MCAS Tustin-LTA-The Blimp Hangars ©1988, 2000 Paul Gavin All Rights Reserved. Pen & Ink Watercolor on board, painted on location,1988.

MCAS Tustin

by Paul Freeman
This field was originally built as a blimp base in 1942 as Santa Ana Naval Air Station. The predominant characteristic of this field is the image of its two huge blimp hangars. It was commissioned in October of that year as one of two new blimp bases on the west coast. The other was at Tillamook, Oregon. Blimps were used to patrol America's coastline primarily to watch for enemy submarine. At first 6, then 12 blimps operated out of the station. The large, all-wood hangers were built to house the blimps and at the time of their construction were and still are the world's largest clear span wooden buildings. These hangers became a necessity when the strong Santa Ana winds blew in from the desert disrupting blimp operations. The station had 6 mooring circles and its own helium generating plant.After the war the station was reduced in status as blimp operations were phased out.
The hangars are each more than 1,000 feet long & 300 feet wide. Each hangar was designed to hold six blimps simultaneously (see below) . In between the two hangars is a huge concrete circular blimp mooring pad. Extending outward from the central pad are concrete taxiways leading to numerous smaller concrete circular blimp mooring pads.
Following the end of World War II, the Santa Ana NAS was decommissioned by the Navy in 1949. It was then transferred to the Marine Corps in 1951, and was renamed Marine Corps Air Facility Santa Ana by 1965. It was later renamed Marine Corps Air Station Tustin.
The Marines used Tustin as their primary West Coast helicopter base, operating Medium & Heavy Transport & Attack Helicopter squadrons. A small 3,000 foot runway was built in between the "V" formed by the two blimp hangars (which must have made for interesting turbulence during crosswinds), along with a control tower nestled in between. Two modern hangars were added on the edge of the blimp mooring pad for helicopter maintenance.
The unique facilities at Tustin were very well suited to large-scale helicopter operations, as the blimp hangars were capable of providing indoor storage for huge numbers of helicopters, & the blimp mooring pad provided acres of ramp space for parking. At its peak, Tustin housed over 100 helicopters.
Tustin's location also was very suitable for USMC helicopter operations, as the surrounding mountain ranges included a total of 13 Confined Area Landing Sites,at elevations ranging from 1,000 to 5,000 feet above sea level.
Due to Tustin's proximity to Hollywood & the unique imagery of the blimp hangars, it has been used for location shooting for numerous movies & TV programs, including JAG, The X-Files, etc.
Following Tustin's closure by the Marine Corps in 1999, one of the blimp hangars has been designated a national historic landmark, and is to be preserved (the second one presumably will be torn down). Overall, plans were approved by the local government to reuse the property for a mixture of purposes, including parkland & commercial development.
Extracted from Abandoned and Little Known Airfields

NAS Santa Ana

by M.L. Shettle

The Navy's Lighter-than-Air master plan called for three blimp bases on the West Coast -- one north of the existing Moffett and one to the south. Congress appropriated funds for the stations in July 1941. In southern California's rural Orange County, a 1,606 acre site was chosen 35 miles southeast of Los Angeles and 10 miles inland. Modeled on South Weymouth and Weeksville, construction began in April 1942, three and a half miles southeast of the town of Santa Ana. The property had been cultivated for years so little was required to prepare it for construction.
Although the hangars had not been completed, the station and ZP-31 commissioned on October 7, 1942, only six months after ground breaking. On October 19, L-8 of Moffett's ZP-32 became the first blimp to land. Incidentally, L-8 had previously distinguished itself as the infamous "Ghost Ship" (see Treasure Island). ZP-31 received its first blimp on November 11, with the arrival of K-20, the first ship assembled on the West Coast (see Moffett). On November 28, 1942, an Army P-38 from the nearby Orange County Airport crashed into a concrete door pylon of an unfinished hangar, killing the pilot.
The building of two wooden blimp hangars was aided by a movable scaffold, mounted on 18 railroad flatcars. The location was considerably less than ideal for blimp operations, since the area was subject to strong desert winds, coincidentally known as "Santa Anas." Twice during construction, erected hangar trusses were felled. On January 23, 1943, an 85-mph gust of wind blew down a truss. Two weeks later, another gust moved the scaffold train pulling down three more trusses.
In 1943, Santa Ana realized the need for two auxiliary facilities. In May 1943, the station sent 14 men to establish an auxiliary at Lompoc, California, 140 miles northwest of Los Angeles near Pt. Auguello. One month later, a similar complement was sent to Del Mar, another auxiliary just north of San Diego. On August 16, 1943, VJ-8 with nine officers and 66 enlisted men arrived at Santa Ana establishing a target drone school. The next month a detachment of Blimp Headquarters Squadron Three formed to support ZP-31.
The year of 1944 was somewhat uneventful. VJ-11 replaced VJ-8, and by September had a complement of 14 officers and 148 men. At this time, VJ-11 operated one JRF, 2 SNBs, one SNJ, eight TDC drones, 11 TD2C drones, and 70 S03Cs. Due to the unsatisfactory performance of the S03C Curtiss Seamew, the Navy converted many into radio-controlled drones, finding a use for the aircraft.
On May 5, 1945, K-51 experienced an in-flight fire that killed eight of the nine-man crew. K-51 had dumped fuel in preparation for landing and inadvertently descended into the gasoline vapor subsequently ignited by the engines. MCAS El Toro is only seven miles southeast of Santa Ana and in June, a Marine fighter replacement squadron, VMF-462, was on board the station with 21 Corsairs. Also in June, ZP-31 received its first new "M" ships. During the war, Metro-Goldwyn-Mayer used the sta tion to make two motion pictures -- a Navy training film and the commercial production This Man's Navy. In September, Lompoc and Del Mar closed.
Santa Ana initially cost $11 million to build. One half of that cost went for the two 1000-ft. wooden blimp hangars. The airfield amounted to a 2,000-ft. diameter circle asphalt landing mat with six-mooring circles. Although the base originally had billeting for a total of 456 men, by March 1944, barracks had grown to accommodate 152 officers and 1242 enlist ed men. The maximum number of blimps present reached 14 K and L ships. The station usually operated one GB Staggerwing for transport.
Following the war, all blimp squadrons decommissioned except two which included Santa Ana's ZP 31 renamed ZP-1. Santa Ana also became an aircraft storage facility in November 1945. Finally in August 1947, the Navy relocated ZP-1 to Weeksville, N. C. and all blimp operations on the West Coast ended. On June 6, 1949, Santa Ana decommissioned becoming an OLF. For a time, the hangars were used by advertising blimps.
The station reopened during the Korean War. Blimp operations staged a brief resurrection when the Navy established a two-blimp Naval Air Reserve Training Unit (NARTU) on April 1, 1951. The Marines arrived the next month establishing a helicopter air facility. West Coast blimp operations ended for good in June 1956, when the Navy disestablished the NARTU. In 1969, the Marines elevated Santa Ana to an MCAS only to change the name to Tustin the next year. In 1975, Malcolm Forbes used a hangar for his attempted balloon flight to Europe. The same year, Universal Pictures used the station for the filming of The Hindenburg.
The 1993 Defense Base Realignment and Closure Commission has recommended the closure of Tustin and El Toro. Both stations, in the country when built 50 years ago, are today surrounded by the urban growth of Orange County. Tustin and El Toro are scheduled for relocating to Miramar and other stations during 1997. The two blimp hangars are still in existence, but reportedly in need of repairs that is estimated to cost $10 million initially, plus a continuing annual maintenance expenditure of $500,000. Although designated as National Historic Landmarks, the hangars razing is also being consid ered -- at a cost of $5 million.
NAS Santa Ana

by Justin Ruhge

Before World War II the Navy had only two lighter-than-air (LTA) stations, Lakehurst, N.J. and Moffett Field, Calif. During the war the Navy planned to build eight other semi-rigid craft (Blimp) bases for coastal and harbor patrol. One of these stations was at Santa Ana, California, about thirty-five miles southeast of Los Angeles. Like the other seven stations built during the war, Santa Ana would have six blimps, later increased to twelve. Funds for construction were passed in July 3, 1941. In addition to the hangars, helium plant and other facilities, barracks were to be built to house and feed 456 men. The new facilities were built between April and October 1942. The hangars and the helium plant cost $11 million. The hangars were the largest clear-span wooden buildings then in the world, being 171 feet high, more than 1,000 feet long and 300 feet wide at the base. No steel was used in order to save scarce materials. The doors were hung on railroad rails at the top and bottom. The doors were 120 feet high and folded accordion-like.




It was not until September 2, 1943 that a detachment of Blimp Headquarters Squadron 33 was formed to provide maintenance support to Blimp Squadron 31, and not until September 1, 1944 that a utility squadron came on board - only to depart on October 15, 1945. Meanwhile, on September 13, 1945 there was established under the Naval Air Technical Training Command a Target Aircraft Training School, and on November 29, 1945 an Aircraft Storage Department.




In keeping with peacetime directives, Santa Ana began early in 1946 to transfer as many of its maintenance functions as possible from military to civilian personnel. Its Blimp headquarters having been decommissioned on December 25, 1945, was left with little more than its target drone school. On February 1, 1946, in accordance with a planning directive issued by the Chief of Naval Operations, it was placed in reduced status. In the meantime it retained Blimp Squadron 31 and a utility squadron and served principally to service aircraft engaged in drone control operations.




On September 6, 1945, the first of a series of aviation planning directives determining the postwar status of outlying auxiliary air stations and facilities was received and a "roll up" program was initiated. Effective October 1, 1946 a revocable permit covering the use of a hangar and lean-to space was issued to Douglas Leigh Sky Advertising Corporation by the Bureau of Yards and Docks.




On June 6, 1949 the Naval Air Station was decommissioned and designated an outlying field. In January 1951, Marines reported aboard. On May 1, 1951 the Naval Air Station became a Marine Corps Air Facility for helicopters and on September 1, 1969 it had its name changed to Marine Corps Air Station, Tustin, California. Headquarters and Headquarters Squadron administered, supported and maintained the Station. It was initially made up of 40 officers, 340 enlisted men and 200 civilian employees. A major tenant command, Marine Air Group (MAG) 16 had about 1,900 Marines in ten squadrons of Ch-46 Sea Knights and Ch-53 Sea Stallions. Prospective helicopter pilots, whether newly trained or making a transition from fixed wing, obtained instruction from Helicopter Training Squadron 301. A similar unit was based at Marine Corps Auxiliary Landing Field at Camp Pendleton.




Tustin pilots were deployed to Vietnam in 1965 and remained until 1971.




The Tustin Marine Base was closed in the 1990s as part of the Base Realignment and Closure Commission Directives.

Additional Online Histories
Wikipedia

The Tustin Hangers: Titans of History

Extracts, US Navy and Marine Corps Installations-Domestic (1985)
Extract, US Army Air Forces Directory of Airfields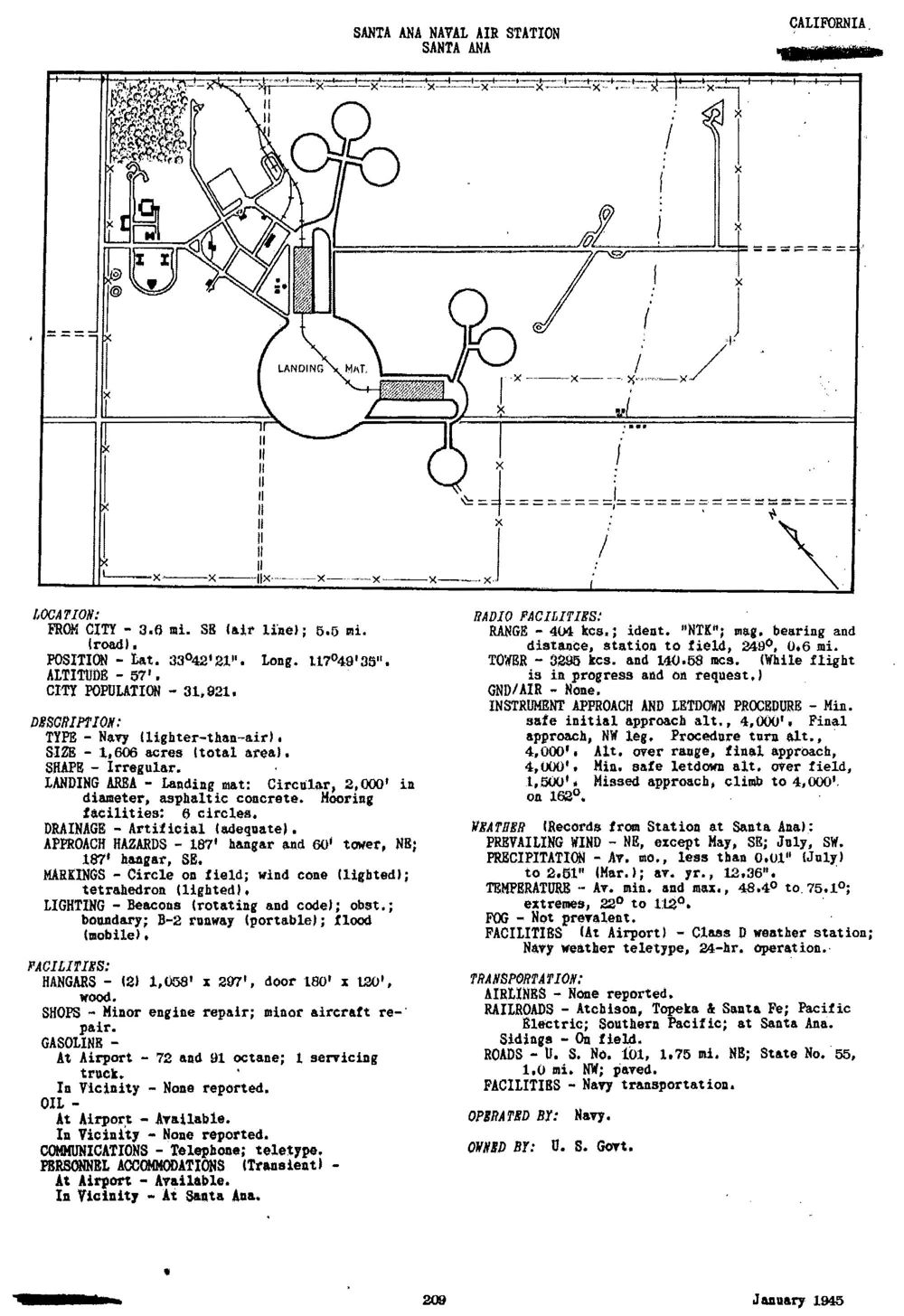 Search our Site!
Questions and comments concerning this site should be directed to the Webmaster
Updated 8 February 2016