Historic California Posts, Camps, Stations and Airfields

Madera Municipal Airport

(Naval Outlying Field, Madera)

Madera Municipal Airport circa 1943
US Army Corps of Engineers Sacramento District History (1990)
The Madera Municipal Airport site is located approximately two miles northwest of the City of Madera in Madera County, California. The airport is located west of Highway 99 and is bounded to the north by Avenue 17 and on the south by Avenue 16. The Madera Airport site consisted of approximately 960 acres that were leased by the United States of America from the City of Madera in 1943. The land reverted back to the City of Madera six months after the termination of the "national emergency".
The Madera Airport was leased by the Army Corps of Engineers for Army Air Force activities during World War II. According to the current airport supervisor, Mr. Jim Swalley, the facility was used by the War Department during World War II for fueling planes flying north to south. The site was subordinate to McClellen Field. The Army Air Forces used prexisting runways and structures located at the site. No documentation was located which indicated the War Department constructed additional structures at the site. The airport was not owned by the government during its use by the Army.
The 960 acres leased by the United States of America from the City of Madera ,was terminated six months after the termination of the "national emergency". This termination date is described in the February 1943 lease agreement between the City of Madera and the Army. No additional documentation was located which identifies this lease termination. The 1943 lease agreement includes: a mandate that the government repair and maintain in servicable condition the landing areas and improvements, facilities and equipment; and identifies the governments right to make alterations, attach fixtures, and erect additions, structures, or signs. The lease agreement also states the government, if required by the Lessor, shall, before the expiration of this lease, restore the premises to the same condition as that existing at the time of entering upon this lease, reasonable and ordinary wear and tear and damages by the elements or by circumstances over which the governmnent has no control, excepted. The City of Madera owned the facility at the time of Army use and has retained ownership of the facility to date. . The airport facility has been used by the current owner (The City of Madera) and subsequent leases by the city since Army use of the facility.
Documents on file at the Air Force Historical Research Agency, Maxwell AFB indicate that Naval Auxiliary Ferry Service Unit 4 operated at the field as a tenant from at least 1944
Extract, US Army Air Forces Directory of Airfields, January 1945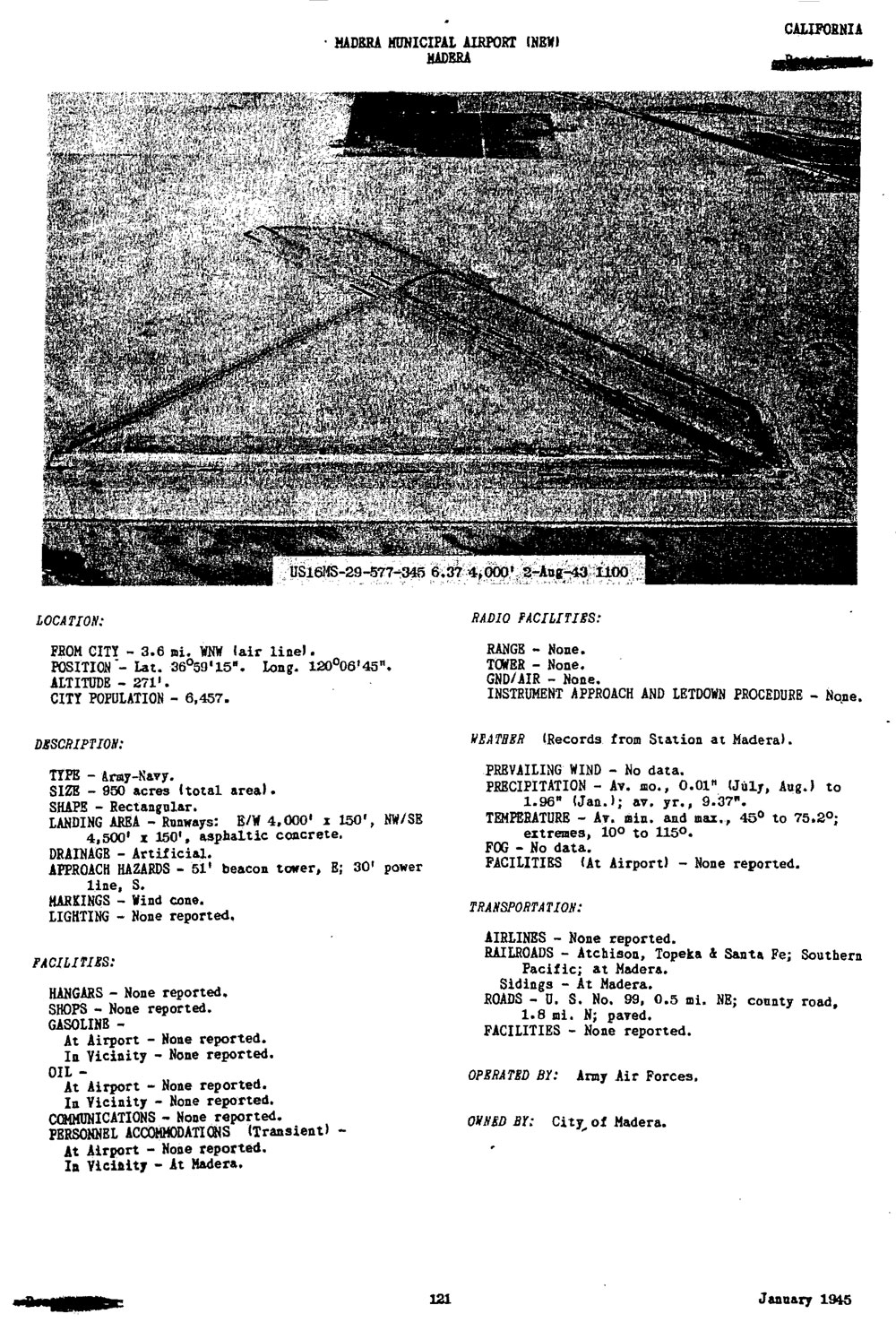 Source: US Army Corps of Engineers, Sacramento District
Search our Site!
Questions and comments concerning this site should be directed to the Webmaster
Updated 8 February 2016