Historic California Posts, Camps, Stations and Airfields

Naval Auxiliary Air Station, Brown Field

(East Field; Naval Auxiliary Air Station, Otay Mesa)

North American FJ-3D-2 (F-1C) "Fury" from VU-3 at NAAS Brown Field. (Wikipedia/Robert Sullivan)
History by M.L. Shettle, Jr.
In conjunction with the World War I development of San Diego's North Island, the Army established an airfield at Otay Mesa, 16 miles southeast. In 1918, the field was named in honor of Major Killian East, who had been killed in an automobile accident near Mitchell Field, N.Y. The Army invested $17,580 in East Field using it for formation and acrobatic training. During the 1920s and 1930s, military and civilian aviation used the airfield.
Located five miles from the coast, Otay Mesa has an elevation of 500 ft. and is less subject to ocean fog that reduced flying hours at other airfields in San Diego. After the beginning of World War II, the Navy improved the airfield. During the first of 1943, construction began on buildings. Just three months later, the station commissioned on March 17, as NAAS Otay Mesa. By the end of June, VC-20, VC 21, VC-25, and VC-35 had passed though the base, while Air Group 38 and 40 were on board. The squadrons were supported by a detachment of North Island's CASU 5. The same month, two Link trainers were installed and an aircraft recognition training building completed. On August 25, the Navy dedicated the field as NAAS Brown Field in honor of Cdr. Melville S. Brown, who had been killed in an aircraft accident in 1936. Cdr. Brown's sword was hung in the Officer's Mess. During the last six months of 1943, Air Group 35, VC-39, VC-33, VC 36, VC-42, and VC-66 had spent time at Brown.
On New Years Day of 1944, VF-34, VC-68 and VC 12 were on board. In April and May 1944, Army P-38 fighters were present at the field in the air defense mission. During the first half of the year, VC-10, VC-11, VC-20, VF-30X2, VC-27, and VC-79, arrived and departed. October 1944, saw a major change at the station as personnel arrived to form the PB4Y squadron, VPB-122. Whereas most carrier squadrons were on board the station for three to 10 weeks, the VPB squadron was scheduled to be present for four months. The departments of the base changed to support the bomber squadron. The Training Department added various devices including a five turret gunner's trainer. On December 4, 1944, VPB-122 transferred to Camp Kearny; however, Brown Field's Training Department continued to ground train PB4Y replacement crews throughout the remainder of the war.
During the six months ending December 1944, VC-84, VC-85, VC-86, VC 87, VC-94, CVLG 30, VC-71, VC-25, and CVEG 24 arrived. All departed by the end of the year except VC-71 and CVEG 24.
In January 1945, CASU 66 commissioned out of the CASU 5 Detachment. During 1945, the station added several improvements including a new BOQ, brig, nose hangars, and a training building. VC-70, VC-49, CAG 38, VT-41, VC-66, VF-50, CVEG 36, VC-68, VC-65, VC-5, VC-4, VC-75, VC-78, VC 76, VC-79, and CAG 152 passed through Brown during 1945.
Brown Field consisted of 805 Navy-owned acres. Barracks existed for 378 officers and 1992 enlisted men. Brown had 6,000-ft., 5,000-ft., and 3,500-ft. runways of asphalt and concrete construction. At the peak, station aircraft consisted of one GB Beech, a GH Howard, an AE hospital plane, and a Stearman. OLF Sweetwater was assigned to and maintained by the station.
Brown closed in 1946 and became a civilian airport. The Korean War necessitated reopening the field as an ALF on November 1, 1951 -- the east/west run way was later extended to 8,000 ft. The station became home base to a utility squadron, two antisubmarine squadrons, and a Regulus air missile unit. In 1954, Brown recommissioned as an NAAS. On November 2, 1954, Convair's XFY-1 Pogo made its first flight from vertical takeoff to horizontal flight and back to vertical for landing. In the last few years of the station's existence, it was home to Douglas AD Skyraiders before the Navy closed Brown for the last time during 1962.
Copied with the permission of the author from United States Naval Air Stations of World War II.
Extract, US Army Air Forces Directory of Airfields (January 1945)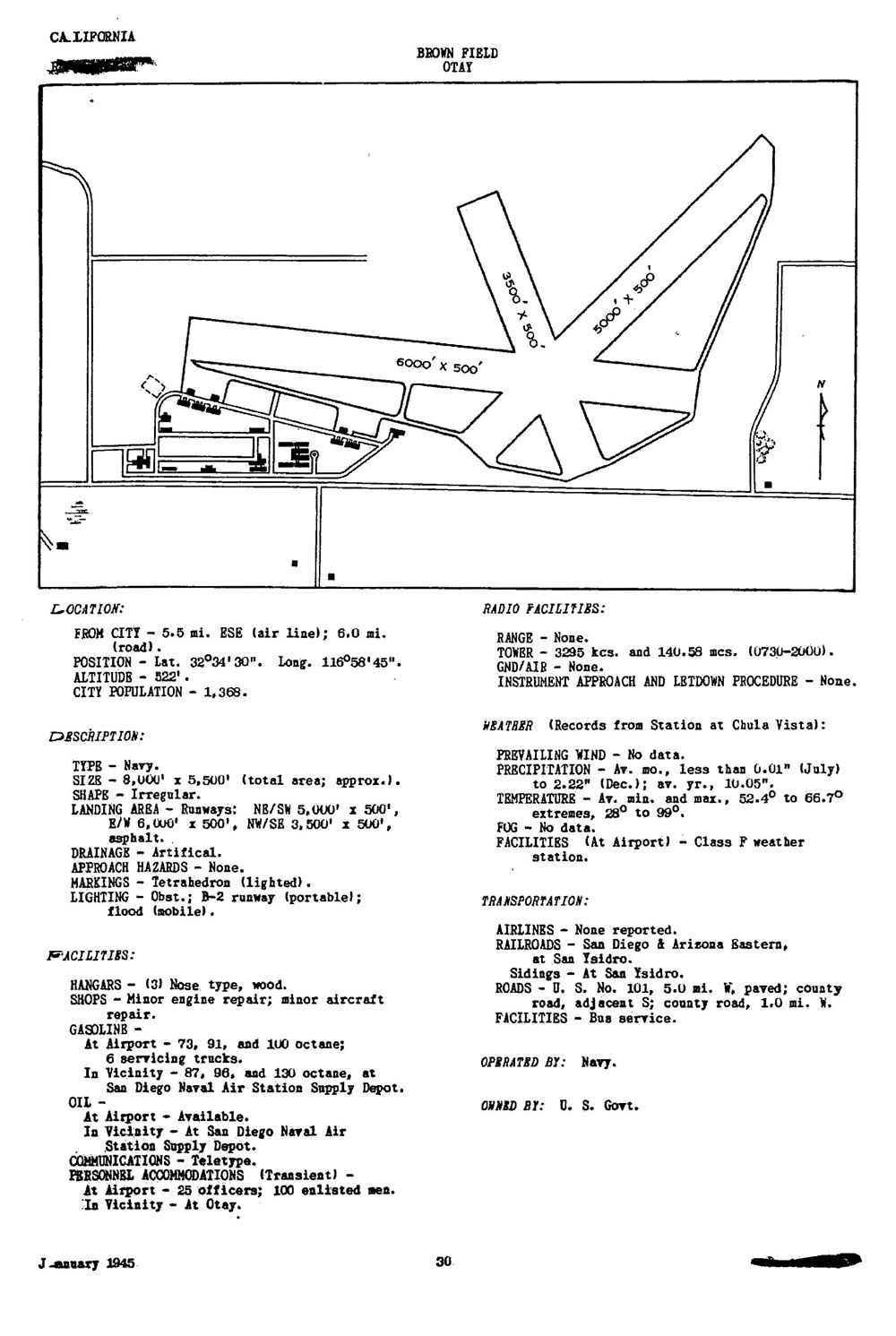 Other Histories
Search our Site!
Questions and comments concerning this site should be directed to the Webmaster
Updated 8 February 2016