Californians and the Military

Corporal Harold W. Roberts

Medal Of Honor Recipient
Harold W. Roberts, son of John and Elfreda Roberts, was born October 14, 1895, in San Francisco, California. He was a small man, slight in stature but was a very energetic person filled with zest for living and an active imagination. While still a boy, his family lived through the great earthquake of 1906 and his mother died two years later.
After graduation from the Wilmerding School in San Francisco, he took a short trip through Mexico. He then enrolled at the University of California at Berkeley. On October 14, 1916, while attending the university, war started in Europe. Roberts anxious to do his part enlisted in the Army at Fort McDowell located on Angel Island in San Francisco Bay. After basic training at Fort McDowell on Angel Island, he was assigned to the Cavalry and sent to the Philippines.
Returning, his next assignment was Camp Fremont, near Palo Alto, California, a few miles south of San Francisco.
Wanting to see action, Roberts requested transfer to the Tank Corps and was accepted. He was sent to France and assigned to Company A, 344th Light Tank Battalion. Initially, the 344th was assigned to the 1st Division of the 304th Tank Brigade, commanded by Lieutenant-Colonel George S. Patton, Jr.
45 two-man tanks were assigned to the Battalion only two weeks before their initial action. The tanks were the popular French Renault, weighing slightly over 7 tons and with a top speed of 7 miles an hour. Armament consisted of either a 37 mm cannon or a .30 caliber machine gun.
Roberts was well liked by his comrades and developed well as a tank driver.
In an interview with Sergeant Virgil Morgan, the gunner whose life Roberts saved, Sergeant Morgan said, "Bob, as we called him, came to our company last summer and almost at once he was liked by everybody. By his good work he soon was promoted to Corporal. There never proved to be a better soldier."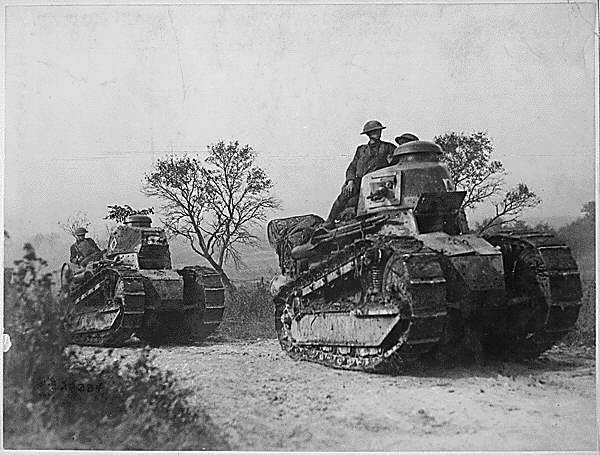 On October 4, 1918, shortly after his promotion, his company was engaged in a fierce battle in the Montrebeau Woods, which was part of the famous St. Mihel and Meuse-Argonne Offensives. His company was advancing under heavy enemy artillery fire. Advancing about a mile, Sergeant Morgan and Corporal Roberts saw a disabled tank with a soldier crouched by it. As Roberts stopped his tank, the soldier crawled toward them, open the door and asked for help. They said they could not help at the moment but would return after the battle and render aid and drove off into the heart of the German artillery barrage.
Ahead lay a large mass of bushes that they thought was a machine gun nest and drove the tank into it. In an instant, they found themselves overturned. Recovering from the shock they learned the tank had fallen into a tank trap with approximately 10 feet of water in it. The tank had only one doorway and with the water rushing in Roberts said to Morgan,"Well, only one of us can get out, and out you go," and with this he pushed Sergeant Morgan from the tank. Morgan tried to assist Roberts, but with the heavy gunfire around the area, was unable to do so. After the machine gunfire ceased, Sergeant Morgan returned but found Roberts dead.
When the battle stopped, Roberts' body was recovered from his tank. One of the personal effects found on him was a photo of his dog"Frisky."
The Battalion Commander, Sereno Elmer Brett, recommended Corporal Roberts for the Medal of Honor. The posthumously-awarded Medal was given to his father, John A. Roberts, who died four years later. Roberts was the second tanker to be awarded the Congressional Medal of Honor. In addition to the Medal of Honor, he was also awarded the French Croix de Guerre with Palms, The French Military Medal, and the Italian War Cross. Corporal Roberts is buried in the Meuse-Argonne American Cemetery in Romagne, France, near where he died.
When Camp Nacimiento was renamed Camp Roberts by General Order No. 1, War Department, on January 10, 1941, it was the only Army Installation to be named for an enlisted man.
Corporal Harold Roberts Memorial, Main Gate, Camp Roberts

---

Rank at time of receipt: Corporal, U.S. Army

Unit: Company A, 344th Battalion, Tank Corps

Place and date: In the Montrebeau Woods, France, 4 October 1918.

Entered service at: San Francisco, California

Born: San Francisco, California

Medal credited to: California

Authority: War Department General Order 16, 1919

Citation

Corporal Roberts, a tank driver, was moving his tank into a clump of bushes to afford protection to another tank which had become disabled. The tank slid into a shell hole, 10 feet deep, filled with water, and was immediately submerged. Knowing that only 1 of the 2 men in the tank could escape, Cpl. Roberts said to the gunner, "Well, only one of us can get out, and out you go," whereupon he pushed his companion through the back door of the tank and was himself drowned.

Memorial Day 2007. Corporal Harold Roberts' grave in the Meuse-Argonne American Cemetery with a floral tribute from Camp Roberts. (American Battle Monuments Commission}

---
A Fresh Look at a Hero: On Saturday, August 23rd, we had the official unveiling of Corporal Roberts' new portrait by artist Dean Gleisberg. The artist and his wife were on hand for the event, with several other dignitaries, museum staff, and many interested visitors. A talk was given by Gary McMaster and Dirk Hale, followed by the artist relating his experiences painting the portrait, then the unveiling itself. A complimentary lunch was provided for all of the day's visitors.
The new painting has now replaced the earlier Runyon painting in the original frame, and hangs as the centerpiece of the "Roberts / Seifert Family Parlor." The Parlor showcases the life of the Camp's namesake who lost his life at age twenty-two in the Argonne Offensive of World War I—the largest and bloodiest battle in American military history—and was awarded the Medal of Honor, our Nation's highest honor. Artist Gleisberg researched the Argonne Offensive in order to paint the Renault TF-17 tanks in combat in the painting and other details.
The "Roberts / Seifert Family Parlor" is full of family photos and period furnishings. Nearing completion, it is a bit like stepping back in time to enter the heart of his family home and get an insight into his life.
We wish to thank everyone who donated money for the new portrait. Their names are engraved on a special plaque beside the painting.
Corporal Roberts devotees Rob Monji of Bakersfield and his pal, Alain Baubat of Bar-de-Luc, France, have recently visited the area in northern France where Roberts was first laid to rest, and have provided us with some more great information and photos on this. Rob was the first to visit Corporal Roberts' grave in France and to bring back a photograph of the gravesite for the Museum several years ago.
Search our Site!
Questions and comments concerning this site should be directed to the Webmaster
Updated 8 February 2016