Californians and the Military

Admiral Raymond Ames Spruance

by Mark J. Denger

California Center for Military History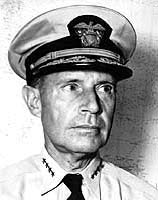 Admiral Spruance, the victor of the battle of Midway, is another naval hero of World War II who made his home in California.
Raymond Ames Spruance was born on July 3, 1886 in Baltimore, Maryland. He was appointed to the U.S. Naval Academy at Anapolis and graduated in 1906. Passed midshipman upon graduation in September 1906 and operated less than a year in the North Atlantic on the battleship IOWA (BB-4) before transferring to the MINNESOTA (BB-22) for the global voyage of the "Great White Fleet" (1907-1909), during which he was commissioned a ensign in September 1908. After receiving instruction in electrical engineering he was assigned to the CONNECTICUT (BB-18) for a year (1910-1911) and thereafter assigned to the Asiatic Fleet as senior engineer of the cruiser CINCINNATI (C-7) and commander of the destroyer BAINBRIDGE (DD-1) in the rank of lieutenant (junior grade) and was again promoted in 1914.
Lieutenant Spruance was assigned to the Newport News Shipbuilding and Dry Dock Company, where he helped to outfit and serve as electrical officer of the PENNSYLVANIA (BB-38) from February 1916 through Chesapeake maneuvers until November 1917. As lieutenant commander he was assistant engineer officer at New York Navy Yard (1917-1918) and was made executive officer of the troop transport AGAMEMNON for four months and in the rank of commander. In April 1919 he commissioned and commanded the AARON WARD (DD-132) for station ship duties during the flight of the NC boats and Pacific operations, and the PERCIVAL (DD-298) in March 1920 out of San Diego until June 1921.
Commander Spruance served a tour of duty at the Electrical Division at the Bureau of Engineering (1921-1924), and commander of the DALE (DD-290), followed as assistant chief of staff to Admiral Philip Andrews, commanding U.S. Naval Forces in European waters (1924-1925) on the cruiser PITTSBURGH (ACR-4). His subsequent sea duties included command of the OSBORNE (DD-295) in European and Mediterranean waters (1925-1926), executive officer of the MISSISSIPPI (BB-41) with the Battle Fleet (1929-1931), and later (1938-1940) her skipper. He was promoted to the rank of captain in June 1932. He became chief of staff to Commander Destroyers Scouting Force, Adolphus E. Watson, flagship light cruiser RALEIGH (CL-7), along the West coast (1933-1935). In December 1939, he was promoted to the rank of Rear Admiral.
Having served in battleships, destroyers and cruisers through his whole career, Spruance assumed command of Cruiser Division Five, flagship heavy cruiser NORTHAMPTON (CA-26), at the time of the Japanese attack on Pearl Harbor in 1941. In this office, Spruance supported Admiral Halsey's carrier ENTERPRISE during the early 1942 carrier raids, including shelling of Wotje, Maloejap, Wake and Marcus Islands. Later, he escorted the task force conducting the Doolittle Raid.
Halsey, falling ill on the conclusion of the raid, appointed Spruance as his replacement as Commander, Task Force 16, ENTERPRISE and HORNET. Spruance, under the nominal command of Rear-Admiral Fletcher, led his carriers expertly with the help of Commander Browning, Halsey's Chief-of-Staff, and justly received a large part of the praise for the US Navy success in the battle. Following this battle, Spruance became Chief-of-Staff of the U.S. Pacific Fleet under Nimitz, in which role he had a major part in planning future operations.
In November 1943, he became Commander, Fifth Fleet, commanding the Central Pacific Forces, including carriers, battleships and amphibious assets. Here he hoisted his flag on board the INDIANAPOLIS (CA-35). He once again performed very well. Leading the Navy across the Pacific via the Marshalls, Spruance lead the attack on the Marianas, leading the Fifth Fleet into the Battle of the Philippine Sea. There, his air groups decimated the enemy. Spruance's forces sank the medium carrier HIYO. Spruance has been blamed by later historians for not following the Imperial Japanese Navy after their retreat. However, this opinion is unjustified. Spruance's task was to guard the invasion forces and beaches –not to risk the fleet.
After the Philippine Sea battle, from August 1945 to January 1945, Spruance, for the first time, turned over the Fifth Fleet to Admiral Halsey, going back to Pearl Harbor to plan future landing operations. The invasions of Iwo Jima and Okinawa were partly his work. He returned to the INDIANAPOLIS, transferring to the NEW MEXICO (BB-40) after a kamikaze hit, to lead the Fifth Fleet in battle off those two islands. Finally returning one last time to Pearl Harbor, Spruance began planning the operations Olympic, the invasion of Kyushu, and Coronet, the invasion of Honshu, which he would have led had the war progressed.
With war's end, Spruance was relieved of the Fifth Fleet in November, becoming Commander-in-Chief Pacific Fleet (CINCPAC), for a short term, and in February 1946 became President of the Naval War College. He retired from the Navy in July 1948. Admiral Spruance later served as U.S. Ambassador to the Philippines (1952-1953).
A quiet, shy and intelligent officer, Spruance was the ideal man to lead the Navy in the Central Pacific. He was always interested in the opinions of his staffs, and would stand to his decisions. Precise and calculating, he was even better a planner than a combat leader. With due respect to Halsey, it must be said that of the two, Spruance rated higher for Fleet Admiral promotion, for he was a better commander, an admirals' admiral, not a sailors' admiral as Halsey.
His son, Capt. Edward D. Spruance (1915-1969), commissioned and commanded the submarine LIONFISH (SS-298) in the Yellow Sea during the Okinawa campaign.
Admiral Spruance returned to his home in California. He died on December 13, 1969 at Monterey, California. Spruance is buried in the Golden Gate National Cemetery at San Bruno next to his long time friends Fleet Admiral Chester W. Nimitz, Admiral Richmond Kelly Turner and Vice Admiral Charles Andrews Lockwood, Jr.


---
A Curious Compact Among Four Friends
By Colonel Norman S. Marshall

California Center for Military History

Four close friends, each being colleagues and co-workers before, during and after World War II, and each being a fellow Californian, rest together in the nearby Golden Gate National Cemetery at San Bruno, California.
The Golden Gate National Cemetery at San Bruno is located about two miles west of the San Francisco International Airport, and according to Admiral Richard Kelly Turner's biographer (1), Fleet Admiral Chester W. Nimitz arranged for this final resting place well before his death in 1966.
This is how Fleet Admiral Nimitz related how it came about that Kelly Turner is buried in the Golden Gate National Cemetery:
As you well know, BUPERS buries people. When I was CHBUNAV, Helen Hess, who handled all the Bureau's arrangement of funerals, said to me:

Why don't people plan ahead in connection with their burial?"

When I came to retire in the 12th Naval District, I remembered her remark and looked around. I found the Presidio Burial Grounds filled. I went out to the golden Gate Cemetery at San Bruno, and the caretaker there said, 'I have just the place for you, a high spot in the center of the cemetery.' I wrote to Admirals Spruance and Turner and asked them if they were interested in being buried at the apex of the war dead in the Golden Gate Cemetery. When Harriet Turner became very ill, Kelly wrote to me and said, 'Is the offer still good?' I said it was and she was buried there and Kelly soon followed.
On 13 September 1952, Fleet Admiral Chester Nimitz wrote to the Chief of Naval Personnel:
While I fully understand and appreciate the decision of the Quartermaster General to make no grave site reservations in the Golden Gate National Cemetery for other officers, I earnestly request that Admiral Raymond A. Spruance, USN (Retired), and Admiral R. K. Turner, USN (Retired) upon their deaths be given grave sites adjoining those which have been reserved for Mrs. Nimitz and me. This request is made because I firmly believe that our success in the Pacific during World War II was due in a very large measure to the splendid service rendered the Nation by these two officers, and it is fitting that they enjoy the same privilege granted to me in choosing their final resting place close to the Service personnel who died in the Pacific."
Fleet Admiral Chester W. Nimitz (U.S. Naval Academy, 1905) had long worked with Admiral Raymond Spruance (U.S. Naval Academy, 1906) and made him the air boss at Midway. He was the pre-eminent carrier strategist of the Pacific. Turner (U.S. Naval Academy, 1906) won Nimitz' admiration for leading amphibious groups throughout the Pacific during the war and Charles Lockwood (U.S. Naval Academy, 1908) was a submariner, like Nimitz, and became Commander Submarine Force, Pacific (COMSUBPAC) in February 1943 which force crushed the Japanese Merchant Fleet.
Nimitz had enormous respect and appreciation for each of these men and wanted them all to be together. They had been friends and shipmates for forty years. Their wives had been supportive and friends also.
Thus, their grave sites perfectly aligned in the first row along the street bearing Nimitz's name –Nimitz Drive. This is a unique tribute to each of these Californians.
Footnotes
(1) Dyer, George, The Amphibians Came to Conquer, Superintendent of Documents, U.S.G.P.O. (1997)
Search our Site!
Questions and comments concerning this site should be directed to the Webmaster
Updated 8 February 2016