Historic California Posts, Camps, Stations and Airfields

Van Nuys Air National Guard Base

(Van Nuys Army Air Field, Van Nuys Municipal Airport)

Van Nuys ANG Base. C-130s of the 146th Airlift Wing are on the flightline.

HIstory

by Mark A. Renosa

This airport, three miles northwest of Van Nuys, was a local airport before the war and was utilized by Timm Aircraft Corp. which built military trainer planes and cargo gliders. In 1942 the 4th Air Force acquires Metropolitan Airport for $302,287.00. Additional 163 acres purchased on the west side for Army Air Forces Base Unit. In 1943, the 428th Fighter Squadron, fying the famed P-38 Lighting was formed at Van Nuys. The following year, the 441st Army Air Forces Base Unit was formed to conduct P-38 training. The Army Air Forces trained fighter pilots here in night fighting. The airfield had two sub-bases; Grand Central Air Terminal, Glendale and Oxnard Flight Strip, Oxnard. At the end of the war the AAF Base Unit was inactivated.

Following World War II, previously splintered National Guard and its former Air Corps units were reformed and restructured under the newly created Department of Defense. On September 16, 1946, the 62nd Fighter Wing, 146th Fighter Group and 115th Bombardment Squadron (the former 115th Observation Squadron) were given Federal recognition, and flew their first missions out of of the former Army Air Forces Base Unit facilities. One year later, almost to the day, on September 18, 1947, the United States Air Force became the first new separate branch of service created since the Revolutionary War. President Harry Truman named Stuart Symington as the first Secretary of the Air Force, and one week later, General Carl "Tooey" Spaatz became the first Air Force Chief of Staff. In 1948, several units of the new wing moved to Burbank Airport, only to return to Van Nuys a short time later, after too little ramp space at Burbank proved a hindrance to accomplishing the wing's missions.

Van Nuys ANG Base, Circa 1952. (Mark A. Renosa)
That same year, Major Bob DeHaven, a WW II ace and 146th Fighter Group Operations Officer, broke the existing speed record from San Francisco to Los Angeles in a Lockheed F-80C Shooting Star, covering the distance in 36 minutes and 9 seconds at an average speed of 564 mph. DeHaven's record was one of many significant events which culminated in the National Guard acknowledging the 146th Airlift Wing as the outstanding unit in the Air National Guard, and awarding the unit the Spaatz Trophy in 1949 - our first of three wins of that particular trophy. Other aircraft flown by the wing since the late 1940s include such truly classic military aircraft as the Douglas C-47 Skytrain, Douglas B-26 Invader, North American B-45A Tornado, North American AT-6 Texan, North American F/P-51 Mustang, Lockheed F-80C Shooting Star, North American F-86A Sabrejet, and the Boeing C-97 Stratofreighter.
From 1946 through 1954 the 115th Fighter Squadron and the 195th Squadron, both part of the 146th Fighter Wing, flew P - 51 Mustangs. The 115th Bombardment Squadron (Light) flew A-26's from 1946 to 1952. The 115th was stationed at Van Nuys but during part of this period was assigned to the 126th Bombardment Wing at Chicago's O'Hara field.
In 1949, the City of Los Angeles purchased the airport from the War Assets Administration for $1.00 and a provision for an Air National Guard facility for 40 years. Airport Renamed to San Fernando Valley Airport. Air National Guard was equipped with two squadrons of P-51s. But in February 1951, the 146th Fighter Wing was re-equipped with the F-86A. By July 1955 the transition from the F-51H Mustang to the Sabre was complete. The wing was re-designated a Fighter Interceptor Wing with an air defense mission for the Los Angeles area.
In 1955, the Air National Guard moved into a new Air National Guard base was completed just west of the old Army Air Forces Base Unit facilities. On 21 May of that same year, 1st Lt John Conroy of the 115th Fighter Squadron made aviation history by completing the first sunrise to sunset trip between the west and east coast in an F-86A. The 5085-mile round trip between Van Nuys and New York took 11 hrs., 26 min. and 33 sec.
Van Nuys ANG Base, circa 1955 (Mark A. Reynosa)

In 1957 the airport was renamed Van Nuys Airport and the runway extended from 6,000 ft to 8,000 feet with Sherman Way underpass.
1960 brought the wing a new mission, and a new mission aircraft. With air transportation recognized as a critical wartime need, the 146th was selected to receive the C-97 Stratofreighter and was redesignated the 146th Air Transportation Wing (Heavy). Our present day course as airlifters was set. The next year the 146th was again honored when the Air Force Association awarded the wing the Earl T. Ricks Memorial Trophy, following a flight of 22,815 miles from Van Nuys to Japan and back to Philadelphia, beating the existing record by 623 miles.
In July of 1961, as tensions of the Cold War flared, President Kennedy made it clear to the Soviet Union the United States would maintain the integrity of Berlin. The 146th was activated once again and flew numerous missions during "Operation Stair Step."
The Sixties marked the beginning of other humanitarian missions with our new airlift capabilities. In 1964, a devastating earthquake all but leveled Anchorage, Alaska; floods ravaged Arcata, CA; and in 1968, Hurricane "Camille," the second most disastrous hurricane in U.S. history hit the Gulf Coast with a fury. In each disaster, the 146th provided critical relief supplies and equipment. In the late 1960s, the unit returned to a wartime mission - Vietnam, once again providing critical airlift.
1970 brought a new name - the 146th Tactical Airlift Wing; a new command, Tactical Air Command; and a new aircraft - the Lockheed C-130 Hercules, the aircraft we fly to this day. Also in the early 1970's, USAF's "Total Force" policy brought the wing into full partnership with its Air Force counterparts by mandating co-operation and teamwork between Air Guard and active duty Air Force units in all phases of military airlift operations. As a result, in succeeding years the wing's C-130s have traveled to all corners of the world, airlifting troops, passengers, and cargo during training missions, exercise deployments, and real-world military operations to support Federal and State military airlift requirements. The wing and its subordinate units participated in numerous Cold War military exercises such as Team Spirit, Volant Oak, Red Flag, and Reforger. Other Joint Chief of Staff exercises included "Ember Dawn IV" in Alaska and "Brave Shield" in Europe. In 1979, the Air National Guard and Air Force Reserve assumed full responsibility for airlift operations in Panama, which recently moved to Puerto Rico, a commitment we continue to fulfill today.
In mid-December 1989, and continuing for several weeks, wing aircraft, air crews, and support personnel on deployment for exercise Volant Oak at Howard AFB, Canal Zone, Panama, flew combat airlift missions for U. S. Southern Command during Operation "Just Cause" in Panama. More than 100 combat sorties were flown by 146th aircraft and crews, with no casualties or damage to aircraft.
By March 1990, all but a small remnant of wing personnel had transferred operations to Channel Islands ANG Station. Shortly thereafter, the old Van Nuys facility was closed and turned over to the City of Los Angeles. On April 30, 1990, the flag at Van Nuys ANG Base was lowered for the last time during a special ceremony.
SOURCES: 146th Airlift Wing, Mark A. Reynosa
Corps of Engineers History of Van Nuys AAF
Between 12 December 1942 and 12 June 1947, the United States acquired 366.16 acres in fee, in Van Nuys for an air field. An additional 71 acres were leased and 0.15 acre was
acquired by easement, bringing. the total acreage in use to 437.31 acres. The site was developed and named the Van Nuys Army Air Field.
The Army constructed a complete air training facility at the site with approximately 200 buildings, including housing and support facilities. Van Nuys Army Air Field remained active until 31 August 1948.
The site was reported excess and. transferred to the War Assets Administration 15 September 1948. The entire acreage, 437.31 acres, was sold to the City of Los Angeles on 17
September 1948. The United States acquired back 63.09 acres by license from the city for use by the California Air National Guard.
On the Web
CLICK HERE to visit Mark A. Reynosa's web site on Van Nuy's AAF/ANGB
Extract, US Army Air Forces Directory of Air Fields (January 1945)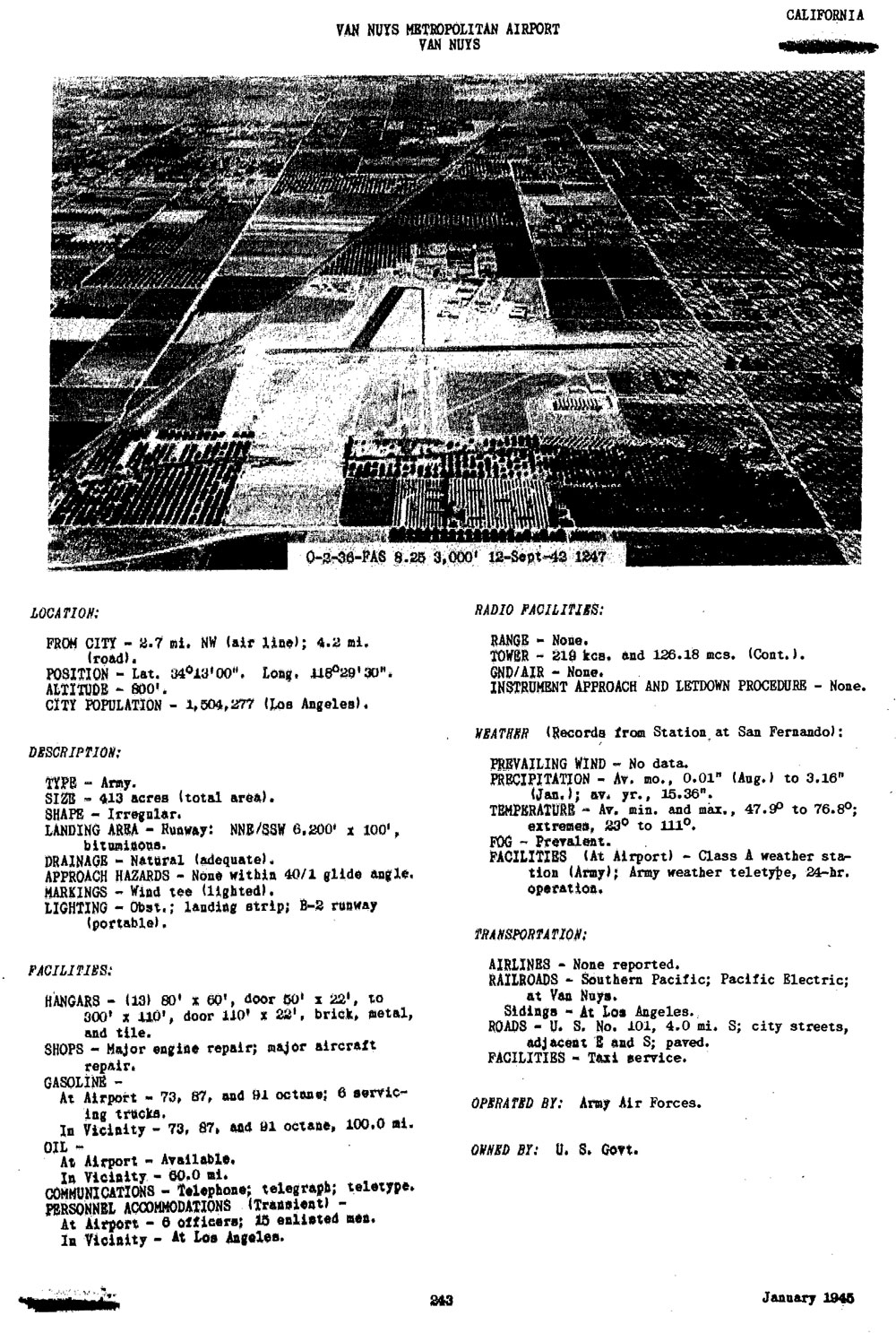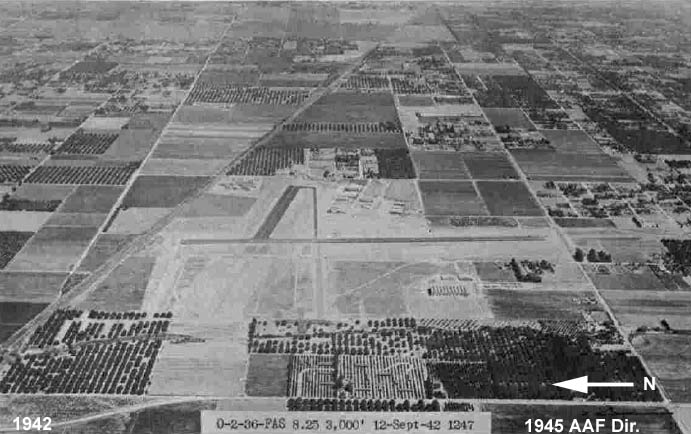 Army Units Stationed at Van Nuys AAF during World War II
Reference

Date(s)

Units

Army Station List
1 June 1943

Army Air Forces:

Base Weather Station (Type E)
Detachment, 1st Weather Squadron, Regional
331st Fighter Squadron (Two Engine)
505th Base Headquarters and Air Base Squadron
1172nd Guard Squadron

ArmyAirForces.com
12 August to 11 October 1943

Army Air Forces:

364th Fighter Group,

383rd Fighter Squadron (Code N2) P-38 Lightning
384th Fighter Squadron (Code 5Y) P-38 Lightning
385th Fighter Squadron (Code 5E) P-38 Lightning

ArmyAirForces.com
11 October 1943-4 January 1944

Army Air Forces:

474th Fighter Group

428th Fighter Squadron (Code F5) P-38 Lightning
429th Fighter Squadron (Code 7Y) P-38 Lightning
430th Fighter Squadron (Code K6) P-38 Lightning

Army Station List
7 April 1945

Army Air Forces:

2nd Radar Calibration Detachment
Section, Army Air Forces Base Unit (1st Weather Region)
Detchment, Section D, 85th Army Air Forces Base Unit (101st Army Airways Communications Squadron)
441st Army Air Forces Base Unit (Combat Crew Training Station - Fighter)

Army Station List
1 June 1943

Army Air Forces:

Operating Location 16, 555th Army Air Forces Base Unit (Ferrying Group)
Detchment, 731st Army Air Forces Base Unit (101st Airways Communications Squadron
Extract, War Department Inventory of Owned, Sponsored and Leased Facilities, 1945
Combat Crew Training Station-Fighter
Capacity:

Enlisted:

Permanent:
Mobilization:
Theater of Operations: 781
Hutments:
Tents:
Total: 781

Officers: 206
Station Hospital:

Acreage

Owned: 398 acres
Leases: 72 acres (four leases)
Total: 470 acres

Storage:

Covered: 86,009 sq ft
Open: 599,490 sq ft

Cost to Government Since 1 July 1940:
Annual lease payments: $11,075.00

Land: $399,355.00
Construction:
Total (less annual leases): $399,355.00

Remarks:
Search our Site!
Questions and comments concerning this site should be directed to the Webmaster
Updated 8 April 2016