Historic California Posts, Camps, Stations and Airfields

Visalia Army Air Field

(Camp Visalia)

Aerial view of Visalia AAF Note the aircraft dispersal revetments designed to protect parked aircraft. (National Archives)

History

by Daniel M. Sebby, Military Historian, California Military Department

In 1927, local aviation pioneers, Solomon "Sol" Sweet and Lieutenant Eddie M. Deeds (who later when on to help form the Nationalist Chinese Canton Air Force in the early 1930's) formed Sweet-Deeds Aircrafters and leased pasture land from J.F. and Elizabeth D. Putman to establish a private airstrip. This airfield was dedicated 27 April 1927. Later that same year, the airstrip was purchased by the Visalia Chamber of Commerce who foresaw the airport as an important part of the region's future.
The following year, the Visalia Chamber of Commerce adopted a set of regulations pertaining to the safe and professional operation of the airfield. They also began a campaign to pass a bond issue for the City of Visalia to purchase and operate the field as a municipal airport. Part of the campaign was a visit to Visalia by a then state-of-the-art Ford Tri-Motor owned by the Texas Company's (Texaco) passenger service. The vote held on 28 June 1928 overwhelmingly approved the sale of the bonds, 1,176 to 372, and the field was purchased by the city for $50,000.00 which included the cost of initial site improvements.
In 1936, the WPA began several projects at the Visalia Municipal Airport. The WPA would continue to make major improvements at field until 1942 when the War Department assumed control of the field. By 1941, the WPA's efforts resulted in a graded and paved main runway that measured 4,800 feet long by 400 feet wide; 2,400 feet of new drainage systems and upgrading of the field's lighting systems.
During the years 1942 and 1943, the War Department entered into lease arrangements with the City of Visalia for the use of Visalia Municipal Airport and with the Alta Mira Community Club, John Q. Rayburn and Solomon Sweet for additional adjoining property. Additional property was obtained through purchase or condemnation proceedings from Henry Clinton Smith, George W. and Margie R. Meyers, and Lena A. Brown. Unlike the construction of other military airfields of World War II, Visalia AAF seems to have reutilized the existing municipal airport, an auto court, and farm buildings as they appear on the post's inventory of buildings at the time of transfer to the City of Visalia in 1946.
Operations at Visalia AAF began almost immediately upon Air Corps (after 9 December 1942, the semi- autonomous Army Air Forces) control of the airfield. According to the Combat Chronology of the Army Air Forces, operational anti-submarine patrols were conducted from Visalia AAF by the A-29, and later B-25, equipped 47th Bombardment Squadron (Medium) from February until June 1942.

Visalia AAF (along with Hayward AAF and Palmdale AAF) was established as a sub-installations of Fresno's Hammer Field. As such, it shared Hammer Field's mission to train and stage light, medium and heavy bomber squadrons. During that period Consolidated B-24 "Liberator", North American B-25 "Mitchell", Martin B-26 "Marauder" and the previously stated Lockheed A-29 "Hudson" bombers operated from Visalia AAF.
In January 1944, the Headquarters, Army Air Forces ordered the entire night fighter training program to California to be headquartered at Hammer Field. Under the overall supervision of Fourth Air Force and the 481st Night Fighter Operational Training Group, commanded by Lt. Col. William R. Yancey, night fighter crews were organized into Overseas Training Units and entered three phases of training. Phase One consisted of familiarization training at Bakersfield Municipal Airport. Phase Two, designed to weld pilots and R/Os into teams, along with instruction in day and night interception, was conducted at Hammer Field. Phase Three advanced training, including intensive night flying practice, took place at Salinas Army Air Base. Each phase lasted approximately one month. In all phases, Visalia AAF was used as a satellite training site. During this period, Douglas P-70 "Nighthawk" (heavy night fighter version of the A-20 "Havoc" light bomber) and Northrop P-61 "Black Widow" operated from Visalia AAF. It is known that the 425th Night Fighter Squadron stationed at Visalia AAF for its entire training cycle from February until May 1945 when it deployed to the European Theater.
Visalia AAF was initially garrisoned by elements of Hammer Field's 50th Base Headquarters and Air Base Squadron which was later redesignated as the 450th Army Air Forces Base Unit (Combat Crew Training Station). There is no evidence of Visalia AAF having its own dedicated garrison unit. Throughout its operational history, Visalia AAF was subordinate to Hammer Field and ultimately Headquarters, Fourth Air Force.
A portion of the post seems to have been established as a branch of the Western Signal Aviation Unit Training Center headquartered at Camp Pinedale. This area was known as Camp Visalia
In 1946, the War Assets Administration, acting on behalf of the War Department, terminated the leases with the City of Visalia and other parties with the remainder of the lands transferred to the City of Visalia in 1947. On 9 December 1946, United Airlines reinstituted commercial airline service to the newly rechristened Visalia Municipal Airport. This event was one of the first of many developments that saw Visalia Municipal Airport grow into a modern aviation facility in which all physical remnants of its military history have been supplanted. However, its past has not been forgotten and today's main terminal is named in honor of Sol Sweet.
Maps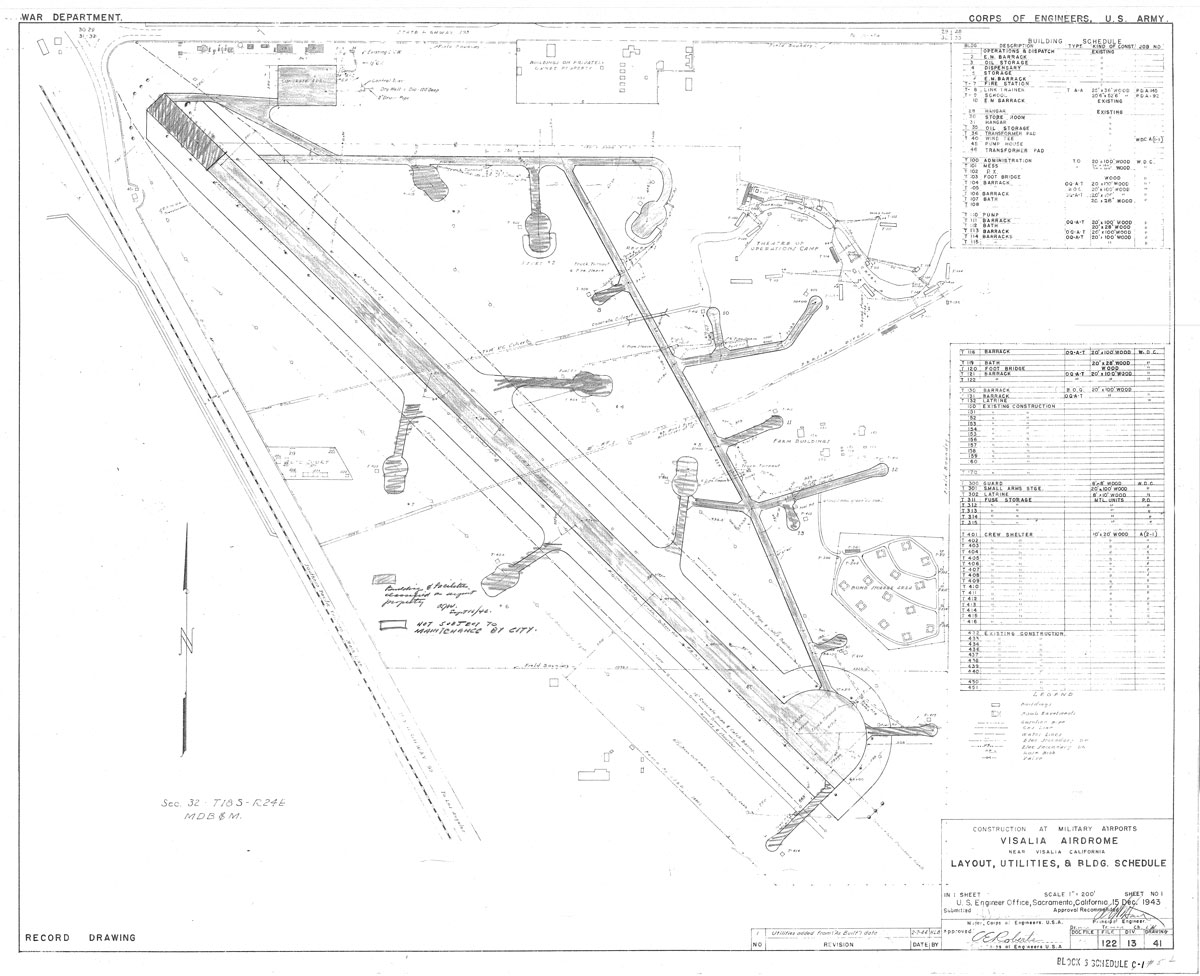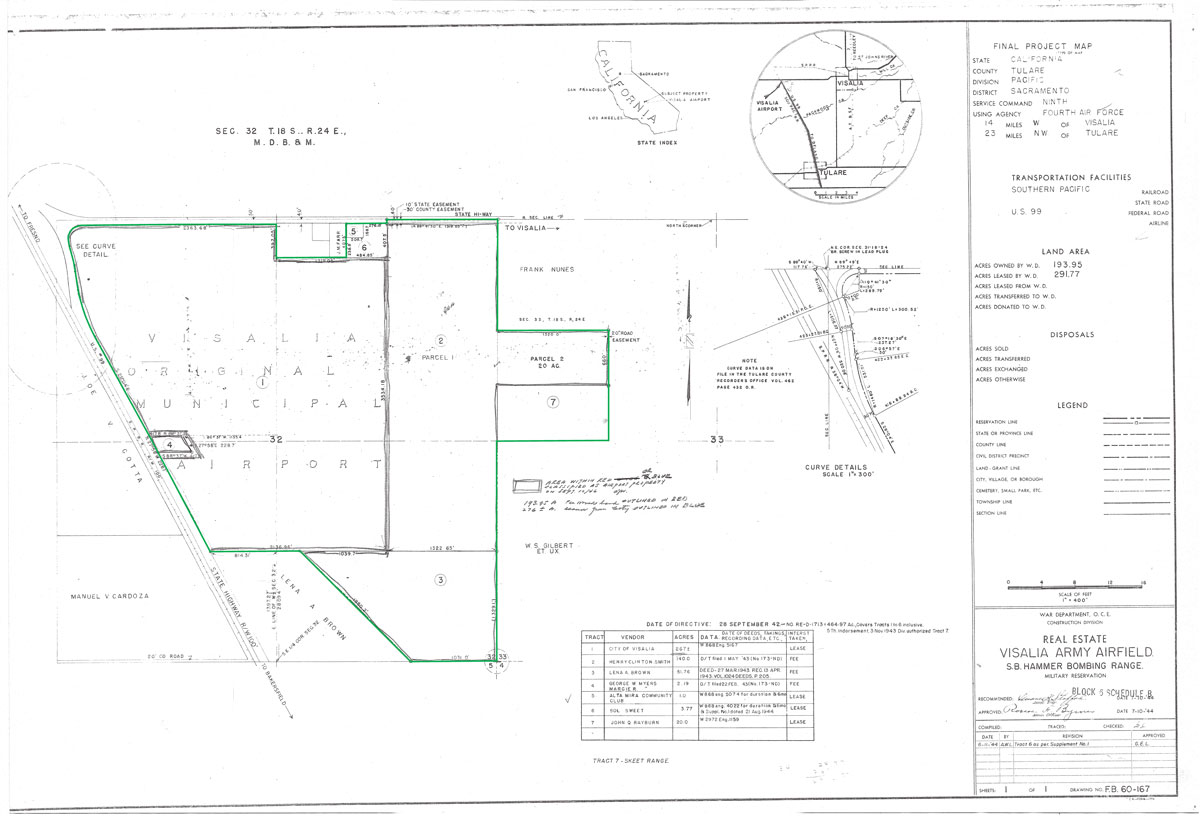 Extract , US Army Air Forces Directory of Airfields (January 1945)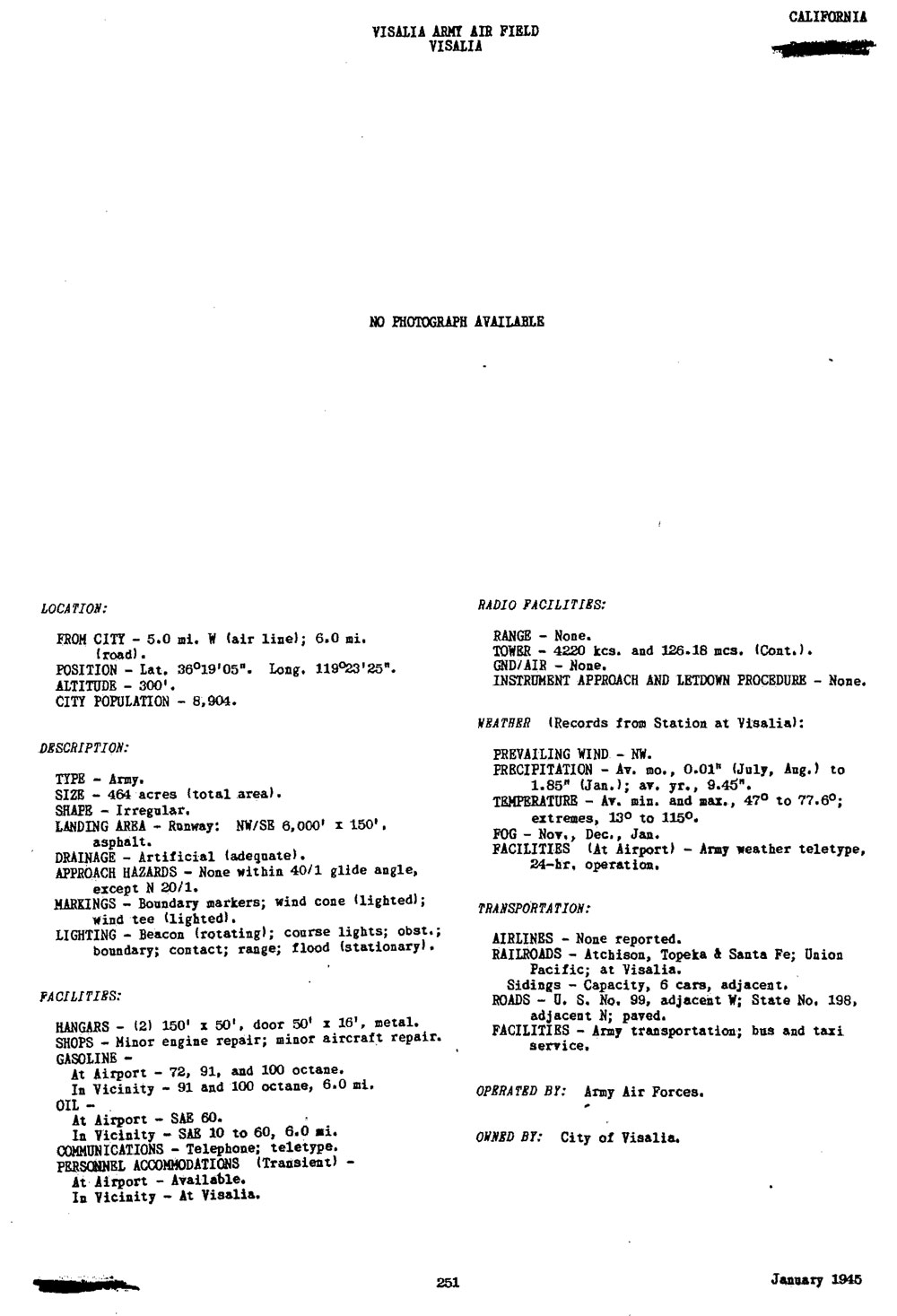 Army Units at Visalia AAF
Reference

Date

Units

History
February-June 1942

Air Corps

47th Bombardment Squadron (Medium)

Army Station List
7 April 1945

Army Air Forces

Detachment, Section D, 85th Army Air Forces Base Unit (101st Army Airways Communications Squadron)

History
February-May 1945

Army Air Forces

425th Night Fighter Squadron
Extract, War Department Inventory of Owned, Sponsored and Leased Facilities, 1945
Capacity:

Enlisted:

Permanent:
Mobilization:
Theater of Operations: 312
Hutments:
Tents:
Total: 312

Officers: 32
Station Hospital: 3

Acreage

Owned: 194 acres
Leases: 271 acres (three leases)
Total: 465 acres

Storage:

Covered: 2,000 sq ft
Open: 190,217 sq ft

Cost to Government Since 1 July 1940:
Annual lease payments: $831.00

Land: $46,000.00
Construction: $1,003,808.00
Total (less annual leases): $1,049,808

Remarks:
Additional Online Histories
War Assets Administration SPB-5 Report (1946)
Search our Site!
Questions and comments concerning this site should be directed to the Webmaster
Updated 8 February 2016