Historic California Posts, Camps, Stations and Airfields

Camp Kearny

(San Diego County)

Camp Kearny was established July 18, 1917, named in honor of Bigadier General Stephen Watts Kearny who led the Army of the West to San Diego in 1846. It was one of 32 new camps created in May 1917, each designed to house 40,000 troops with 1200 buildings and tents on 10,000 acres. Most of Camp Kearny's soldiers lived in tents, as more than 65,000 men trooped through the camp on their way to World War I battlegrounds. After the war, the camp was used as a demobilization center.

During this period, the 40th Division (now the 40th Infantry Division) was formed from units of the National Guards of California and other southwestern states.


Camp Kearny was located 11-1/2 miles north of San Diego on 12,721 acres and gave its name to the surrounding mesa. It cost $4.5 million to build and ended October 31, 1920. The site of Camp Kearny is now Marine Corps Air Station Miramar.

Extract, Order of Battle of United States Land Forces in the World War (1931-1949)

History: Named in honor of BG Stephen Watts Kearny, USA, who commanded an expedition to California during the War with Mexico which established possession of much of this territory for the United States. Established 18 July 1917 to serves as a trainng camp for the 40th Division (National Guard) which occupied the camp from July 1917 until July 1918. Construction started 24 July 1917 and lasted throughout 1918.

About 5,000 National Guard troops from Arizona, California, Colorado, New Mexico and Utah arrived 1-30 September 1917. The first inducted men reported 1-15 October 1917, the last 1-5 November 1918. Approximate numbers received from the states and other sources:
Arizona: 3,261
California: 5,915
Colorado: 808
Nebraska: 6,000
Utah: 2,139
Other Camps: 44, 226
Designated as a demobilization center 3 December 1918. Ordered salvaged 30 January 1919. Abandoned 31 October 1920.

Description: Temporary camp, located near Linda Vista, San Diego, 11-1/2 north of the city of San Diego.

Facilities

Camp/Base Hospital: Temporary tent hospital organized 1 September 1917, frame buildings occupied November-December 1917. Treated all cases arising on the camp as well a medical, surgical and venereal cases from overseas.

Officers' Training School:
Third Series: In operation 5 January-19 April 1918
Fourth Series: In operation May-June 1918 until student transferred to the Officers' Training School at Camp Fremont.
Demobilization Center: Approximately 16,600 processed.

Size and Capacilty:
Tent camp, supplemented by 848 temporary buildings.
Troop capacity: 32,066
Construction costs to 30 June 1919: Approximately $4, 253,000
Area:

Cantonement Area: 8,000 acres
Total Reservation: 12,721 acres.
Command Status: Commanding officer reported directly to the War Department. The camp commander also exercised jurisdiction of general courts martial until 24 September 1919.
Army Units Assigned to Camp Kearny
Data Source

Date(s)

Unit(s)

Order of Battle of United States Land Forces in the World War (1931-1949)

World War I

Station Complement

Auxiliary Remount Depot 330

Bakers and Cooks School

Base Hospital

Camp Headquarters

65th Depot Brigade

Development Battalion

Engineer Depot Detachment 434

Fire Truck and Hose Company 337

Machine Shop Truck Unit 332

Medical Supply Depot

Ordnance Depot Company 13q

Provost Guard Company

Salvage Unit

Signal Supply Detachment

Utility Detachment

16th Division

Mobilizing for overseas deployment: All units (less 46th Machine Gun Battalion and 216th Engineer Train).

Demobilizing upon redeployment: All units (less 21st and 32nd Infantry Regiments, 46th Machine Gun Battalion and 216th Engineer Train)

Garrison duty: 21st and 32nd Infantry Regiments

40th Division

Mobilizing for overseas deployment: All units

Demobilizing upon redeployment:

Headquarters and Headquarters Troop

Headquarters, 79th and 80th Infantry Brigades

160th Infantry Regiment

115th Trains Headquarters and Military Police

115th Supply Train

96th Division

Mobilizing for overseas deplyment and demobilizing upon redeployment:

Headquarters, 171st Field Artillery Brigade

321st Ammunition Train

102nd Division

Mobilizing for overseas deplyment and demobilizing upon redeployment: 29th Trench Mortar Battery

Nondivisional Units

55th Ammunition Train

Base Hospitals 35 and 96

Mobile Ordnance Repair Shop 115

Bakery Companies 35, 339, 348, 372 and 405

25th Battalion, US Guards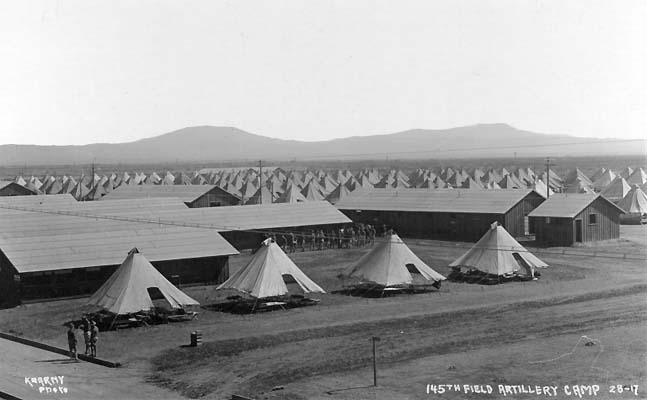 Search our Site!

View My Stats

Visitors since 8 December 1998
Questions and comments concerning this site should be directed to the Webmaster
Updated 3 July 2017