Historic California Posts, Camps, Stations and Airfields

San Bernardino Engineer Depot

(Base General Depot, Mira Loma Quartermaster Repair Sub-Depot, Camp Ono, Prisoner of War Camp)
US Army Corps of Engineers History (1993)
Site History: The San Bernardino Engineering Depot was used by the U.S. Army as a vehicle and ammunition supply and storage depot, dry cleaning facility, sewage spreading area, tent manufacturing and dyeing facility, locomotive maintenance facility, railcar and tank degreasing facility, motor vehicle pool, prisoner of war camp, bomb manufacturing, and water softening facility. The site was also a part of the Advance Communications Zone Depot in the Southern California defence system.
Site improvements included approximately 23 buildings including army barracks, mess halls, motor pool, vehicle repair buildings, tent repair and dyeing building, storage buildings, ammunition storage bunkers, dry cleaning building and 61,577 linear feet of rail road track.
The San Bernardino Engineer Depot including Camp Ono consisted of a total of 1662.82 acres and was leased by the U.S. Army on 1 July 1940 from the four owners listed below:
Muscoy Water Company, 1390.72 acres through Lease number W-868-eng-1503. Lease was terminated between 14 April 1945 and 15 January 1948.
Farm Homes Corporation, 270.6 acres through Lease number W-3460-eng-3842. Lease was terminated on 11 April 1946.
Atchison Topeka and Santa Fe Railway Company, 1.32 acres through Lease number W04-193-eng-2135. Lease was terminated on 20 December 1946.
Edward B. Meyer, 0.18 acres through Lease number W04-139-eng-5861. Lease was terminated on 9 September 1946.
A prisoner of war camp known as Camp Ono occupied 300 acres of the site. On 28 January a total of 499 Italian prisoners of war were incarcerated in Camp Ono. The prisoners were used to maintain army vehicles, degrease tanks, and operated a tent repair and tent dyeing facility.
Location:The former San Bernardino Engineer Depot consisted of 1662.82 acres and is located 4 miles northwest of San Bernardino bounded by Kendall Drive, Cajon Boulevard, and Little League Avenue with the Interstate Freeway running through the center of the property parallel with Cajon Boulevard. A second separate parcel of land is bound by 3rd Avenue on the north, First Avenue on the south, Gary Street on the west, and Nolan Street on the east. A third separate parcel of land is located between the Southern Pacific Railway on the east, Cajon Boulevard on the west, Institution Road on the north, and running approximately one mile to the southern boundary. A fourth parcel of land occupies an area a quarter of a mile north of Little League Drive and up to Yucca Avenue between the Union Pacific Railroad and Cajon Boulevard. A fifth parcel lies a quarter of a mile north of the fourth parcel and is bounded by Cajon Boulevard on the east, the Union Pacific Railroad on the south where the railroad and road cross each other. Camp Ono occupied approximately 300 acres within the Depot. Camp Ono was located between Cajon Boulevard and Kendall Drive and was considered part of the San Bernardino Engineer Depot.
A Short History of Camp Ono (1993)

by Clifford R. Davis
Camp Ono is an unofficial, unrecognized name attached to a World War II supply depot which fulfilled several key functions during and immediately following World War II. Most military sources refer to the base by one of three terms: 1) the Base General Depot; 2) The Mira Loma Quartermaster Repair Sub-Depot, or 3) The San Bernardino Engineer Depot.
The chronology which follows is abstracted from a collection of histories and studies mostly prepared by the Depot Historian, James W. Bennett. Bennett prepared several monographs which are now contained in Record Group 92, Boxes 7, 8, and 10, stored in the National Archives, Pacific Southwest Region, Laguna Niguel, CA. Bennett was actually stationed at the Mira Loma Quartermaster Depot in Mira Loma, California (near Ontario in San Bernardino County). A list of references used in preparing this brief chronology follows this history, and anyone seriously interested in the history of "Camp Ono" should call the National Archive at (714) 643-4241 for an appointment to view these records.
On January 9, 1942, Lt. Col. Charles E. Stafford arrived in San Bernardino and assumed command of the organization which became the Advance Communications Zone Depot, under the command and control of the Army Ninth Service Command, headquartered at Fort Douglas, Utah. The Depot was established on January 16, 1942, with administrative offices in the Andreson Bldg. at 3rd and E Streets in San Bernardino. Warehouses were leased in a variety of locations in San Bernardino, including the National Orange Show. Over the next month or two, a search was conducted to locate a suitable open space for creating a supply depot, with requirements including access to railroads and highways.
The Ono siding was selected, with approximately 1,100 acres leased by the United States, primarily from the Muscoy Water Company. (A map showing the leased parcels is available in Record Group 77, Box 1, Records of the Corps of Engineers, in the National Archive in Laguna Niguel.) A contract to construct warehouses and buildings was awarded on February 11, and construction began February 12, 1942, according to the Depot Military Diary. The Corps of Engineers also claims credit for building many of the structures at the Depot. Soon after, in March, 1942, the Depot began storing supplies, both at the Ono siding and in warehouses around San Bernardino, including one reference to 80,000 gallons of oil, requiring 10 acres of open ground, and drums of lubricants, requiring 800 square feet of storage space, a task which seemed impossible to Stafford, but which was done.
On April 2, 1942, the Desert Training Center was established, headquartered at Camp Young in the Mojave Desert, with Major General George S. Patton, Jr. in command. For the next two to three years, one of the primary functions of the Ono Depot was to supply the troops assigned to the Desert Training Center (DTC), which was later renamed the California-Arizona Maneuver Area (CAMA). On April 15, 1942 the Ono Depot was detached from the Communications Zone and redesignated as a branch of the California Quartermaster Depot located in Oakland, CA. By May 1, 1942, the Administration building at Ono was completed and the Depot headquarters was moved to the Kendall Avenue address. The Bennett monographs report that the move was not accomplished without incident however. Apparently some strong Santa Ana winds shifted the building approximately 4 inches off its foundations, and a moderate earthquake also caused the building's roof to separate from the walls, requiring repair and additional bracing.
By July 1, 1942, the Depot was assigned responsibility for supplying "subsistence" (everything other than ordnance) to the DTC (which quickly grew to a maximum of some 200,000 troops), as well as rations for the Japanese civilians interned after the outbreak of hostilities, totalling between 40,000 and 60,000 people incarcerated at Camp Manzanar in the Owens Valley, California, Parker, Arizona, and other locations. On August 15, 1942, another change in the command structure occurred with the Ono Depot made a Sub-Depot of the Mira Loma Quartermaster Depot, a facility then under construction, and returned to the direct control of the 9th Service Command in Utah. By December, 1942, it was decided to make the Sub-Depot an "on the job" training experience for troops and commanders going overseas, in order to provide them with experience in setting up and running a supply depot overseas.
Accordingly, the Sub-Depot was established as a Training Theater of Operations Depot, renamed the Base General Depot, and administrative and supply units were cycled through to gain actual experience in supplying front line troops. The BGD continued to supply all classes of commodities except ordnance, including quartermaster, signal corps, and engineer supplies until the C-AMA was closed in April 1944. At its busiest, the BGD was designed to accommodate 15,000 field troops, had a field hospital with 1,100 beds (cots?) at the northwest end of the camp, a laundry which peaked at laundering 40,000 items in an 8 hour shift, clothing repair shops, and 13,000+ feet of railroad track laid by the Corps of Engineers to supplement the AT & SF/Union Pacific tracks.
An oversized map of the Depot, with buildings located and numbered, is included with the Corps of Engineers material on deposit at the Laguna Niguel Archive On June 7, 1944, the BGD was deactivated and control of the Depot was split, with 380 acres assigned to the Quartermaster Corps and designated the Mira Loma Quartermaster Repair Sub-Depot. The Depot's primary mission was repairing clothing and equipment, particularly tents, canvas products, and webbing gear from a variety of sources, both overseas and from the disbanded C-AMA.
Repaired material was sent to Mira Loma, and from there went to troops overseas, either in Europe or the Pacific theater. The balance of the Depot was assigned to the Corps of Engineers, designated the San Bernardino Engineers Depot, and was used primarily for the storage of mobile drilling rigs and petroleum refineries, as well as receiving, repairing, and shipping of construction equipment. 1,360 tractors were also received, modified for military use, and shipped overseas.
A major portion of the tent repair mission was accomplished by former Italian POWs. After the fall of Italy, the government of Italy joined the Allied Forces against Germany, and Italian POWs were offered the option of swearing loyalty to the new Italian government and non-aggression against the United States. Most POWs elected to do so, and were then placed in special military units, called I.S.U.s or Italian Service Units. Four companies were assigned to the Repair Sub-Depot, and devoted most of their efforts to repairing and refurbishing material for reuse in the war effort, including tents, stoves, vehicles, and other non-perishable supplies. The ISUs at the Sub-Depot, once they were appropriately trained and given adequate facilities, proved to be invaluable, contributing numerous suggestions and improvements to the repair process, maintaining much of the Sub-Depot equipment, and providing almost all of the heavy manual labor required.
Bennett's monographs deal in some length with the primitive conditions at the Sub-Depot, including the lack of paved roads, buildings without air conditioning, coolers, or even ventilation, lack of sanitary facilities, particularly for women, which made hiring and retention of civilian employees difficult. In addition, transportation to the base was often difficult, especially with gasoline rationing, and some commuters suffered damage to their vehicles from windblown sand. Moreover, with labor scarce, many workers preferred to work in better conditions in town, at higher paying jobs. The Depot was unable to match wages paid by non-military employers. All of these circumstances, which created a civilian labor shortage, made the work of the ISUs even more valuable.
By November, 1945, the ISUs had been disbanded and repatriated to Italy. The QMC declared the Sub-Depot surplus, having moved all operations to Mira Loma, and the base was completely occupied by the Engineers. On June 30, 1947, the San Bernardino Engineers Depot was deactivated, with virtually all surplus material at the Depot sold in one or another of the nine sales of surplus property, or shipped to another base for use or sale.

November 16, 1993
Sources (All Documents listed are located in the National Archive, Pacific Southwest Region, Laguna Niguel)
1.Desert Training. A Supply Problem; Bennett, James W., 1944, Record Group 92, Box 7.
2.The Mira Loma Ouartermaster Repair Sub-Depot A Historical Survey; Bennett, James W., 1946(?), Record Group 92, Box 10.
3.History of Mira Loma Quartermaster Depot; Bennett, James W., July, 1943, Record Group 92, Box 7.
4.Military Diary, Headquarters San Bernardino Advance Depot; Author probably company clerk, U.S. Army, QMC, January through June, 1942, Record Group 92, Box 8.
5.Historical Record San Bernardino Engineer Depot; author unknown, US Army Corps of Engineers, June 30, 1947, Record Group 77, Box 570704.
Note: Excerpts from the above documents have been indexed and are part of the Newmark Groundwater Contamination site file in the Superfund Records Center, San Francisco, CA.
Prepared by Clifford R. Davis, Civil Investigator, U.S. EPA, Region IX, San Francisco Newmark Groundwater Site

Prisoners of War in San Bernardino (2015)

by Nicholas R. Cataldo


Do you remember that 1960's sitcom called Hogan's Heroes? You know, that the nutty show which attempted to prove that, at least in the world of television situation comedies, life in a Nazi POW camp during World War II could be fun.

Well, we had our real life version, right here in the Inland Empire. It was called Camp Ono.

With the outbreak of World War II and under the leadership of General George S. Patton, this new military installation, named after a nearby Santa Fe Railroad siding just southwest of Cal State San Bernardino was established as a satellite and supply station of the Mira Loma Quartermaster Depot and also became part of the Advance Communications Zone Depot in the Southern California Defense System.

But it was after Italian prisoners were captured in Africa and Europe by the allies in 1943, that the Camp Ono story gets interesting.

The POW's were initially shipped to Norfolk, Va. and then sent by train to Florence, Az. where they were put to work picking cotton. After a sweltering hot summer toiling in the cotton fields, many eagerly volunteered to pick oranges and grapes for the local farmers, many of them Italian, in Cucamonga, California.

Then, in February of 1944 the 499 prisoners at Cucamonga were transferred to Camp Ono. The military site was set up with a north camp and a south camp. The north site was to become their new "home" until after the war ended in late 1945.

With Italy's formal surrender and Mussolini being ousted in favor of Marshall Pietro Badoglio in September - October of 1943, a rather unique agreement was made between the new leader and General Eisenhower. The monumental decision was that all captured Italian troops were allowed to take an oath of allegiance to the United States.

"Technically", all who agreed to do so were free. But just to play it safe, the United States retained custody of these new allies until the war was over. And boy, did the Italians have it made!

The climate here was as close to that of Italy as one could get. The grape vineyards, wineries, similar topography, and the many Italian immigrants made this lifestyle transition a breeze. All the men had to do was put in a day's work manufacturing tents for the American G.I.'s, making uniforms, working in the laundry or kitchen and they got three square meals plus free time to socialize or for dances which were held at the camp clubhouse. Young ladies from San Bernardino were driven to the camp by bus.

As former Camp Ono POW turned permanent San Bernardino Valley resident, Perry Pugno often said, "Those were the three best years of my life"!

Pugno once revealed in an interview with Todd Pierce, a local video producer, just how good he and his comrades had it.

Shortly after arriving at Camp Ono, the prisoners went on strike over the food served to them. Now, it wasn't the quality or quantity that was the problem. It was simply that the Italians were not used to the American style breakfast, eggs and jam for instance. Back in the old country, all they had were coffee and rolls.

The funny thing is that these men were being fed better now than ever were in the poorer conditions of Italy, and yet they still went on strike. And, as it turned out, the strike was a success; they were given coffee, milk, and rolls for breakfast from that time on.

Pugno was one of the few prisoners who had a driver's license, so his "job" was to drive the Colonel to his office or the commanding officer's wife into San Bernardino to do her shopping. That was it!

The prisoners had frequent visitors, some rather unique individuals.

A man who frequently came to the camp by military plane in order to visit a prisoner, Cellestino Zinasi, who had been a former colleague at the University of Milano, was the Italian scientist, Enrico Fermi. Fermi, the Nobel Prize winner who's expertise was most instrumental in designing the world's first atomic bomb would spend hours at a time sitting on a bench under the trees in the prisoners yard quietly talking with his friend about their lives before the war ripped countries apart. One can only guess if the two men included in the their carefree conversations information on Fermi's special assignment by the Office of Scientific Research and Development to Project Manhattan, the most guarded secret in American History.

The POW's had many liberties regarding entertainment. In fact, on many weekends they were driven into San Bernardino to see a movie or to have dinner with their girlfriends' families!

Charlotte (Traina) Giudice told me that on Sundays the prisoners were allowed to take walks into the surrounding vineyards, as this was a fond reminder of their homeland. They would casually walk out for hours at a time with no military escorts. Their only identification was a green arm band that each wore with "ITALY" spelled out in white letters.

On one of those walks, her future husband, Corporal Luciano Giudice, found out about the Italian family who owned most of those grape vines. And that's how the two met.

In 1946 the prisoners were shipped back to Naples and many of their sweethearts soon followed. Then, after getting married, a number happily came back to the country that once held them as prisoners.

Some of the Italians at Ono who chose to return to the San Bernardino Valley were:
Luciano Giudice ... worked for Santa Fe and later owned Auto Fast Freight Company in San Bernardino.
Perry Pugno ... worked for Santa Fe and eventually owned Perry's Electric in Rialto.
Emilio Pascolati ... became a radio announcer in Cucamonga and later worked for Aerojet.
Paul Lucifora ... became a shoe maker in Cucamonga.
Luigi Traverso ... retired with Santa Fe.
Los Angeles Times Article: From Italian Prisoners of War to the Citizens of the United States

by T.A. Sunderland (1981)


Editor's Note: The following story was published in the VIEW section of the Los Angeles Times, Sunday, December 13, 1981. It was re-published in the 1982 "Herritage Tales" by the San Bernardino Historical & Pioneer Society.


Southland Gave Warm Reception to World War II Enemies

Near the citrus groves and vineyards of Rancho Cucamonga, along Arrow Highway, stands a 15-acre complex of battered buildings known as the San Gabriel Valley Labor Association. As the name might indicate, the facility is a migrant labor camp, almost abandoned except during peak harvest seasons. Built during the Depression to house Civilian Conservation Corps workers, the camp today is a largely ignored shabby remnant of the pas


Few realize that the camp was the setting for one of the most unusual - yet little known - chapters of recent Southern California history:

On January 28, 1944, 499 Italian prisoners of war were incarcerated at the camp, having been shipped over from the battlefields of Europe and Africa. Before war's end - and beyond - these Italians were to have a marked effect on the area, to change its character and, ultimately, to become a part of it.

Emilio Pascolati of Huntington Beach has been married to his wife Penny for 34 years. They have two children and four grandchildren. Pascolati works as an engineer for McDonnell Douglas, and is a member of the American Legion. In January of 1944, he was one of those 499 Italian POWs.


When Pascolati arrived at the camp the men were housed in barracks, sleeping 30 to 40 to a room. There were no fences or landscaping (all the men had been established as low-escape risks). Experienced gardeners in the group quickly went to work, and part of their work still stands in the form of a cactus garden near the main office of the camp.

A native of northern Italy, Pascolati was born in a small town called Bassano del Grappa. "They filmed part of the movie 'A Farewell to Arms,' by Hemingway, right in that town," Pascolati boasts. As a young man he was employed as an electrician for the railroad. When war broke out, he enlisted and was assigned as an Italian army artillery observer along the French border in the Alps, then retrained as a tank mechanic and sent to North Africa. There he fought British troops in places like Tobruk and El Alemain.

When the Germans decided to move into Alexandria, the Italian troops led the advance. Things quickly went bad, and the troops retreated all the way to Tunis. Exhausted, hungry, and low on supplies, they assembled on a hilltop and awaited the arrival of their British captors.

The prisoners were held for several days in a detention camp in Tunisia and then transferred to the custody of the American army. They were loaded on boxcars to make the long trip across the desert to Casablanca, where they boarded a large ocean liner commissioned by the Red Cross. The trip across the Atlantic took six days. "The Americans treated us very well and the ship was a nice one," Pascolati said, "but during the entire voyage I was terrified by the thought of German U-boats."

Arriving in Norfolk, Va., on May 28, 1943, the prisoners were sent by train, but this time in passenger cars, across country to Camp Florence in Arizona. During the trip Pascolati was amazed at the sights. "When I saw the big factories, one taking up several city blocks, I knew the war was over and we had lost." And whatever apprehensions he may have had about the treatment he would receive in Camp Florence vanished when he caught a glimpse of the well-fed inmates.

Pascolati stayed for three months in Arizona, where he was sent out to pick cotton with the other prisoners. But problems at the camp, which held 27,000 prisoners, were mounting.

The crux of the problem lay in the political leanings of the different groups of men. Some were Fascists, devoted to Mussolini, others were partisans, and still others were Communists. All these groups saw the war from a different point of view and they argued bitterly.

Animosities were exacerbated by an agreement between the Italian and American governments. Shortly after the capture of troops in North Africa the Allied forces invaded Italy, which quickly surrendered. Mussolini was ousted and replaced by Marshall Pietro Badoglio, who then declared war on Germany. In an agreement between Badoglio and Gen. Dwight D. Eisenhower, captured Italian troops were allowed to take an oath of allegiance to the United States. Although after taking the oath the men were technically free, the United States retained custody, and they were housed and given jobs for which they were paid.

The controversy over taking the oath of allegiance sharpened bitter feelings. When Pascolati, along with a number of other prisoners, volunteered to cooperate, the Army quickly removed them from the camp.

Although the ultimate destination of the men was Camp Ono in San Bernardino, 499 of them were taken to Cucamonga as part of a deal between the Southern California Farmers' Association and the U. S. Army.

The war had caused a shortage of manpower in the agricultural industries of Southern California. The farmers' association agreed to house the prisoners, provide food, put them to work and compensate them for their labors. The Army agreed to provide the security. In order to minimize problems, the Army had chosen men who had proved themselves to be low-escape risks - among them Emilio Pascolati.

On the morning of January 28, 1944, the prisoners arrived at a railroad siding in Guasti - a largely Italian community just south of Cucamonga. Many of the local residents of Guasti, some of whom had immigrated to the United States just a few years earlier, turned out to greet them. Handshakes and kisses were exchanged and inquiries made about relatives back in Italy. Pascolati met a man from the same province as he.

By the time the last of the prisoners was off the train and onto the waiting buses the entire group had begun singing Italian folk songs.

Lilla Lucas, 86, is the widow of Henry Lucas, president of the Southern California Farmers' Association during that period. She was office manager at the camp, and remembers the prisoners still singing as they arrived at the camp.

The men were given an opportunity to familiarize themselves with the camp. Several days of rain prohibited them from working in the fields, and they spent the days exploring. At one point an alarmed police officer from nearby Upland came to the Army captain in charge, and voiced his concern about the wandering prisoners. Pascolati remembers the captain assuring the police officer there would be "more but not less" prisoners back at the camp in time to be fed.

Actually, the Army could not have picked a better place than Cucamonga. It was the most like Italy that one could find. Around the turn of the century there had been a large influx of Italian immigrants. The climate and surrounding topography are similar to Italy, and the soil fertile. Vineyards were planted and wineries soon followed. The small town of Guasti, a good part of which is now taken up by the Ontario International Airport, was originally settled as an Italian colony. The local Catholic Church, San Segundo D'Asti, is a miniature replica of a church in northern Italy.

This environment, combined with the warm reception of local farmers and other residents, made the prisoners quickly feel at home.

With the end of the rain the men were organized into work groups and taken out into the fields every morning. A military guard was sent with each group, but there was little need for one. Out in the fields the prisoners worked side by side with the farmers, many of them Italian, and their families. At noon meals were served by the women. Often there was a bottle of wine passed around.

Efforts at hospitality often led to romance.

Pascolati was invited to the house of the man from his own province in Italy, whom he had met when the prisoners arrived in Guasti by train. "The man had a niece," Pascolati said. "This is how I was able to meet Penny."

Penny Bianco's father had come to the United States in 1912. After several trips back to Italy he finally settled in Cucamonga. Emilio and Penny began going together, since Italian-American mothers and fathers had no objection to their girls fraternizing with the POWs. To them the prisoners were just what they wanted - nice Italian husbands for their daughters.

As lax as security was at the camp, almost to the point of the prisoners being able to come and go as they pleased, there was still much activity inside. Almost every night the men held marathon poker games. They were paid 80 cents a day for their labors and many of them, including Pascolati, parlayed their earnings into sizeable amounts. Often the prisoners would gather in groups and sing.

There was never a shortage of food. Many of the grateful farmers, feeling 80 cents a day was not enough, donated chickens, eggs, vegetables, cheese and the like.

At the conclusion of the pruning season the prisoners were taken from Cucamonga to the larger Camp Ono in the San Bernardino foothills. Ono was an official prisoner - of - war camp and was more structured.

Here, because of his mechanical experience, Pascolati was placed in charge of the motor pool. "When we didn't work on the trucks we mended tents."

Activities at Camp Ono were organized at a much higher level than they had been in Cucamonga. There was an official soccer team, and several local Mexican teams were invited to play.

There was also a talent search by members of a San Bernardino music group to recruit singers. James Guthrie went out to the camp, and after auditioning about 350 baritones and tenors selected 75 who were featured in performances put on by the San Bernardino Concert Association and the Redlands Bowl.

At Camp Ono there were restrictions, but they were kept to a minimum. Pascolati took advantage of the situation and visited Penny and her family frequently.

Many of the other men also pursued romances. The war was almost forgotten. On weekends the men would slip away from the camp and go into town. Some even went as far as Hollywood.

Reality came crashing back when the war ended in April of 1945. Under the rules of the Geneva Convention the men had to be returned to Italy.

"I had mixed feelings about returning," says Pascolati "I would have to leave Penny and the people I had come to know. I was happy to go back to Italy but apprenhensive of what would be waiting there for me." Nine months later, in February of 1946, the men were bused to San Pedro and boarded a ship bound for home.

At home the worst of Pascolati's fears was confirmed. Italy was economically depressed to the point where it offered him nothing. But Penny followed, arriving 17 months later. Their wedding, in August of 1947, was so big the town had to close down.

Now that Pascolati was married to an American citizen he was given preferential status to immigrate back into the country. The newlyweds returned here in March of 1948.

Pascolati quickly got a job at a garage in Cucamonga, where he had also worked while staying at Camp Ono. He also found employment with Aerojet as the company's official interpreter. In 1951, when Pascolati became a citizen, he went to work full-time for Aerojet as a rocket technician, and later on as an engineer.

As Pascolati sits in his kitchen with his wife and concludes his story, he brings out a list. It is a copy of the official roster at Camp Ono, as well as a list of the inmates at the Cucamonga camp.

There are notations beside some of the names indicating a letter received, a child born, or the date of death. Some of the names have local addresses beside them. Pascolati notes that he is not the only former POW to have returned to the United States: "There are 25 to 30 living between Santa Barbara and Orange County," he said.

Joe Gaiba was an electrician in the employ of a large Italian aviation company. Because of his expertise he was "militarized" and sent to North Africa as part of the repair services. He was supposed to have precedence over regular military but in the heat of the retreat, he was unable to get out. Gaiba was with Pascolati in the Cucamonga camp and later stayed at Camp Ono. He was also housed for a time at the Pomona fairgrounds while working at the Kellogg Ranch, caring for Arabian horses. Gaiba remembers seeing German POWs from Chino arrive to take.his place at the end of the war. He now lives in a mobile home park across the field from the Cucamonga camp.

Alceo Vecchio, 61, lives in Claremont and is co-owner of the Etiwanda Grape Company. He was on a tank crew and was wounded at Tobruk. Vecchio tells of how he was able to win enough money in poker games at Camp Ono to be able to purchase a Model-A Ford. He registered it in the name of an Italian-American friend and parked it in the gas station near Camp Ono. Vecchio has a son and a daughter and is area director in Claremont for the American Youth Soccer Organization.

Perry Pugno owns an electrical contracting firm in Rialto, and lives in a house he built himself. Pugno has a son, Perry Jr., who is a doctor and director of emergency services at Riverside Community Hospital, as well as two daughters and five grandchildren.

Paul Lucifora is a well-known personality in the city of Rancho Cucamonga. He owns a shoe-repair shop which he runs with his son, Paul Jr. Lucifora is active in the local chapter of the Sons of Italy. He has a daughter, Maria, who lives with her husband in Yucaipa. Lucifora is unabashedly proud of his adopted country. "America is a good country," he says in his thick Italian accent. "America is the best country in the world."
Other Online Histories:
US Army Corps of Engineers St Louis District Archives Search Report
Historical Status Cards - Post, Camp, Station and Air Field, US Army Center of Military History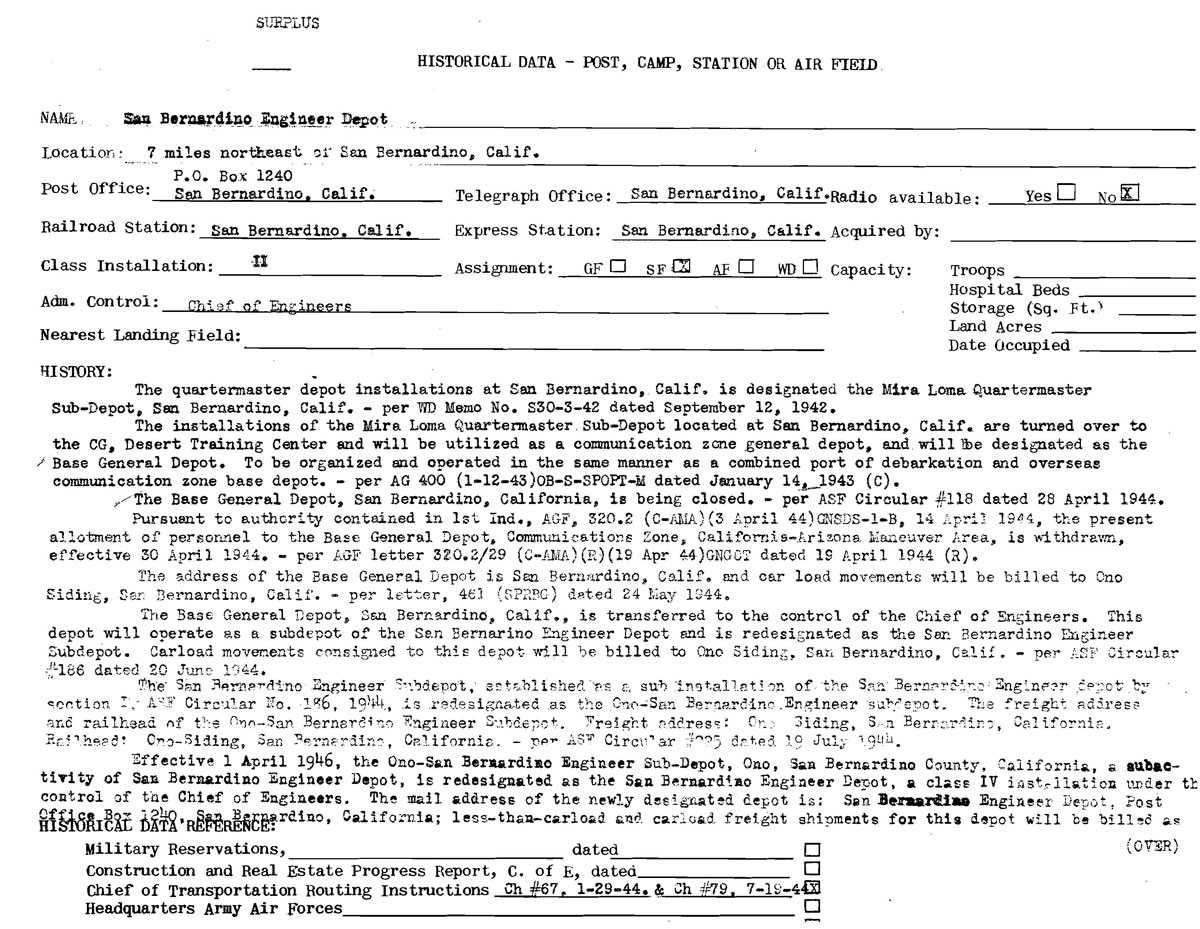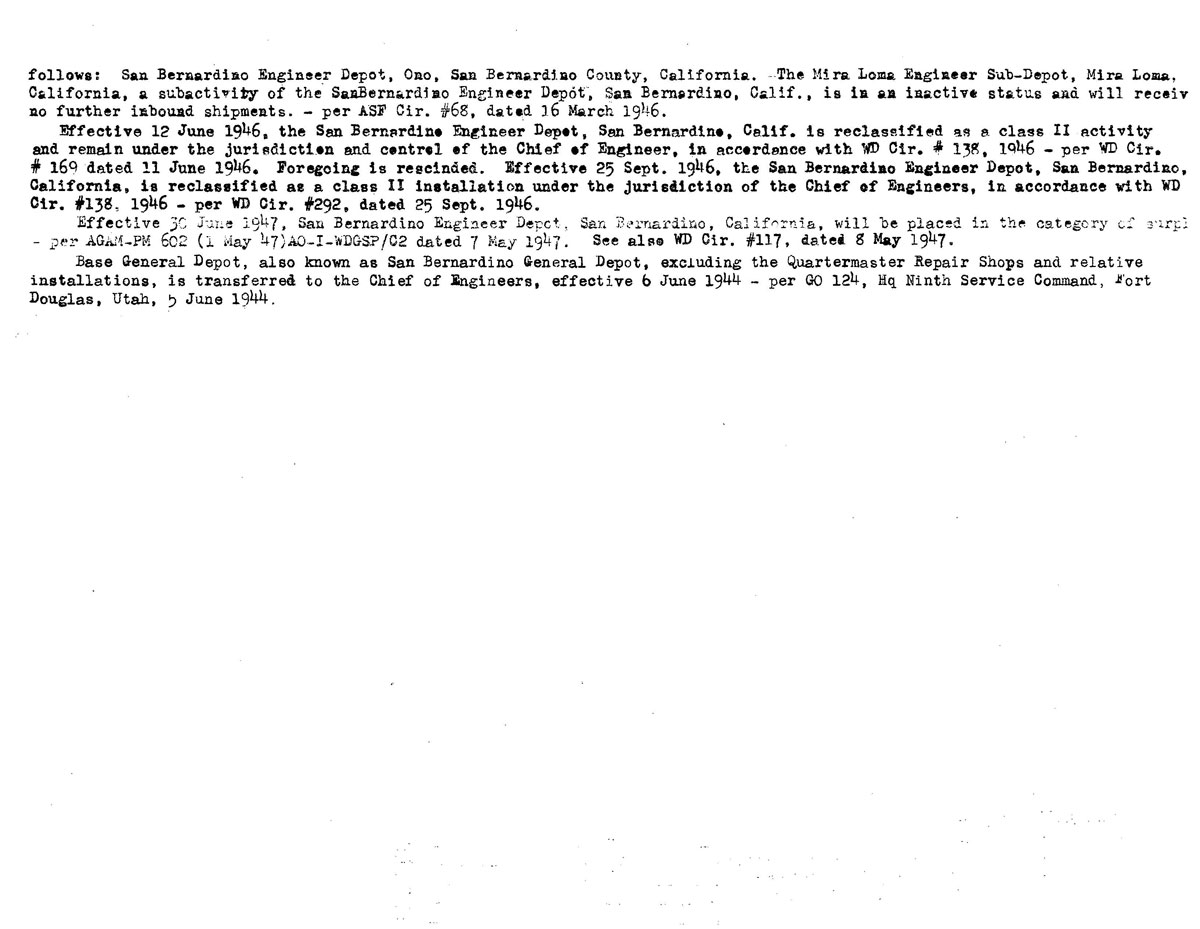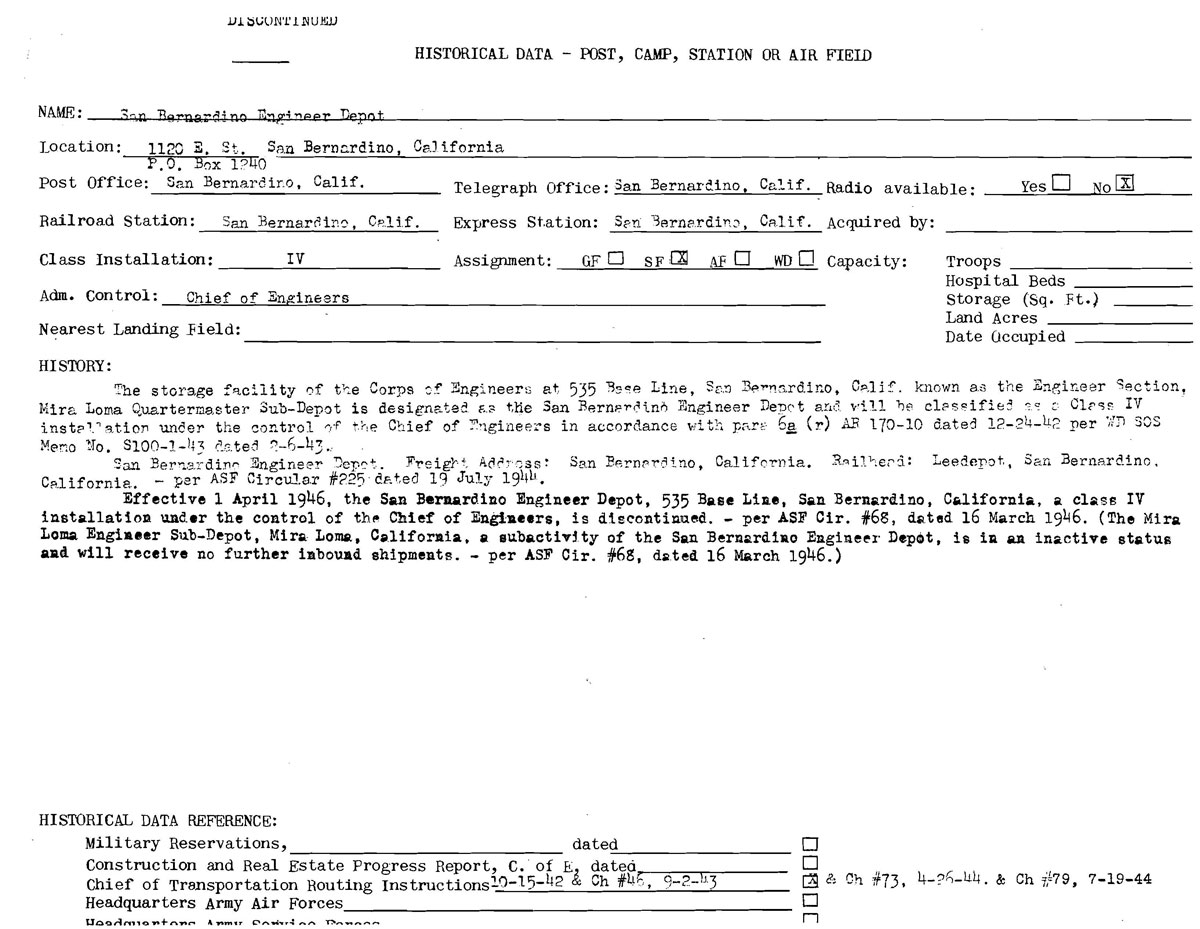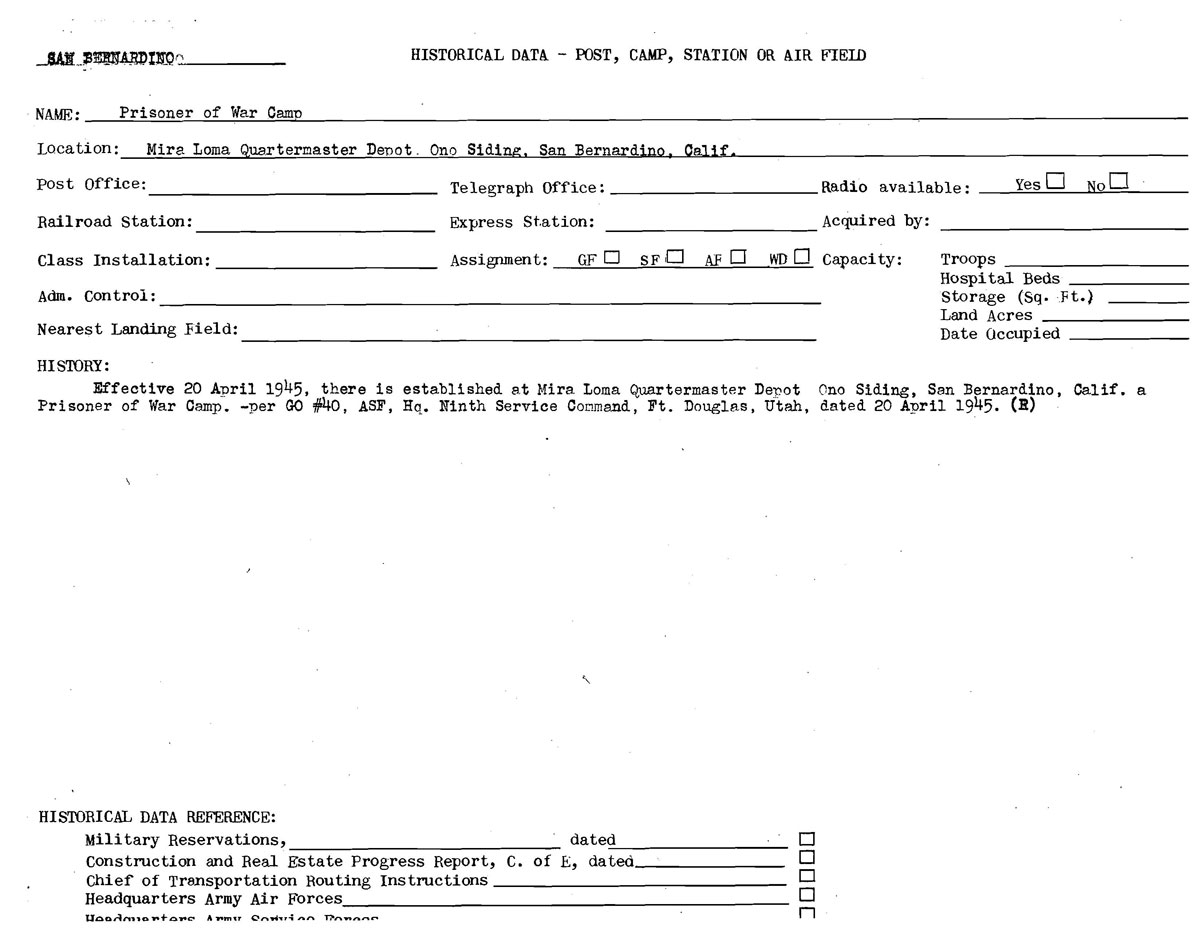 Extract, War Department Inventory of Owned, Sponsored and Leased Facilities, 31 December 1945
Capacity:

Enlisted: 1,362
Officers: 110
Station Hospital:

Acreage

Owned: 41 acres
Leases: 1,351 acres (9 leases)
Total: 1,392 acres

Storage:

Ammunition Igloos and Magazines:
Covered:

Heated: 2,700 sq ft
Unheated: 637,630 sq ft
Total: 640,330 sq ft

Sheds: 49,848 sq ft
Open:

Surfaced: 2,019,000 sq ft
Unsurfaced: 5,876,000 sq ft
Total: 7,895,000 sq ft

Total Depot Storage Capacity: 8,585,179 sq ft

Cost to Government Since 1 July 1940:

Annual Lease Payment(s): $16,219.00
Land Purchase:
Construction: $1,771,204.00
Total (Less Lease Payments): $1,771,204.00

Remarks: 41 acres of public domain Includes San Bernardino Engineer Sub-Depot at Ono, California
Extracts from the Army of the United States Station Lists

Army Station List
1 June 1943

Army Service Forces:

San Bernardino Engineer Regional Maintenance Office

Army Station List
7 May 1945

Army Service Forces:

318th Italian Quartermaster Battalion

Headquarters ad Headquarters Detachment
101st, 103rd and 106th Italian Engineer Base Depot Companies

7900th Service Command Unit (Service Group, San Bernardino Engineer Depot)

Detachment 8, 9809th Corps of Engineers Technical Service Unit (San Bernardino Engineer Depot)

Army Station List
7 May 1945

Army Service Forces:

3945th Service Command Unit (Service Group, San Bernardino Engineer Depot)

Detachment 8, 9809th Corps of Engineers Technical Service Unit (San Bernardino Engineer Depot)

Search our Site!
Questions and comments concerning this site should be directed to the Webmaster
Updated 18 April 2016