Historic Posts, Camps, Stations and Airfields

Crissy Army Airfield

(Crissy Field)

History

by Gordon Chappell, Regional Historian, Pacific West Region, National Park Service
With the exception of relatively recent construction such as World War II "temporary" barracks and a few permanent buildings, Crissy Army Airfield at the Presidio of San Francisco is one of the best-preserved complexes of Army Aviation buildings of the early 1920s in the United States. As an army air base, Crissy Field had a brief but important place in history.
Following World War I, Major Henry H. "Hap" Arnold arrived at the Presidio of San Francisco as the Air Service Officer of the Western Military Department. In July of 1919 he selected the area which had been the race track of the Panama-Pacific International Exposition in 1915, located on flat, filled and reclaimed land north of the main garrison complex of the Presidio, as the site of a new army air field.
Meanwhile, the army was involved in a rather elaborate publicity demonstration of its relatively new air arm featuring two teams of DeHavilands flying cross-country, one from each seaboard. The team from San Francisco was headed by Major Dana H. Crissy, commander of Mather Field near Sacramento. The teams took off in October, but Major Crissy made it no farther than Salt Lake City where he died in a crash landing. At the Presidio, Major Arnold decided to n the new air field after the young officer who had so tragically met an early death.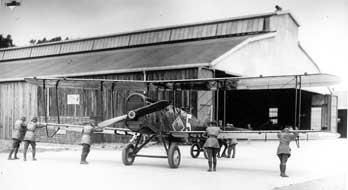 In 1920, the War Department announced that it had authorized a million dollar expenditure for improvements at Crissy Field. Before the construction even began, the 91st Aero Squadron (Observation) arrived in September 1920 for temporary duty there to observe coast artillery practice fire and communicate the results via wireless back to the battery commanders. The squadron would become the regular complement of the new airfield, and would serve other missions, such as forest fire patrols, public relations flights, and aerial photographic assignments with the 15th Photo Section.
Meanwhile, construction had begun on a complex of now-historic buildings which, with few exceptions, still stand. These include Hangars 926 and 937, Gas Pump House 929, Hose Reel House 930, Armorer's Building 931, Aircraft Shop 933, Motor Test Building 934, Aero Storehouse 935, Grease Rack 945, and Signal Cable Hut 946.
On the hill to the west of Crissy Field, south of the old Battery East of the 1870s and north of the 1910-1912 Mission-revival complex of Fort Winfield Scott buildings, the army built a Bachelor Officers' Quarters known as Scott Hall (Building 951) and family housing 952 through 964 and 966 which at times were used by enlisted personnel and at other times housed Crissy pilots.
East of the hangar and shop complex and south of the airstrip itself, the army erected an enlisted barracks and mess hall for the airmen known today as Stillwell Hall (Building 650), an administration building for the airfield (651), and a Guardhouse (Building 654).
All of these buildings, which still stand, were products of the million dollar initial construction program. They were completed and turned over to the Air Service on June 24, 1921. The San Francisco Examiner of September 28 proudly proclaimed the new Crissy complex as the "strongest air base in the nation" where "scores of DeHavilands" were based to protect the West Coast. That year, too, Crissy Field was honored by two distinguished visitors, Marshals Foch and Joffre of France, interested in the latest developments in military air power.
The original landing field at Crissy was clay over sand, and it was enlarged in 1925 by the addition of 1,300 feet. But the field also suffered from budget restrictions and reduced complements. Brigadier General Billy Mitchell told a San Francisco newspaper that despite an authorized strength of 75 officers and 250 men, at one time in the late 1920s the complement numbered instead only five commissioned pilots and 75 men.
Meanwhile, the field kept in the public eye through record-breaking long distance flights which, from time to time, used its runways. Aircraft were still in a pioneering era, and army pilots were among the pioneers. For example, Lieutenant Russell L. Maughan brought fresh attention to Crissy when at 9:47 p.m. on June 23, 1924, he touched down at the completion of the first "dawn-to-dusk" transcontinental flight.
Then in 1925 the U.S. Navy based two PN-9s at Crissy Field in an effort to reach the Hawaiian Islands by air. The two flying boats set out at 2 p.m. on August 31, 1925, but oil pressure problems brought one of them down after a more 300 miles, while the second was forced to land on the ocean a mere 145 miles short of the Islands due to shortage of fuel. A search ship eventually located the craft floating just 15 miles east of Kauai on September 11; all aboard were safe. But it would be another decade before Pan American Airlines' Sikorsky S-42 reached Hawaii on a nonstop flight from the mainland in April 1935. The Navy's pioneering attempt deserved a better fate.
Crissy Field unfortunately faced a number of problems which left her obsolete after a brief existence of a decade, although it would last for part of another. First, the field had no room for expansion. Second, Crissy Field suffered from high winds off the Pacific Ocean channeled through the Golden Gate. Finally, the proposed Golden Gate Bridge if constructed would place two tall bridge towers in a position dangerous to Crissy pilots, and the bridge project seemed more and more certain as time passed. Consequently in 1929 a Board of Officers was assembled to survey the whole Bay Area for a more suitable location for a major airfield, a location which did not have Crissy's drawbacks. The Board found what it sought at Marin Meadows near Novato, roughly 20 miles north of the Golden Gate. There, in 1932 and 1933, the Army Air Corps constructed Hamilton Field, far enough inland to be beyond the range of the heavy guns of enemy battleships, sheltered by the coastal hills from the winds which scour the Golden Gate, and graced with ample room for expansion.
Crissy Field continued to serve as an army airfield for several years more. Although Hamilton received its first station complement in 1933, it was not until the summer of 1936 that Crissy Field closed as an Army Air Field. The San Francisco Chronicle of June 19, 1936, noted that army flyers would "dip their wings in a farewell" the next day as the 91st Aero Squadron transferred to Fort Lewis, Washington, and Hamilton assumed Crissy Field's mission.
Still, in later years, fixed wing spotter planes occasionally would use Crissy's airstrip, and new types of aircraft called helicopters would find it accommodating. Crissy retains a helipad today. But World War 11 brought other needs, and a complex of temporary barracks and quarters was built between Stilwell Hall and the Fort Point Coast Guard Station in what had been open space in front of the Crissy hangars. Despite this "temporary" intrusion which remains in place after 40 years, Crissy's historic 1921 complex of buildings remains mostly intact, the hangars and aircraft shops serving the present-day Presidio of San Francisco in adaptive use as automotive shops. The present Presidio Master Plan calls for the ultimate demolition of the historic Crissy hangars and shops and their replacement with new and modern automotive shop facilities. Thus the days of Crissy Field's historic buildings may be numbered.
Crissy Army Air Field prior to National Park Service restoration (Map Courtesy of Mr. Gordon Chappell)
Postscript
The above history was written in 1981 for the annual meeting of the Council on Abandoned Military Posts. SInce it was written several events have impacted Crissy Army Air Field:
Contrary to the dire prediction made in 1981, today Crissy Field thrives. The World War II baracks have been removed and the air field returned to it original grass strip. Long range plans include a museum commemorating the aviation history of Crissy Field.
On May 6, 2001, the newly restored Crissy Field was dedicated as part of the Golden Gate National Recreation Area of the National Park Service.
The restored grass runway and hangers. The former Fort Point Coast Guard Station is on the right. (Photo Courtesy of the National Park Service)

Army Units Assigned to Crissey Field

Data Source

Date(s)

Unit(s)

US Army Order of Battle 1919-1940
1920
24th Balloon Company
US Army Order of Battle 1919-1940
1920-1921
14th Balloon Squadron
US Army Order of Battle 1919-1940
1921-1936
91st Observation Squadron
US Army Order of Battle 1919-1940
1922-1929
447th Pursuit Squadron (Organized Reserves)
US Army Order of Battle 1919-1940
1922-1930
381st Service Squadron (Organized Reserves)
US Army Order of Battle 1919-1940
1922-1936
316th and 367th Observation Squadrons (Organized Reserves)
US Army Order of Battle 1919-1940
1922-1933
342nd Service Squadron (Organized Reserves)
US Army Order of Battle 1919-1940
1919-1941

Units Performing Annual Training at Fort Barry

316th, 329th, 365th, 366th and 372nd Observation Squadrons (Organized Reserves)

381st Service Squadron (Organized Reserves)

447th Persuit Squadron (Organized Reserves)

Air Service Reserve Officer Training Corps

Search our Site!

View My Stats

Visitors since 8 December 1998
Questions and comments concerning this site should be directed to the Webmaster
Updated 10 August 2017