Historic California Posts, Camps, Stations and Airfields

Winters-Davis Flight Strip

(Winters-Davis Auxilary Field No. 7)

History

by Dan Sebby, Military Historian, California Military Department
On 3 November 1943, the Public Roads Administration (PRA) transferred 201.58 acres by Use Permit to the War Department; an additional 308.57 acres was acquired by the War Department between 1942 and 1943 by Declarations of Taking (Appendix E). Upon this combined 510.15 acre parcel the Former Winters-Davis Flight Strip was established. The first phase of construction (from July to October 1942) was the completion of a runway 8,000 feet by 300 feet of graded earth, and the surfacing of the center portion, 4,000 feet by 150 feet, and construction of the Troop Housing Area.
In 1943, the second phase of construction was the addition of 1,000 paved feet on each end of the flight strip in 1943 plus construction of the Bomb Storage Area. Initially, the Winters-Davis Flight Strip fell under the jurisdiction of the 45th Air Base Group at Hamilton Field and was established as an auxiliary landing field for dispersal of aircraft if Hamilton Field was attacked. The Former Winters-Davis Flight Strip was also used as a training sub-base for P-38 pilots of the 78th Pursuit Group and P-39 pilots of the 328th Fighter Group. On 15 July 1944, jurisdiction of the Site went to the Western Flying Training Command which continued P-38 and P-39 training, and was administered under Mather Field. The Western Flying Training Command then transferred these duties to Stockton Field in November 1944, where the Site was known as "Auxiliary No. 7 to Stockton Field." The Army Air Forces declared the Site excess on 15 December 1944, and transferred it to McClellan Field on 15 May 1945.
The Former Winters-Davis Flight Strip was transferred to inactive status under the War Assets Administration (WAA) on 30 December 1945. In 1946, 201.58 acres of the Site were relinquished to the PRA and the remaining 398.57 acres transferred to WAA. In 1948, approximately 496 acres were transferred to the County of Yolo for use as municipal airport, and the remaining 14.15 acres (the former Housing Area) reverted to the original owners. In 1949, Yolo County took administrative control and named the flight strip "Yolo County International Airport," but the site remained vacant until the 1960s accept for minor agricultural operations. In 1971, the County resurfaced 6,000 feet of the runway, and in August 1974, Yolo Aviation, Inc., leased 14.9 acres of the Airport and constructed office and pilot lounge, twenty "T" hangars, a maintenance hangar, and fueling facilities.

Former Troop Housing Area
The former Troop Housing Area consisted of a distinct 14.15 acre parcel connected to the former Flight Strip by an access road . The former Troop Housing Area was bound on the east by County Road 96 and on the south by Willow Slough. This facility consisted of the following: an access road (from the Bomb Storage Area) and bridge (T-75); a main entrance gate (T-1) and another gate (T-2); one 500-gallon fuel oil tank (T-8); a butane storage facility consisting of one 1,000-gallon, elevated steel tank on concrete pad (T-40) with 1-inch galvanized pipe to supply Mess Hall (T-4); a sewage treatment collection system with grease trap, 4-inch concrete pipe discharging to Willow Slough; combined officers and enlisted men barracks (T-10), bath house (T-16), and latrines (T-14 and T-18); and a water supply system with pump house (T-30), 3-inch water lines and two Fire Hose Storage Units (T-6 and T-12).
Former Ordnance Storage Area
The former Bomb Storage Area was located in the southern portion of the Flight Strip. The facility was surrounded by barbed wire fencing and access roads from the former Housing Area and the former Operations Area. The entrance gates were made of barbed wire and wood (T-100 and T-150). Three smaller roads (Roads A, B, and C) accessed the storage areas. These storage areas consisted of four fuse storage magazines (T-102, T-104, T-136, and T-140) made of wood framing, one inert storage warehouse (T-106) made of wood framing, one latrine (T-108) made of wood framing, thirteen bomb storage revetments (T-110 to T-134), each 890 sq. ft., with were made of earthen berms and wood bracing.
Additional Online Histories
US Army Corps of Engineers St. Louis District Archival Search Report Findings

Extract, US Army Air Forces Directory of Air Fields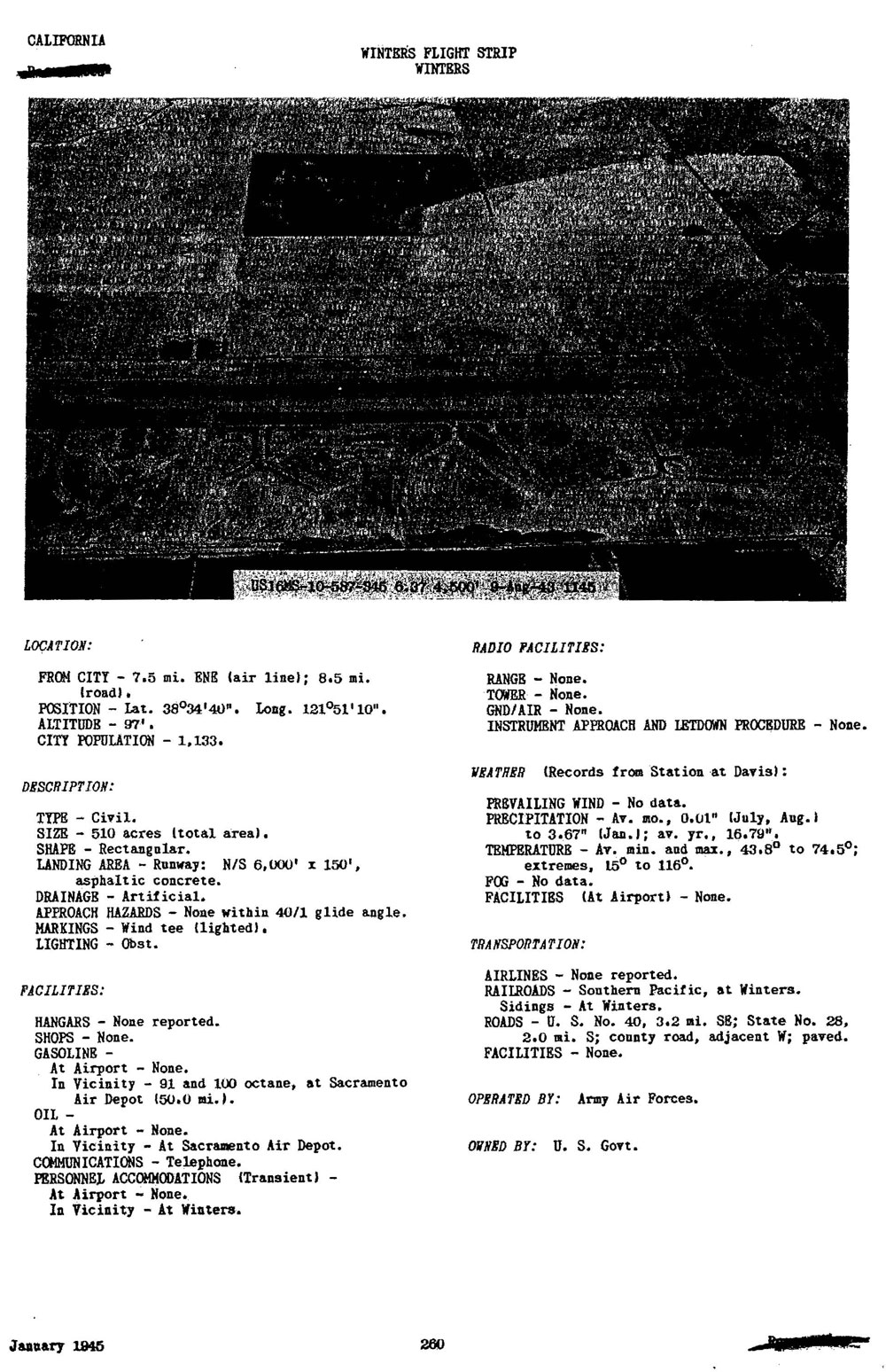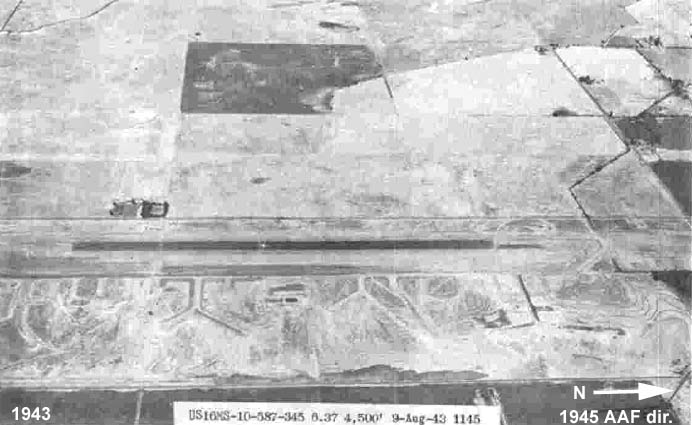 Extract, War Department Inventory of Owned, Sponsored and Leased Facilities, December 1945
Capacity:

Enlisted:

Permanent:
Mobilization (Quartermaster Corps 700-Series or Corps of Engineers 800-Series):
Theater of Operations: 31
Hutments:
Tents:
Total: 31

Officers: 4
Station Hospital:

Acreage

Owned: 309 acres
Leases:
Total: 309 acres

Storage:

Covered: 2,000 sq ft
Open:

Cost to Government Since 1 July 1940:

Annual Lease Payment(s):
Land Purchase: $23,275.00
Construction: $933,257.00
Total (Less Lease Payments): $956,532.00

Remarks:
Search our Site!
Questions and comments concerning this site should be directed to the Webmaster
Updated 8 February 2016