Historic California Posts, Camps, Stations and Airfields

Chico Army Air Field

(Chico Army Flying School, Chico Army Air Field Civilian War Housing Project)

A Chico AAF P-38 being readied for flight, 1 December 1944

History

by Richard E. Osbourne

Chico Army Air Field, located five miles north of town, was the Chico Municipal Airport, but when the United State went to war, the 4th Air Force leased the field for the duration and converted it into a training base for bomber crews and fighter pilots. It had a sub-base at Sacramento Municipal Airport and several bombing ranges. In June 1948, Chico Army Air Field was returned to the city.

Chico Army Air Field also had six auxiliary fields:
Source: World War II Sites in the United States: A Tour Guide and Directory by Richard E. Osbourne

History

by Justin M. Ruhge
The Chico Army Air Field began on September 11. 1941 when the City Council of Chico formally signed a lease with the U.S. Army Corps of Engineers representing the War Department for the use of 1,045 acres of land at $1 per year with an option to buy. The City also provided all utilities and service roads to the field. Between four and five million dollars were allocated for construction of all needed facilities in a very short time, as at other bases. Eventually 140 buildings as well as runways, aprons and service roads were constructed.
On April 15, 1942, the first cadre of permanent troops who managed the field moved in. The field was officially opened as the Chico Army Flying School on April 15, 1942. The first cadets arrived on April 25, 1942 from Moffett Field where they had already completed part of their basic flying in addition to their primary training. Basic training at Chico began on July 28,1942.
An all black company was assigned to the Field in August 1942.
El Roy Nathan stated,
"The cadets were organized in squadrons under Flying Training Groups. Some of the training was in classrooms, some on the Link Trainer or simulated flying, and the remainder of their time they trained on the Vultee BT-13 and BT-15s. These were blue and yellow planes that became familiar sights and sounds over Chico and the surrounding countryside. They were faster and heavier planes with more instrumentation than the cadets had used in their primary training. With about 300 aircraft taking off each morning, returning at noon, taking off again after lunch until landing about five P.M., there was constant and often frenzied activity going on."
The first Flying School commander was Colonel John K. Nissley. Colonel George R. Hartman succeeded him in March 1943. Colonel Gerald Hoyle replaced him in the fall of 1943.
The Field had access to the 533th Army Air Forces Band for parades. A weekly paper called The Flyer was published by the Chico Record.
Auxiliary fields to Chino were located at Orlando No. 1, Kirkwood No. 2, Vina No. 3, Campbell No. 4 and Oroville No. 5.
In March 1943 the Field name was changed to Chico Army Air Field.
The first WACs arrived in October 1943. A cadre of black WACs was housed on an eleven-acre site across Cohasset Road from the Field. WASPS (Women's Army Service Pilots) frequently delivered planes to the field.
At its peak Chico Army Air Field had about 4,000 personnel. In the first two years, it trained 5,500 cadets and thousands of ground personnel.
In April 1944 the mission of the Field was changed from basic flying training of cadets to training of fighter pilots. An April 24,1944 the Field was transferred from the Western Flying Training Command to the Fourth Air Force. Colonel Aaron W. Tyler replaced Colonel Hoyle.
The new command brought in pilots who had completed their basic and advanced training and received commissions prior to coming to Chico. Here they were to be taught tactics of combat flying using Bell King Cobra (P-63) planes, later switching to the twin-engine Lockheed P-38 Lightings. These were all propeller planes. In May of 1945 jet training was introduced on the P-59 jet trainers, and in July the P-51 `Mustangs.'
"The P-38, P-51, and P-59s were all faster planes than the pilots had used previously and crashes (and deaths) doubled from 14 crashes with 8 deaths during the two years of basic training to 35 crashes and 16 deaths during the 16 months of fighter plane training. Most of these crash landings were in open fields around Chico. Tragic as they were, the accident rate was considered low for an operation of this nature and magnitude."
On August 25, 1945 the Fourth Air Force was replaced by the 21st Bombardment Wing. Its function was to process both personnel and aircraft for overseas assignment. Colonel Tyler continued as Commanding Officer of the Field. In October 1945 the Wing was redesignated the First Staging Command. Now the planes being processed were B-29 Superfortress bombers and crews.
On December 31, 1945, the Field was placed on inactive status. By the end of February most of the buildings were boarded up.
"After all but 65 of the military buildings had been disposed of as surplus government property the remaining buildings and the area with its well developed streets, utilities, connecting roads, and rail-line were assumed by the City. An Airport Commission was formed to administer the transformation into a municipal airport and an industrial park to attract and encourage industries to develop there." Today its is still going strong.
Reference: Development of the Chico Army Air Base by El Roy N. Nathan, Butte County Historical Society, Oroville, California, Vol. 30, No. 1, 1986, pgs. 3-14; A Camera Trip Through Chico Army Air Field, Chico, California; A letter from The Chico Museum, Chico, California, by Paul Russell, 1996.
Corps of Engineers History
LOCATION: The site is located in Butte County, California and is situated approximately three miles north of downtown Chico.
SITE HISTORY: In 1941, the US Army acquired 10.97 fee acres from Vern Thompson, et al. Additionally, the U.S. Army acquired 1,045.3 lease acres from the City of Chico. The total acreage acquired for the site was 1,056.27 acres. The leased property included a small municipal airport of 160 acres that was established in 1935. The remaining property was essentially unimproved land at the time it was acquired by the U.S. Government. The site was used by the Army Air Corps/Army Air Forces from 1942 to 1944 as a basic flight training school and from 1944 to 1945 by the Army Air Force as a fighter pilot training school. During World War II, the base housed over two thousand personnel and had a contingency of about seventy aircraft. Improvements at the site included cantonment, warehouses, aircraft and vehicle maintenance facilities, hangars, landing strips, groundwater wells, a sewage treatment plant, and underground fuel tanks.
Chico Army Air Field was deactivated on December 31, 1945. The property was excessed and transferred by the U.S. Army to the General Services Administration (GSA) for disposal. The lease on 1,045.3 acres was terminated on June 8, 1948. The lease termination agreement included the transfer of all U.S. Government constructed improvements to the City of Chico. The lease termination agreement included the following:
A clause releasing the U.S. from all claims arising from provisions of the lease
A stipulation that a portion of U.S. Government improvements were to be used for public airport purposes only;
A non-exclusive use clause which stated that the government may have the right to use the airport in common with others;
A recapture clause for exclusive use of the site by the government during a national emergency.
GSA transferred the 10.97 acres to the City of Chico by deed dated January 28, 1949. The total acreage disposed was 1,056.27.
Extract of January 1945 Airfield Directory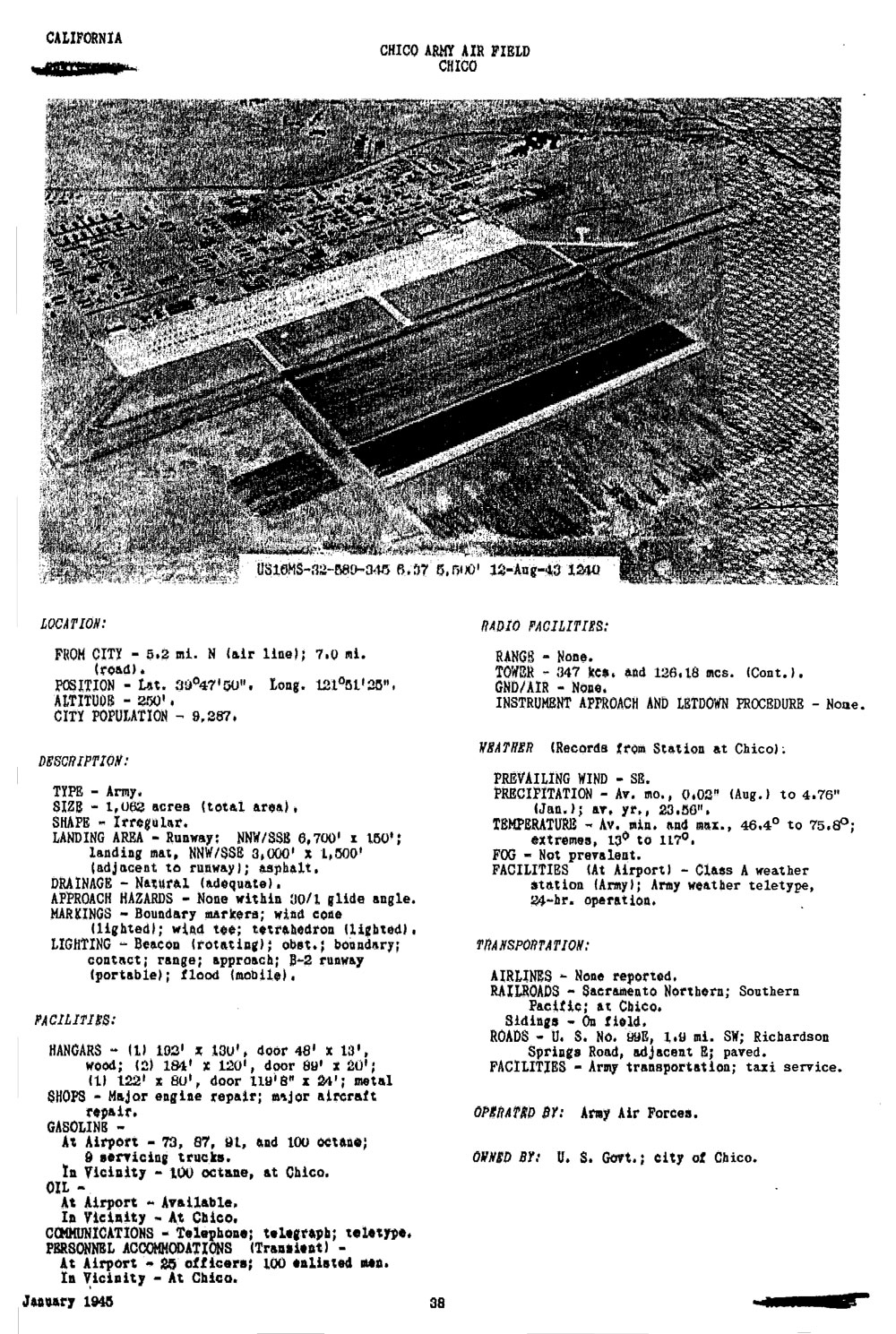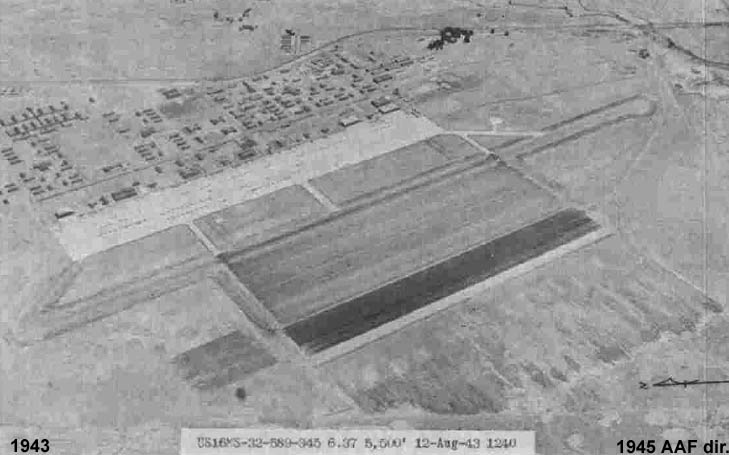 Data from War Department Inventory of Owned, Sponsored and Leased Facilities, December 1945
This document lists Chico AAF as a Port of Embarkation and Staging Area with the following characteristics:
Covered Storage Space: 122,000 square feet
Open Storage Space: 76,000 square feet
War Department owned acreage: 11 acres
Leased acreage: 1,051 acres
Total acreage: 1,062 acres
Enlisted capacity: 4,214 enlisted soldiers
Officer capacity: 323 officer
Station Hospital capacity: 176 beds
Cost of Land: $219
Cost of Construction $6,476,567
Chico Army Air Field Civilian War Housing Project

On 31 March 1944, the War Department acquired 10.97 acres from B. Verne Thomasson. The site was called Civilian War Housing Project, Chico Basic Flying School, Butte County, California. The site was used by the Army Air Force Western Flying Tramg Center. Improvements to the site included eleven buildings, twelve aboveground heating oil tanks, roads, and utilities. The lease terminated in August 1958. There is no information regarding restoration of the site.

Known Army Units at Chico AAF

Data Source

Date(s)

Unit(s)

Army of the United States Station List
1 June 1943

Army Air Forces Basic Flying School (AAF)

Army Air Forces Weather Station (Type B) (AAF)

Finance Detachment (AAF)

Medical Detachment (AAF)

Veterinary Detachment (AAF)

Detachment, 1st Weather Squadron, Regional (AAF)

10th Base Headquarters and Air Base Squadron (AAF)

19th Sub-Depot (AAF)

33rd Army Air Forces Band (AAF)

52nd Aviation Squadron (Colored) (AAF)

78th Basic Flying Training Squadron (AAF)

79th Basic Flying Training Squadron (AAF)

97th Basic Flying Training Group (AAF)

Headquarters and Headquarters Squadron

373rd Basic Flying Training Squadron (AAF)

761st Basic Flying Training Squadron (AAF)

Detachment 2, 858th Signal Service Company, Aviation

Detachment 2, 909th Quartermaster Service Company, Aviation

953rd Guard Squadron

970th Quartermaster Truck Platoon, Air Base (Colored)

Detachment 3, 2053rd Ordnance Company, Aviation (Service)

Army of the United States Station List
7 April 1945

Third Eschelon Repair Shop

Section, 58th Army Air Forces Base Unit (1st Weather Region)

Detachment, Section D, 85th Army Air Forces Base Unit (101st Army Airways Communications System Squadron)

433rd Army Air Forces Base Unit (Combat Crew Training Station-Fighter)

AAF - Army Air Forces units | AGF - Army Ground Forces unit | ASF - Army Service Forces units | WDC Western Defense Command unit

Class Books:
Search our Site!
Questions and comments concerning this site should be directed to the Webmaster
Updated 8 February 2016