Historic California Posts, Camps, Stations and Airfields

Fort Miley

(Point Lobos Military Reservation, San Francisco Air Force Reserve Recovery Center)

by Gordon Chappell

Regional Historian, Pacific West Region

National Park Service
Fort Miley is known to San Franciscans today as the terminus of one of several routes of the No. 38 bus line which operates mostly on Geary Boulevard, as a Veterans' Hospital, and as park land which is under the National Park Service as part of Golden Gate National Recreation Area. But historically, Fort Miley was a military garrison with its mission part of the seacoast defense of San Francisco Harbor. It was an eventual consequence of the Board on Fortifications headed by Secretary of War William C. Endicott which issued its report in 1885.
By September 1890, Colonel George Mendel, the army engineer officer in charge of defense construction in the San Francisco region, had selected for fortification a 73-acre tract of land near Point Lobos which belonged to the City of San Francisco and since 1868 had been the Golden Gate Cemetery. After much intrigue and various maneuverings, the Federal government secured in 1891 condemnation of 54 acres for $75,000.
It was still some years before the army did anything with its new Point Lobos Military Reservation. The Spanish-American War of 1898 provided the needed stimulus and that year the first two buildings were built there to house a small Signal Corps detachment whose mission is now long forgotten, though it may have been to provide a warning of the approach of enemy ships during that war.
On September 23, 1899, an engineer lieutenant cleared and graded a road into the new reservation, began clearing the ground, and soon had laid out a battery for two 12-inch guns on Buffington-Crozier 'disappearing' carriages. He also supervised erection of construction buildings and shops.
Work began on November 27, 1899 on a battery for 16 12-inch mortars. Both batteries were nearing completion and the reservation was renamed Fort Miley in 1900 after Lieutenant Colonel John D. Miley, U.S. Volunteers, who had died in Manila, Philippine Islands, in 1899.
The two 12-inch rifles, mounted in emplacements 1 and 2 in 1901, were Model 1895 tubes manufactured by Watervliet Arsenal, Serial Numbers 17 and 40, and they were mounted on Model 1897 Buffington-Crozier 'disappearing' carriages Serial Numbers 26 and 27, manufactured by Watertown Arsenal. The new battery was turned over to the Coast Artillery Corps on September 24, 1902. That same year, construction of a third emplacement, this one for a single 12-inch gun on a 'non-disappearing' or barbette carriage, was begun on the south flank of the two -'disappearing' gun emplacements. Completed in 1903, it mounted a Model 1888 Mark II 12-inch tube manufactured by Bethlehem Steel, Serial No. 3, which was carried on a Model 1892 Watertown Arsenal barbette carriage, Serial No. 28. The three emplacements were named on December 27, 1904 "Battery James Chester" in honor of a 3rd Artillery major and Civil War veteran who had died in 1903.
Meanwhile, the mortar battery was completed in 1902 and transferred to the Coast Artillery Corps on September 26, 1902. Its sixteen mortars all were Model 1890 but reports differ on whether all were from Watervliet Arsenal or some were from Watertown Arsenal. The carriages were all Model 1896 Mark I, half made by Watertown Arsenal, half made by the Rarig Engineering Company. On December 27, 1904, the battery was named "Battery LaRhett Livingston" for a 3rd Artillery colonel and Civil War veteran who had died in March 1903. In 1906, crowded conditions in the four mortar pits induced the army to remove the two forward guns in each pit emplacements 2 and 4), and to fill over and concrete those pits. This provided much more room for serving the remaining two guns in each pit.
Also in 1906, the battery was split administratively into two batteries of two pits each, although physically it was a single structure. Pits A and B to the north remained Battery Livingston, while Pits C and D, to the south, were redesignated Pits A and B of Battery Anton Springer, named after a lst Infantry captain killed in action near Lipa in the Philippine Islands in 1901.
To man these two batteries the army constructed between them a Parade Ground and a complex of frame buildings built to then-standard plans for barracks and quarters. The basic complex was built from 1902 to 1906. The horseshoe-shaped Parade Ground was open to the north with a splendid view toward the Golden Gate. Around it were, counterclockwise from the northwest corner: an Ordnance Storehouse built in 1902 and today the only surviving building of the original complex, although no longer on its original site; a two-story permanent frame barracks; a quartermaster storehouse; a headquarters office; a captain's quarters; a duplex quarters for two captains; and another captain's quarters. West of the latter, facing-north, were two more duplex officers' quarters. To the south of them, behind and west of "Officer's Row," was a post hospital similar in design to those at Forts Baker and Barry in Marin County. The officers quarters, too, were similar to buildings of roughly the same date at Forts Baker and Barry.
South of the Parade Ground area, air east-west road between Battery Springer and Battery Chester featured, on its south side counting east to west, a Guardhouse, a "temporary" single story frame barracks built in 1906, an engineers' shop, and four non-commissioned officers' quarters. From time to time other buildings were added, with a spurt of World War I "temporary" construction pushing the number to more than sixty. Battery Loren D. Call, mounting two Clinch pedestal guns, was constructed southwest of the Parade Ground in 1914, and a small anti-aircraft battery was also added, but neither of these emplacements survive today.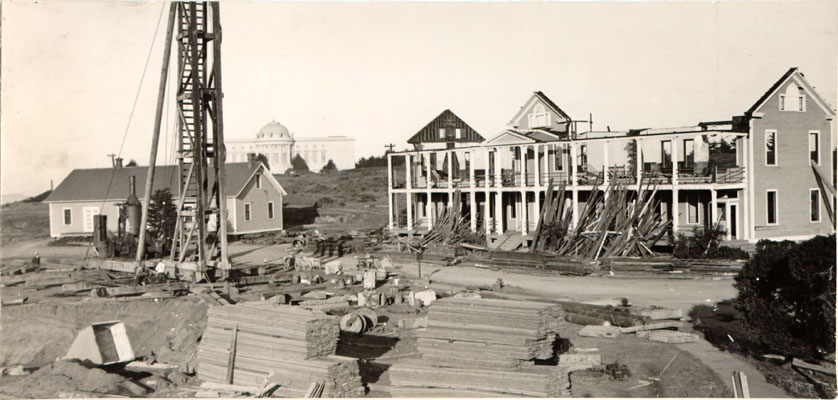 Barracks being torn down to make way for the Veterans Hospital in 1934. Photograph courtesy of San Francisco Public Library
Early in the 1930s the Parade Ground area of Fort Miley, which since World War I had housed generally only caretaker garrisons, was selected as the site of a new Veterans' Hospital. The Army retained the batteries to the east (Livingston and Anton Springer) and the west (Chester and Call), but most of the buildings around the Parade Ground area were demolished in 1934 to make way for hospital construction. The one exception was the Ordnance Storehouse at the northeast corner of the old Parade Ground, which was moved some distance to the southeast, in front of Battery Springer's earthworks. There it survives today as the only original Fort Miley building still standing, and is used by the National Park Service as the South District Ranger Office. All of the other buildings of historic Fort Miley, except for Batteries Chester, Livingston, Springer, and a new battery called Construction No. 243 built for two six-inch guns on barbette carriages in 1943, are gone. The guns were removed from the 12 inch and mortar batteries in 1943, and from the new six-inch battery in 1949. And today, Fort Miley is truly San Francisco's forgotten garrison.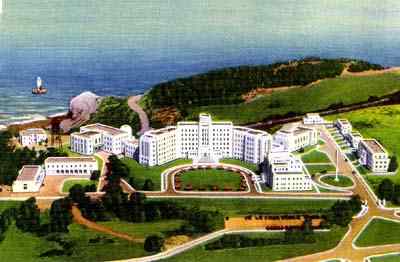 Fort Miley Veterans' Hospital, circa 1934. Image courtesy of the Department of Veterans Affairs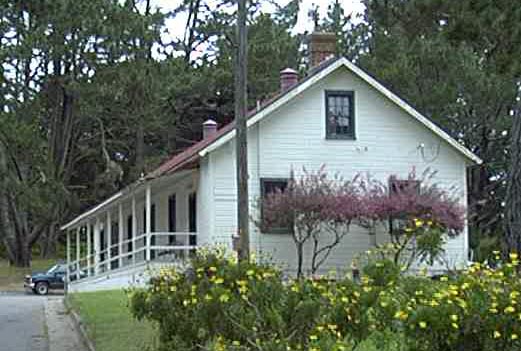 The Ordnance Storehouse. Now a maintenance building for the National Park Service, this building is the sole surviving Army building at Fort Miley. May 2001
Originally Published in 1981 for the annual meeting of the Council on Abandoned Military Posts. Reprinted with permission of the author
Batteries at Fort Miley

| | | | | | | |
| --- | --- | --- | --- | --- | --- | --- |
| Battery name | Number of Guns | Type of Gun | Type of Carriage | Constructed | Completed | Decommisioned |
| Chester | 2 | 12 Inch M1894 | M1896 Disappearing | 1899 | 1903 | 1943 (1) |
| Chester | 1 | 12 Inch M1888MII | M1892 Barbette | 1899 | 1903 | 1943 (1) |
| Livingston | 8 | 12 Inch Mortar M1890MI | M1896 Mortar | 1899 | 1902 | 1943 (2) |
| Springer | 8 | 12 Inch Mortar M1890MI | M1896 Mortar | 1899 | 1902 | 1943 (2) |
| | 2 | 5 Inch M1900 | M1903 Pedastal | 1914 | 1916 | 1921 (3) |
| Anti-Aircraft | 2 | 3 Inch M1917 | M1917 Pedastal | 1920 | - | - |
| Point Lobos | 2 | 6 inch | Naval Pedastal | 1942 | 1942 | 1945 |
| 243 | 2 | 6 inch M1903 | Shielded Long Range Barbette M4 | 1943 | 1943 | 1948 |
| Lands End | 4 | 90mm M1 | Fixed M3 and Mobile M1 | 1943 | - | 1945 |
| Anti-Aircraft #4 | 3 | 3 Inch M1917 | M1917 Pedastal | - | - | - |
| Buck | 2 | 40mm | Mobile | 1943 | 1943 | - |
(1) Battery Chester had one gun removed in 1918. It was replaced by a gun from Battery Spencer in 1917.
(2) Many mortar batteries around the United States had 2 mortars removed from each pit in 1917-1918. Many of these mortars were remounted in railroad car carriages for use overseas.

(3) Battery Call was built for the 5" guns guns removed from Battery Ledyard, Fort McDowell, during the Japanese scare of 1914-1915. The emplacement was destroyed by subsequent construction for the Veterans Hospital.

Fort Miley in 1914

---

San Francisco Air Force Reserve Recovery Center

On 18 May 1955, 12.37 fee acres (Battery Livingston-Springer) were transferred from Fort Miley to the Air Force.

The s i t e was also known as San Francisco Air Reserve Center. It was situated within the City of San Francisco in San Francisco County and was used by the Air Force as a reserve recovery center. Improvements were not listed.


On 27 October 1968, the Department of Air Force traneferred the site to the Department of Interior, National Park Service (Golden State National Recreation Area).

Source: Sacramento District, US Army Corps of Engineers

Army Units Assigned to Fort Miley

Data Source

Date(s)

Unit(s)

Order of Battle of United States Land Forces in the World War (1931-1949)

World War I

Headquarters South Pacific Coast Artillery District

1st, 2nd and 3rd Coast Defense Companies, Fort Miley

10th Coast Defense Company, Fort Winfield Scott

10th, 18th, 19th, 20th and 49th Companies, Coast Defenses of San Francisco

US Army Order of Battle 1919-1941
1919-1922

18th Company, Coastal Defenses of San Francisco

US Army Order of Battle 1919-1941
1922-1941

Caretaker Detachment, 6th Coast Artillery Regiment.
Updated 30 September 2015


Search Our Site